Whether you're a small content creator or a multi-national, a social media calendar can be a lifesaver.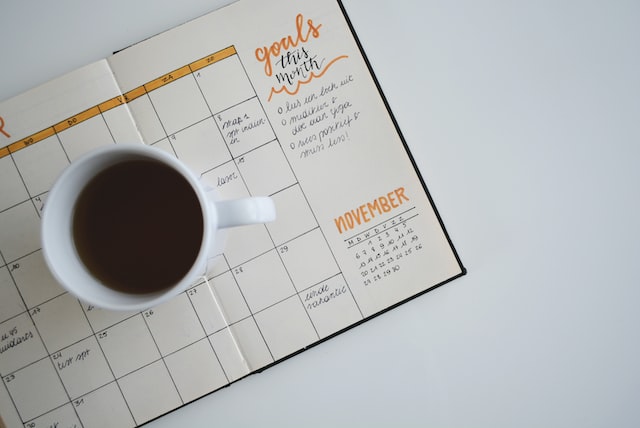 Photo by Estée Janssens on Unsplash
Instead of wading through tone issues, typos, and other mistakes, you can plan your content ahead of time and be more efficient. Plus, you're more likely to target your audience.
How to Create an Effective Social Media Calendar
A social media planner is an overview of your upcoming social posts. If you want to effortlessly plan posts and manage campaigns, use the following tips and tricks for your content calendar and a social media scheduler to streamline the process.
1) Audit Your Social Media Accounts and Content First
If you already have content on your social media accounts, conduct a social media audit. Start by reviewing or looking up any imposter accounts or outdated profiles that could be stealing some of your views. Then, spruce up your account security and make your passwords stronger.
The next steps involve your content specifically. Look at your goals and KPIs and ask if the metrics you're tracking are appropriate. Review your most successful posts and campaigns and consider why they're attracting your target audience. Finally, work to improve your results.
2) Base Your Social Media Strategy Around Content Pillars
First, what are content pillars? Content pillars are three, four, or five topics that serve as the foundation for your content strategy. For example, if you're a marketing agency selling ad copy, your content pillars may include copywriting advice, branding tools, and social media tips.
Content pillars are essential because they help you stay organized when pitching brand topics. It also allows you to keep your content varied. If you noticed you haven't spoken about branding tools in a while, give your audience what they want by penciling in this topic in your calendar.
3) Choose the Right Social Media Content Mix
While content pillars can help you narrow down your content topics, they can't generate ideas for you. However, two common marketing strategies can fill in the gaps: the social media rule of thirds and the 80-20 rule. The social media rule of thirds separates your structure by thirds.
For example, one-third of your posts promote your business, another one-third is focused on guest post content, and the last one-third involves personal follower interaction. The 80-20 rule is more simple: 80% of posts inform and entertain, and 20% of posts promote your business.
4) Ask What Your Content Calendar Should Include
Content marketing and branding go hand-in-hand, but how you choose to use your content is up to you. Similarly, your social media calendar will look different from others but should always include basic details, such as date, time, copy, link, visuals, and platform, to stay organized.
But you don't have to stop there. If you work with a team, you may need to provide more advanced information to make the collaboration process more simple. For example, you could write down the post format, campaign, target location, and whether the post has been approved.
You may find it helpful to start with a content calendar template that includes all of these fields. This will provide you with an easy-to-follow structured guideline for your team to use when creating content and organizing posts.
5) Get Feedback From Your Team and/or Managers
What works for you may not be the best option for your team or managers, so you should come up with a process that works for everyone. If you're using the calendar for your own needs but you plan to hire a team in the future, make your process easy to follow and customizable.
Be sure to ask for ideas after you set up your workflow and create a space that encourages ongoing feedback. Evaluate how the process feels for you and if it could be simplified. Other times, you may need to add more detail, but don't finalize anything until your team is happy.