Each element of your product photos works to enhance the visual identity of your products and brand. Here's how to choose the right background every time.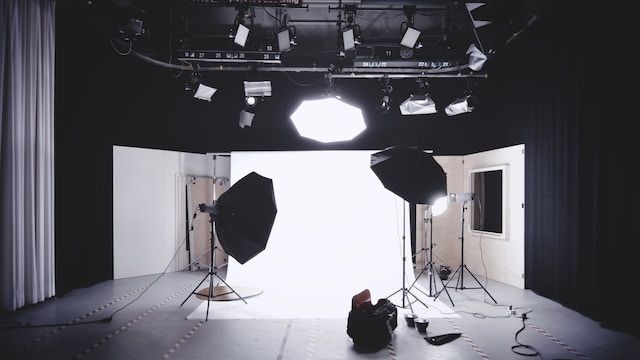 Photo by Alexander Dummer on Unsplash
Product images play a huge role in sales. But the background you use does too.
Good product photography is an essential aspect of any successful eCommerce store. High-quality images of your products not only showcase your offerings in a professional way but they also help to build your brand online, generate more leads, and increase your conversion of those leads into sales.
eCommerce customers must judge a product's quality, usability and value through screens alone, and this is why clear and detailed images help to increase sales figures over time. Research from Meero and BigCommerce suggests that up to 78% of online shoppers feel more inclined to buy products whose pictures are attractive and clear, and provide them with an idea of what they would look and work like in the real world.
Producing quality product photographs requires you to consider every aspect of the images you take—not only the central products themselves. The backdrop for your product photos plays an important role in creating photos that truly stand out, and will also accentuate your product without distracting your customers from it.
How to Choose the Right Background
1) Minimize Visual Clutter
Any backgrounds, textures, colors or forms that divert your customers' attention away from your product could hinder your ability to generate sales. The background is the largest part of most product photos. If it's busy or cluttered, it will detract from the focal point of the image.
Steer away from using backdrops that are excessively vibrant or busy. Your choice of color and pattern should subtly highlight the features of your core product and leave the central offering to speak for itself.
2) When in Doubt, Choose White Backdrops
Many eCommerce stores choose plain, simple white backdrops for their product images. This option is neutral and pleasing to the customer's eye. It showcases the product and only the product is pictured. White backgrounds have a lower impact on the image itself, and images can easily be edited with plain backgrounds by using editing services like ImageEdit.
When you choose to keep your product photo backgrounds plain white, your images will also align with the requirements of many larger eCommerce retail platforms, such as Amazon, Walmart and many others.
3) Use Texture for Visual Interest
If you'd like to add some more visual interest to your product photos for posting on social media, textured backgrounds are a great and versatile option. Textured backdrops like marble, stone, color gradients and wood grain all help to create a unique ambience within your product pictures. Plus, they can lend a hand in helping you to establish a visual identity for your brand.
Textured backgrounds are particularly well suited to the fashion, jewelry, and home decor industries. But they can also be used by eCommerce stores in other sectors to spice up the final results. A great example is VRAI's page on their lab-grown diamonds, where their use of textures compliments their product.
4) Try a Black Background for a Premium Feel
While the majority of eCommerce stores gravitate towards using white backdrops for their product photos, black is an often overlooked alternative. This dark shade can help to give your products and brand a more luxurious feel.
Just like white, black attracts attention towards the featured product when used correctly. It's also very well suited when photographing shiny, sleek or high-end products, like diamonds, high-quality diamond jewelry, and exclusive tech devices.
5) Add Props for Context
In certain cases, you may want to accessorize your products with props to highlight their key features or uses, or appeal to your target audience. Some product photography focuses on taking simple pictures of products from all angles, while other images can highlight uses and features by including suggestive props, models, and sets.
Say, for instance, that your eCommerce store sells premium travel coffee mugs and flasks. Some of your product photo portfolio should showcase your products against a simple background. The rest of the images could feature models drinking hot coffee from your product range, mugs accessorized with coffee beans or pastries, or any other props that would resonate with your audience.
When including props in your product images, it's important to ensure that they make sense within the context of your core products and their uses. Moreover, the backdrop's colors, patterns and scenes should align with the theme and context of the product you're aiming to highlight.
6) Use Backdrops for Storytelling
If you're not sure how to choose the perfect backdrop for your product photos, take a step back and identify the visual story you want to tell with each image. Consider your target audience. Are they passionate about the outdoors, eager to try out new technologies, or looking to gain a specific benefit by using products like yours?
Next, think about how your product is designed to help your target customers meet these goals. Once you have all of this information at hand, you can begin to develop a story that you can use to market your product through your photography. The right backdrop will add context through scenes, colors, and textures, and may help to form an emotional connection with your target audience as well.
7) Use Everyday Items to Add Pep Without Expense
Quality product photography doesn't have to cost your business a significant portion of its budget. Even professional product photographers use simple, everyday items to add visual interest to their shots without breaking the bank.
Consider using items like brightly colored fruits and vegetables, stones or crystals, paintings, flooring samples, linens, household decor items, vintage decorations, and natural objects to elevate your product photos. Doing so will keep your audience engaged while they browse your site.
The Takeaway
There are many factors to consider when choosing the perfect backgrounds for your product photos, from shade, hue and tone to props, models and more. Each element works together to play a crucial role in creating a consistent visual identity that helps to build your brand.
Once you know how to reduce visual clutter, use backdrops to tell stories, and use props, color and texture to engage and excite your customers, you'll be well equipped to start increasing your eCommerce lead generation and sales figures. Use the tips above to choose the right background for your product images every time!