Choosing the right fonts for the headings and body text of your website can make a huge difference in how attractive and engaging your site is to visitors.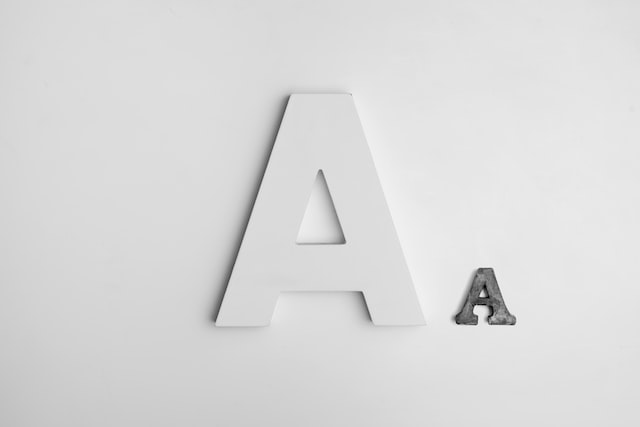 Photo by Alexander Andrews on Unsplash
Get your font design wrong, and you could find visitors to your website don't stick around for long, let alone follow calls to action and make purchases.
On the other hand, if you utilize font design in a professional manner, you can make your website much more engaging and aesthetically pleasing.
In turn, that will enable you to gain more visitors, leads, and customers.
If you don't know how to get started with picking the right fonts for your website's headings and body text, check out the following helpful guide.
Stick to Just Two or Three Fonts
Using too many different kinds of fonts for your website is a big no-no.
You need your content to look consistent, clear, and uncluttered. Therefore, stick to using between one and three fonts. It's usually best to stick to just two.
You should use one font for your headings and one for your body text.
If you do choose a third font, you should use that only for things like call-to-action buttons and the navigation menu.
Alternatively, you could stick with just one font and vary it by using things like bold, italics, and different sizes and colors.
Choose Fonts That Pair Well
When choosing the fonts for your headings and body text, you must ensure that the fonts pair well from a design perspective.
Seeing as the body text will make up the majority of the content on your website, look for a body text font first.
Design experts always recommend that you pair a serif font with a sans-serif font.
The former is based on the Roman alphabet. The typefaces of serif fonts are characterized by the decorative strokes that are located at the end of the horizontal and vertical strokes of the letters. Well-known serif fonts include Georgia and Times New Roman.
The latter, sans serif fonts, have modern and cleaner designs. Well-known sans serif fonts include Arial, Helvetica, and Verdana.
In general, serif typefaces are best for invoking a formal or elegant tone, while sans serif typefaces provide a more minimalist and simple tone.
Make Sure the Fonts You Select Are Readable
In order for people to easily read content, the content needs to be easily readable!
Therefore, one thing you should never overlook is the legibility of the fonts you choose.
There's no point in choosing a fancy font just because it looks amazing if the font is difficult to read. So, make sure you try out any fonts you're considering using for your website by writing headings and paragraphs. For your body text, it is even more important.
So, make sure you choose a clean serif or sans serif font that's easily readable in long paragraphs.
Use a Font Generator
To find a variety of different fonts from which you can select the ideal ones for your website's headings and body text, use a font generator.
With a quality font generator, you can start typing paragraphs to see what the font will actually look like in your body text.
Get started with Quicktools by Picsart font generator. It's ideal for finding the right fonts for your web pages, and dozens of different fonts are available. You could select variations on traditional fonts, such as SuperScript or MathSans, or opt for a more exotic choice, like Fairy or Wizard.
Match Your Fonts to Your Brand
It's also highly important that you choose fonts that match your brand.
Start by considering your brand voice. Do you want to invoke a feeling of fun, formalness, or casualness? Are you catering to the corporate world or to family consumers?
Once you have identified your target audience and the messages you want to communicate, you can amplify your message and reach the right people by selecting fonts that suit your brand identity.
Use Fonts in the Right Way on Your Website
Once you have chosen the fonts for your headings and body text, you must carefully consider how you will use them in your website design.
For instance, you could use contrast to emphasize different chunks of your body text to help important parts of the content stand out. You could change things like the font's size, weight, and color. You also need to consider whether you will use lowercase or uppercase.
Getting the alignment right is also essential to incorporating fonts into your website design.
You need to ensure enough space between the text so that it is easy to read and consider whether the headings and body text will be aligned to the left, the right, or in the center.