The world is going digital. You should get digital too.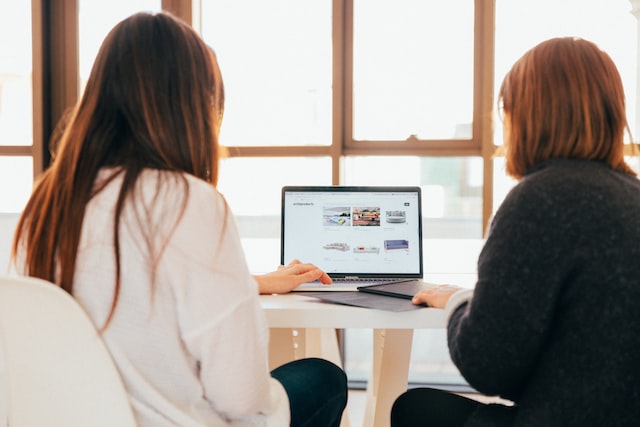 Photo by KOBU Agency on Unsplash
The creation of e-commerce websites by several enterprises is rapidly becoming increasingly popular as a business strategy because it offers enormous scope for online sales and transactions.
Unlike a typical website, typically used for browsing and gathering information, online e-commerce services allow users to make purchases without physically visiting a store.
One key thing every online store should engage in is online presentations.
Customers can form opinions on your goods and services and store themselves via online presentations. Making these presentations is simple.
By choosing one template that suits you best from a set of professional pitch templates, you set up your business for reaping the valuable benefits of using online presentations for your e-comm site, which you'll find in this article.
Ready? Set? Let's get started!
What is E-Commerce?
E-commerce is the buying and selling of products or services online, as well as the data and money transfers required to execute the transactions. It is often referred to as online commerce or internet commerce.
E-commerce can be done on computers, tablets, cellphones, and other smart devices and operates in various market categories.
E-commerce transactions make almost every good or service imagined accessible, including books, music, airline tickets, and financial services like stock trading and online banking. It is hence a very innovative technology for this reason.
These days, every e-com transaction is carried out on a designated website. E-commerce is also done on social media with the rise in social media selling.
E-commerce sites are online marketplaces that enable the exchange of goods and services over the internet by transferring data and money. E-commerce was initially over the phone and through emails.
Customers can complete transactions online using only one webpage.
Since its inception, online selling has been through a great deal of change. E-commerce has a fascinating history and evolution and is developing even faster.
E-commerce and the methods used to execute it are both evolving. The following e-commerce models are the most typical ones:
Business-to-Consumer (B2C)
Direct sales to consumers are the focus of B2C companies. Every purchase you make as a customer at an online store, from clothing and home goods to entertainment, is a B2C transaction.
In particular, for lower-value items, the decision-making process for a business-to-consumer (B2C) transaction is much quicker than a business-to-business (B2B) buy.
Compared to their B2B counterparts, B2C businesses spend less on marketing, with shorter sales cycles, smaller average order values, and fewer repeat businesses. However, B2C e-commerce sites also have to pay attention to creating effective content marketing strategies to connect with their audience.
B2C covers both goods and services. B2C innovators have used technology to directly sell to their customers and improve their lives through mobile apps, native advertising, and retargeting.
Business-to-Business (B2B)
A business offers its goods or service to another company in a B2B business model. Although the buyer frequently resells to the consumer, the buyer is occasionally the end user. On average, B2B transactions have a lengthy sales cycle but more significant order values and frequent purchases.
Producers and traditional suppliers primarily use this kind of electronic commerce.
Consumer-to-Consumer (C2C)
E-commerce of the consumer-to-consumer (C2C) kind includes any electronic exchanges of goods and services between customers. Typically, a third party offers an online platform where the transactions are carried out, which is how these transactions happen in most cases.
A customer will adopt this business model to market used products and/or services to other consumers online. The transactions, in this case, are carried out through a platform offered by a third party, such as OLX, Quikr, etc.
Consumer-to-Business (C2B)
In C2B, the conventional meaning of exchanging products is completely reversed. This kind of e-commerce is widespread in projects that rely on crowdsourcing.
Many people sell their goods or services to businesses specifically looking for these kinds of goods or services.
Sites where designers submit different concepts for a company logo and clients, choose and purchase serve as examples of such methods.
The markets that sell royalty-free photos, images, media, and design elements are another platform that is quite popular in this type of commerce.
Business-to-Administration (B2A)
All online business-to-government transactions are under the scope of this aspect of e-commerce. Many different services are provided in this sector, especially those related to finances, social security, employment, legal records, and registrations, among other things.
Investing in e-government has resulted in significant growth in these services in recent years.
Consumer-to-Administration (C2A)
The Consumer-to-Administration model includes all electronic transactions between citizens and the government.
The effectiveness and usability of the services the government offers citizens are linked to both models of public administration (B2A and C2A).
Benefits of an E-Commerce Site
Like any other business approach, e-commerce has various advantages that can help one succeed.
There is no denying that the ability to sell online has helped several businesses succeed and earn more money.
For you to grow your business, the online marketplace is an excellent platform, and listed below are a few of the advantages of running an e-commerce site:
1) Price and Product Comparison
Online retailers can compare products on their own or with the use of tools. If a product demand is not met, this offers consumers a solid sense of the available product alternatives and standard prices.
Online comparisons are quicker and cover more products; this saves time because all the information is readily available on the shopping website.
This provides the customer with another advantage. People are more willing to spend money when they see a lot of available goods.
2) Possibility of Growing Your Business
You'll need fresh approaches as your company grows in sales if you want to scale it further. And to do that, you need an online store that can expand with your company.
Innovation makes it simple for you to meet client needs and market demand.
3) Guarantees a faster buying process
Customers can shop more quickly and easily for what they want. They can quickly go over various items at once and purchase what they desire.
Customers can shop online for things that are unavailable locally or are only available in distant physical stores.
For many customers, e-commerce can be a lifesaver in this situation. They use the internet to research, receive a prompt response, and then purchase the item.
4) Increased reaction to consumer/market demands
When you start selling online, every interaction is quicker. Ecommerce marketplaces give you access to a streamlined delivery or logistics system. This shows that the buyer's order is efficiently delivered. Another benefit is handling product returns; you can issue a refund or a replacement.
Even in response to market needs, you can use swift responses. Consider the following e-commerce illustration: If a customer notices an item is out of stock, he can select the 'Notify Me option. This notifies him when the item will be back on sale. Additionally, it alerts vendors that they must refill that product to attract additional customers.
Benefits of Using Online Presentation for an E-Commerce Site
A presentation that can be shared and uploaded to the Web and played online is typically used as a basic and straightforward explanation when the subject of "online presentations" is brought up.
You can use many online presentation formats to design your slides for posting on your online store.
Here are some benefits of using online presentations for online sales:
1) Information Presented Visually
The key benefit of an online presence is the abundance of visual data. With the aid of an online presentation, you can use multimedia clips and narrations to conveniently and elegantly present all the advantages of your goods or service.
2) It can be used in many different ways.
You can use online presentations to grow your business. You can add illustrations and graphics to your presentation to make it more visual and transform it into a work statement or a company plan.
You can creatively show your clients and business partners the outcomes of your operations with the aid of an online presence.
3) Reduces time spent by clients.
Your clients can obtain all the necessary information in a few minutes through internet marketing presentations. Images, price details, technical specs, and other information can all be included in a single presentation.
4) Simple to Produce
Online presentations also have the huge benefit of being incredibly simple to design and edit. To make a significant online presence, you only need a basic understanding of the presentation tool you wish to use.
5) Interactivity
Online presentations preserve all of PowerPoint's interactivity, enabling your clients to adjust different settings in addition to just seeing the presentation, such as the playback speed and sound volume.
Wrapping Things Up
As long as technology develops, e-commerce will keep growing and becoming more and more crucial to businesses. More individuals are connecting to the internet daily, becoming more used to performing digital transactions.
This is why you should use online presentations more often on your site.
Online presentations allow you to meet your customers and prospect virtually.
The future of corporate marketing is through online presentations, which will increase your company's visibility and revenue. The time has come to switch from offline to online tools, without a doubt.