Hey, Ryan here. Just wanted to let you know this post was written by Yogesh Dhingra of Web Start Today, Inc.. Yogesh wrote a great overview of how to compare the top website builders and I'm sharing it with you here on my blog. Enjoy and please leave your feedback in the comments!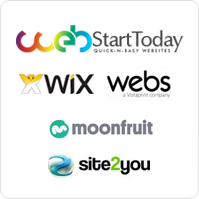 Choosing a website builder typically requires a lengthy process where you compare website builders in an attempt to find the best builder – at the best value – for you. But when you're starting a new business or dealing with the day-to-day operations of running your business, who has the time to do a lot of research on a small business website builder?
To simplify the process for you, we've tried and compared a few of the most popular website builders with a new arrival on the scene. Trying to choose between website builder tools like Wix.com, Webs.com, Site2You.com, Moonfruit.com and relative newbie on the scene WebStartToday.com? Here's what you need to know about a few of the most important criteria when you compare these website builders:

 Ease of Use
Ease of use is extremely important when selecting a small business website builder. Most small business owners aren't Web developers. With a good website builder, you don't have to be.
What makes a website builder easy to use? For us, we think the most important criteria that determine ease of use are:
Easy to understand how to edit the website or page element
Easy to create new pages
Doesn't take a lot of time to create or edit the website
Good customization without offering "too much control"
The last point here is really important. Some website builders talk about how much control they give over the website design. But for someone who wants to create a new website quickly, or who doesn't want to learn all about design aesthetics and how to layout a site, there's such a thing as "too much control." If you have to do everything from scratch, you can create a great site – but it takes a long time, and there's a lot of potential for creating something hideous too.
Balancing these criteria, the website builders that scored best in ease of use are Web Start Today and Wix. Web Start Today offers the pages ready for you to use; you have the ability to customize if you want, but it's not too complex and there aren't too many options. Wix has a great builder user interface that makes it easy to add elements and edit the site, but it borders on too many options.
When comparing website builders, the other top competitors were either too complicated to use, took too long to create a site, didn't give you enough structure to begin with or didn't offer smart design features – we couldn't call them "easy to use."

 Content
Finding a good small business website builder is only half the battle. When you start creating a website, you've got two important creative elements to consider: design and content. When you compare website builders, most of them give you reasonable control over design. But few website builders offer help with content.
This is an area where Web Start Today really shines. Web Start Today offers industry-specific content that requires only a little tweaking with your company details to get a site up and running. You can customize the content if you want – but you can also use the supplied content to get a quick start. Web Start Today also gives you the ability to add on custom content created by a professional writer, which saves you the trouble of doing the research and writing content that may not have the impact you want.
The only other website builder that comes close is Wix, which provides a set of prompts to help you determine what you should write in your content blocks. But with Wix, you still have to do the research and write the content yourself, which can take a lot of time and leave you with something less professional.

 SEO
Search Engine Optimization is a huge consideration for today's small business. But when you compare website builders, very few offer any sort of SEO help. Wix offers some SEO options, which you can tweak to improve your site's SEO. But Web Start Today offers a full range of SEO – pre-populated – including things like page title, metatag keywords and metatag description. You can also edit this pre-populated SEO content really easily.
SEO features are a huge value-add for small businesses. They help customers find your website, and can dramatically boost your traffic and your business. Small business owners, you'd be remiss if you didn't consider this factor when you compare website builders.

Photo Management
Photos are a surprisingly tricky problem for small business owners who are creating their first website. When you're using a website builder, it's not always clear whether you can use the pre-populated photos for your site – or you may not have any pre-populated photos at all.
Finding the right photos can take a lot of time, and photos on sites like iStockPhoto.com can cost anywhere from $5 to $50 per photo – or more! And with more people paying attention to digital rights management and copyright, you can't get away with right-clicking and saving a copyrighted photo to your computer for use on your site. That can expose you to legal issues and logistical headaches, including potentially getting your business sued!
Photos are extremely important in website design, though – they help make your site attractive and accessible, and can convey in a single image what services or products you offer. Web Start Today offers photos that are industry-specific when you select a design related to your industry. It's extremely helpful to know that you've got industry-specific, legal photos with no rights management considerations pre-populated in your site design.
Bottom Line: Compare Website Builders to Find the Right One for You
Ultimately, everyone's criteria are very specific in terms of what they're looking for in a website builder. But if you're looking for a small business website builder that makes it easy to get a site up and running, helps remove some of the legal and creative headaches of website creation and offers value-added SEO services and optional add-ons, Web Start Today is a great choice for you.
Yogesh Dhingra is a career digital marketer, currently with Web Start Today, Inc., headquartered in New Jersey. His experience spans web development, graphic design, SEO, search marketing and social media. Yogesh writes twice-a-week at the
Website Builder Blog of Web Start Today
, offering tips and sage advice on small business matters and online marketing.