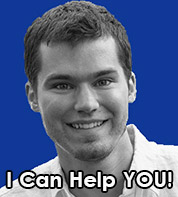 The aim of Web Eminence is SIMPLE...
To help 200 small businesses get a simple and professional web presence
You'll find the level of personal service I offer is a breath of fresh air in an industry dominated by large & impersonal companies.
Here are your first steps on my website:
3 Things You Need To Know About Web Eminence
Affordable Web Design That is Actually Affordable
The web design industry is a scary place for many individuals investigating a website or the first time. It's difficult to know what is affordable when it comes to web design.
There are so many web designers charging outrageous prices. They can charge high prices because there are uneducated people who don't know any better purchasing their services.
There are times when you'll need to spend $10,000+ on a website, but if you just need a simple, informational website on a budget, a budget under $1,000 will work for many people.
I created a web design service that is affordable and my pricing is up front. You can view my current pricing here:
I didn't only create a service that is affordable, I created a page dedicated to helping you understand your options for creating an affordable website:
Affordable Web Design
I Understand Small Businesses Because I Am One
There are lots of large companies selling website services to small businesses. They tailor their marketing to small businesses but their product isn't always designed with small businesses in mind.
I'm a small business myself so I understand the challenges of growing and maintaining your small business. I designed my service to meet your needs and be a breath of fresh air in an industry overtaken by the large players.
I love to meet new clients and learn about their business so I can show them how they can use a web presence to grow their business.
Let Me Build Your Small Business Website
Honest Help… My Website Service May Not Be For You
When you call a web designer, you're probably expecting a hard sell for a down payment to get started.
My service is a great fit for many people but it's not for everyone and I realize that.. If my service is not a good fit for you for one reason or another, I'll be happy to help you find the right option for your website whether it's a more expensive custom website design or a more affordable do-it-yourself option.
Even though my service is affordable, many people need something that they can use to build their site on their own to lower costs. Website Builders are a simple and affordable option for this. I spend a lot of time creating video reviews for the most popular website builders so I can share my opinion with my prospects looking at that option.