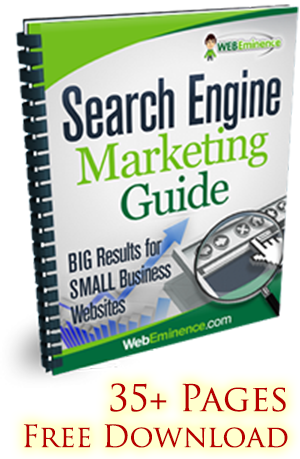 Have a New Small Business Website But No Traffic?
There are tons of sites and books dedicated to increasing website traffic but my guide is unique because it is tailored to small businesses with a small amount of time and budget to dedicate to search engine marketing. I've built my traffic on limited time and money and I show you how I did it and how you can start today too. Here are some questions answered in the guide…
Where does website traffic come from?
Why does Google love Wikipedia?
How can I get Google to love my site?
What are some free ways to get links to my site?
Should I have a blog?
How can I find out what my competitors are doing?
Can I advertise in the search engine sponsored ad space?
and more…
Download it Free and Pay What You Want LATER!
I deliberated over how much to charge for this guide. I've spent months putting it together and included my own strategies and experience from several years of marketing online. So $49, $79, or even $149 would probably be reasonable and people would be completely satisfied with the value they get from it at those prices. Instead, I decided to give it away free and let you decide what it's worth. After you read it, I'll give you the opportunity to give feedback or even pay for it if you feel like it is valuable to you. So there's no risk – just fill out the form below to access it immediately and start reading!
[ois skin="3″]