Web design has grown to become one of the most important industries. It allows specialists to use their creative abilities while also earning a living.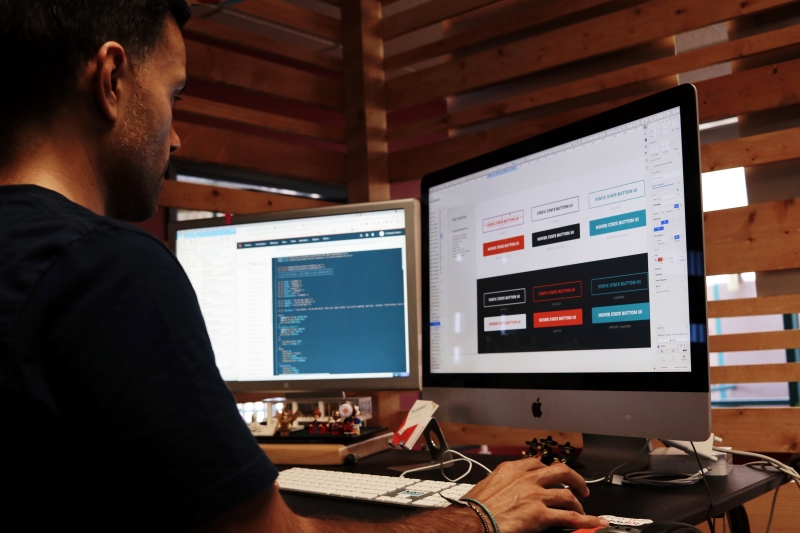 Photo by Campaign Creators on Unsplash
Web designers invest thousands of dollars in high-priced software. Large web design firms, of course, are unaffected by this. However, not everyone has the financial means to purchase web design software and work as a freelance web designer. Is there an escape route?
Fortunately, there is an abundance of free design tools available on the internet. The issue is that there are so many tools available that deciding which one to use can be difficult and time-consuming. This is why we have compiled a list of the best free design tools.
List of the Best Free Web Design Tools
Brands understand that online competition is becoming increasingly difficult by the minute. Consumers form opinions about it based solely on the design of the website in seconds.
If the brand wants to promote its e-commerce or have an e-business card, it must have a good website. It should be visually appealing and have high-quality written text content. Best Writers Online is the best place to go for content assistance, and web designers' offices are usually the best place to go for beautiful design.
Every day, new trends emerge not only in marketing but also in the digital world. As a result, it is critical to keep up with the latest news in the digital world and learn about the tools considered to be the most popular in the industry.
Let's look at the top ten free tools for designing a beautiful website or improving an existing one.
Mobirise is more than just the best tool for creating fast, responsive, and user-friendly websites. It also has the advantage of being an offline tool and being completely free.
Mobirise offers the following advantages:
Google Amp and Bootstrap 4 frameworks;
Professionally designed site templates, pop-ups, sliders, and e-commerce features;
It offers extensions to create forms and pop-ups;
Dragging items is used for all interactions in the Mobirise tool;
Support for video hosting, social networks, PayPal, and other useful features;
The ability to create a store and blog, and landing pages and business cards.
Google Web Designer allows you to create interactive ads, designs, and animations based on HTML5. It allows you to create objects ranging from static tooltips to 3D images.
Google Web Designer is a fantastic tool for creating animated graphics for modern digital advertising and marketing materials. It is easy to integrate with other Google products like Google Disk, Display and Video 360, and Google Ads.
The site designer must be quick, free, responsive, easy to use, and Google-friendly to ensure efficient operation and the desired outcome. As a result, 8b Website Builder is undoubtedly worth considering.
Here are some of its primary advantages:
Allows you to create sites from any device at work or on the road;
It contains the templates and site sections for quick start of projects;
The designer gives your site a Google rating with a few clicks.
Using the Design Wizard, you can create videos and images in minutes. Its free features allow you to magically change the size of your design. You can also download fonts, photos, and logos and create your own colour palettes.
DesignWizards' library contains over a million premium images and thousands of high-quality videos. Every video and image has a commercial license! There is a basic free tariff as well as reseller rights and an indefinite license available.
The WhatFontIs database contains over 700.000 commercial and free fonts. The application includes a feature that uses artificial intelligence to identify fonts in images.
It is a fantastic font search tool:
It correctly identifies the loaded font in 90% of the cases;
It provides answers in a matter of seconds;
It recognizes Italic fonts;
It displays 60 or more similar fonts for each loaded image.
Epicpxls allows a web designer to create layouts quickly by utilizing simple, downloadable premium materials. It also includes a carefully curated collection of stunning user interfaces and website design templates in a variety of popular file formats.
Fonts, graphics, and icons are also available for download from the library. Examine the zip files to make sure your design is in the correct format. After downloading the zip archive, create your own website or application.
Trafft will assist you in carrying out the best planning for your type of business. Customers and clients can use the program to easily book all services. Trafft can be integrated into your website to simplify and accelerate the booking process.
Advantages of Trafft:
Customers and clients can book appointments online 24 hours a day, seven days a week;
It allows you to receive real-time email notifications and reminders;
You can integrate Trafft with Zoom yourself;
You can modify the procedure in a booking form based on your requirements;
Trafft can be used to manage tasks, employee schedules, vacations, and holidays.
Webflow is a versatile web design tool that combines CMS, managed web hosting, and a free SSL certificate on a single platform with no coding required. To create interactions and animations, drag and drop unstyled HTML elements onto your own website.
Finished items such as sliders, tabs, and background videos can also be used. The main content library of master layouts, components, and templates is included in the tool. Furthermore, if you do not want to run the site on its own subdomain, Webflow allows you to create prototypes and export code for use by developers.
It quickly gained popularity among many in the web design community. Its popularity could be attributed to a variety of factors. This is a UX/UI design standard that allows you to collaborate on the design and prototyping of intuitive web pages, applications, and more, including voice interfaces!
A web designer in Adobe XD can use content-based layouts, flexible resizing, and reusable states for different components to add animation, design systems, and adaptive Web designs. With a single click, one can also create deep layers, rotate planes, and view his work in 3D. Adobe XD enables easier collaboration with a team and customers.
One of Figma's primary strengths is that it is a web application with automatic layout, resource libraries, and general prototyping features. It is best described as an interface design tool that allows multiple designers to collaborate on one project in real time.
As a result, it is ideal if the project involves several interested parties. Figma provides the possibility to add as many team members as you want as free "viewership" to receive comments from stakeholders on your project.
Figma is available for Mac, Windows, and Linux users. Designers have the option of using either the free or paid version.
Every web designer has his own set of techniques and tools that he uses in his design projects. Even if one has a well-stocked toolbox, he must keep it up to date. This requires current knowledge of the best web design resources and tools. Many of the new tools may be desperately needed to meet the ever-changing demands of the industry.