Stop sweeping it under the carpet. Upgrading necessitates action; ignoring problems with your website won't make them disappear.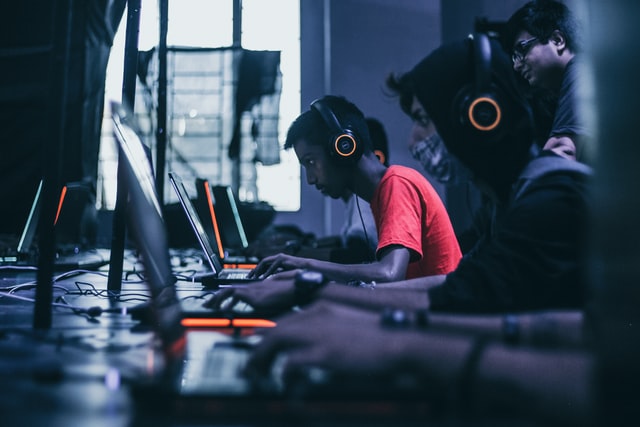 Photo by Fredrick Tendong on Unsplash
You first need to ask this question to yourself, "Why did you decide to change something?" A simple redesign may be preferable in some cases, whereas sometimes it can be as easy as improving the navigation.
As you work on your website, keep these three principles in mind:
Design — Good-looking websites attract more visitors and encourage them to stay on them. So make it beautiful.
User Experience — The website should provide a smooth experience for your visitors. If they had a bad encounter, they would leave.
Marketing — Your website must sell you, your goods, or services; it is your most effective sales tool. Incorporate social media, SEO, content production, and lead generating.
Here are the ten main ways you should improve your website:
Go black and white
Good design must have white space. In addition, it makes your content easier to read while also assisting the reader in concentrating on the content around the text. According to Crazy Egg, adding white space around text and titles enhances user attention by 20%. If your branding is compatible with these, white space can also give your website an impression of openness, brightness, and modernity that can assist you in conveying to the visitor. However, don't forget, white space takes up space.
The trick is to balance what must be communicated most clearly above the fold and leave enough space around it for the image and text to stand out. This enables the reader to concentrate on what is most crucial.
Use guidelines for sizes
It's crucial to get the sizes and positions of various elements on any website just right. Increasing the size and positioning of the most important content will accomplish this. This can make your website appear well-designed and professional, making it easier for visitors to visit your website—who may later become customers or clients—to locate what they're searching for. As a powerful design tool, size can also emphasize significant website features and serve as a visual hierarchy indicator for the most crucial material.
Sizing is crucial to ensure your website's mobile users can take advantage of all its features. Your website's text sizes will vary. And that is fine.
Website Navigation
Consider this from the perspective of the user. It's important that you make it easier for users to navigate, even if you have a lot of content and need to arrange it differently. Little things have a tremendous impact. The navigation's structure and labeling can significantly influence results. The website's navigational layout can substantially impact conversion, sales, and bounce rates.
Visitors will depart if they can't figure out what they are looking for. That's the very last thing you would want. Instead, design a simple, hierarchical website navigation to guide visitors to find what they want quickly. Without website navigation, your visitors won't be able to access your product listing and descriptions, pricing, email signup page, contact page, blog, or FAQ page.
Start with this rule: Within three clicks of arriving on any page of your website, visitors should be able to find what they are looking for.
In a perfect world, each visitor would access your website from the homepage and proceed in the same direction. But that's not the case, though. Visitors to websites navigate all over the place. Keep in mind that you want visitors to stay and browse further on your website. Give them the motivation to click on links by arousing their curiosity and tempting them with attractive deals.
Call to Action (CTA)
The call to action is a crucial component of a web page since it serves as a signpost for the user, telling them what to do next. Without a clear CTA, a user might not be aware of what to do next to purchase something or subscribe to a newsletter, and they might leave the website before achieving their goal.
A call to action helps reduce friction as a user moves down the sales funnel by making it apparent to potential consumers what action to take next. If there are several desired actions for the user to complete, there may be more than one call to action on a page. A reader is likely to abandon the website without completing any more activities if, for instance, there is no apparent clear call to action at the end of a blog post when they first arrive. But if a call to action (CTA) is at the bottom of the piece encourages people to read more articles or sign up for an email subscription, it may motivate them to stay on the site and connect.
A compelling CTA can influence customers' decisions to buy, subscribe, book, or engage in other actions that advance the company's objectives.
As LeadIQ is one of the apps that will help you in managing lead and sales prospecting in the most efficient way.
Mobile-friendly
There isn't much of a debate here. You suffer in many ways if your website is not responsive or mobile-friendly. Google not only devalues you in rankings and searches, but you also lose visitors due to their inability to view your content in some formats. Your list of website design tips should start with a mobile-friendly, responsive website.
While responsive and mobile-friendly websites can be combined to provide users with a more streamlined experience, however, they are indeed two different things:
Mobile-Friendly: Your website displays correctly on all mobile devices and looks the same on all smartphones and tablets.
Responsive: Your website will display correctly regardless of screen size or browser preference.
By now, you have likely developed a responsive and mobile-friendly website. You are undoubtedly in good shape if you use WordPress or another well-known platform for your website. However, if your website is not responsive and mobile-friendly, this is the first website design tip you should work on to enhance the overall appearance, feel, and function.
Use motion and animation with intent
It is crucial to have motion in web design. There are billions of websites in the current world, and many already use motion. Old-fashioned websites that don't move or use Flash get neglected and doesn't get as much traffic as they should. Users are less likely to stay on lifeless and inert websites for long.
Consumers' attention spans today, and Gen Z in particular, are getting shorter as technology opens up more opportunities for stimulation and customization. Users are continuously inundated with information. Thus, static screens don't help them become involved; movement on the screens is essential to hold their attention. If a company or website owner lacks the technological know-how to add motion to their site, they have the option of hiring a web designer. Your UX may be significantly improved, and your digital brand can be strengthened by investing in this area.
Website Speed
Page speed is essential for consumers to stay on your website and be interested. Remember that if a mobile site takes longer than three seconds to load, over 53% of users will leave. Therefore, you should improve your website design by ensuring that your page speed is adequate for making your site mobile-friendly and responsive.
This applies to any website you may have, such as a blog, store, or shopping cart. In actuality, the chances are that your potential customers will abandon carts, and you will wind up with one fewer customer than you started with if there is even a 2-second delay in your load time during a transaction.
Your website may be optimized and made faster by doing several things. They include, among others:
Image Optimization
Plugin reduction
Cleaning Themes and Framework
Use a Content Delivery Network (CDN)
Optimize homepage
Consider the top hosting platforms.
Minimize the use of redirects at all costs
Page speed is closely related to other ways of enhancing website design. When considering website design advice that will improve the usability of your website, give this the highest emphasis possible.
Social Media
Social media platforms like Facebook and Twitter have dominated the world in which we now live. In other words, social media helps people stay in touch, informed, and connected. Utilizing social sharing and social following should be a part of any website improvement suggestions. Why? Over 229 million people use Twitter every day, whereas 1 billion people use Instagram each month.
While they are massive figures, Facebook, which has over 2 billion users, outpaces both. Your website must include social sharing buttons for users because of this. If possible, you should familiarise yourself with social sharing buttons. The little icons appear at the top or bottom of blog postings and on the right or left side of the product image for visitors to share with others. You can immediately share the page on your chosen channel thanks to the icons they provide for various social media platforms.
The goal is to encourage visitors to spread the word about your content or product when they enjoy it. Without you doing any work, sharing content makes it available for viewing by everyone. As a result, more people will visit your website and learn about you, increasing its popularity. An excellent technique to enhance website design is by including social sharing tools. This is one of the many recommendations to help you increase your social media engagement right now.
A/B Testing
Designing a website is an enormous task for both designers and business owners. For both the customer and the designer, your choices during the design process might be the difference between creative and financial success. When making decisions, it would be best to rely on statistics, not gut feeling.
Comparing two versions of something using A/B testing is a technique used by UX designers and marketers. Whether it's for a service, an app, a website, or a commercial, depending on the needs of our business, product, and users, we want to know which of the two versions is more successful.
The product is created in two iterations, A and B, and many of each are distributed to users randomly. The winning version counts how many users perform the required activity. It follows logically that some testing or analytics tool records each user's response.
You need to start incorporating A/B testing into your design strategy to avoid any potential pitfalls in your subsequent development. Before going live, you may fix any design, navigation, or operation issues by running quick A/B testing on your websites. You'll be able to provide a finished product to your customers that is not only beautiful to look at but also enhances sales.
Email Addresses vs. Contact Forms
Do you have any doubts about using an email address or a contact form on your contact page? Whether you receive the inquiries you desire will be greatly influenced by your choice. According to the statistics, one of the most popular areas of the website is the contact information. People search for the company's contact information and pose more queries. But before we continue, be aware that your Contact page should be helpful to you:
Look professional
Keep your team in the loop
Safeguard your inbox
Make things easy for your visitors
Stay organized
Build your email list
That's all there is to it! You now understand that having a contact form instead of an email address on your website is the best choice.
Conclusion
The performance, user experience, and customer conversion rates of your website can all be dramatically improved by taking the time to implement these points. But once you have put some of them in place, you might start to believe that the bigger project is to redesign your website.
You are not alone in thinking that this project is more frightening, even though it is. No matter if you're undecided about whether you should redesign your website or just want to learn more about it, we strongly advise you to follow these suggestions.
When the topic of a website redesign comes up at work, you'll be better prepared and more confident about what must be done.