Your website is the primary online representative of your business and your brand. That means that it's important to invest your money, time, and energy into making it more appealing and efficient. One of the best ways to improve your website is to start using personalization.
Website personalization is the process of adapting your website for each specific visitor, or group of visitors. Based on their demographic, personal taste, previous behavior, and numerous other factors, you can offer them a personalized experience that they're going to appreciate. So, if you're interested in learning about practical personalization methods, just keep reading.
Here are 6 great ideas for website personalization that you should start using today. Let's take a closer look. In addition, you can think about an idea to buy tok essay if you need to improve your writing skills.
1. Quiz
Most people online aren't as enthusiastic about showing personal information as you'd like them to be. That means that it can sometimes be hard to learn about your target audience and use that data to personalize.

source: ZGallerie
But, if you make the whole thing a bit more interesting and fun, they might just be on board.
Therefore, consider using a quiz to learn about your customer's taste:
fashion quiz
Show images of several different bags, shoes, dresses, pants, or hats and have the customer choose the ones they prefer. Based on this, recommend the products to purchase.
sports quiz
Show images of different types of sports, sports gear, sportswear, or sports celebrities and have the customer choose the ones they prefer. Based on this, take them to a section of your website where they can find what they like.
When you put it this way, your customers will have fun and will be willing to give you the data you need for personalization.
2. Weather-Based Personalization
The key to personalization is for your visitors to feel like you're talking directly to them. They want to feel like you've invested the effort into making every visit they make to your website a little extra special.
Weather-based personalization can help you achieve this effect.
Here's how it works:
based on the location of the visitor, you'll be able to tell what kind of weather they're experiencing at the moment
you'll customize your welcome message or product recommendation to fit that exact situation
You'll be using the weather to hit the right buttons with your customers. Here's a couple of examples:
"It's super-hot outside- pick one of our swimsuits and hit the beach!"
"What a freezing day- warm it up with our double cappuccino."
You'll be using real-time data to customize your website and make your customers feel at home.
3. Geo-personalization
Geo-personalization is all about using your visitor's current location to create content specifically designed for them. That means that you can customize and adapt the different features of your website to suit every specific visitor.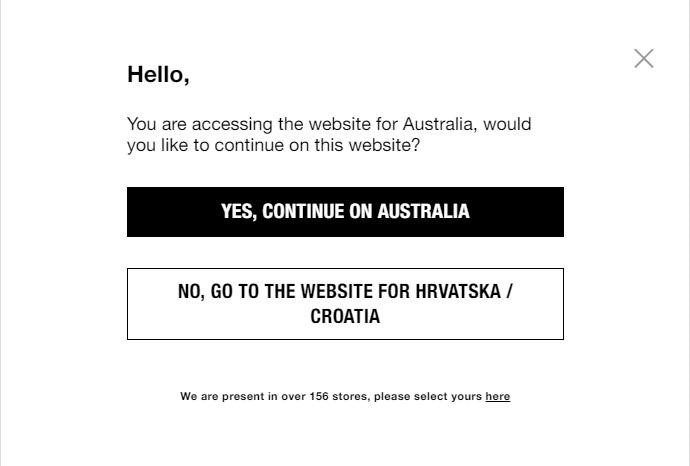 source: Zara
Here's what you can personalize:
shipment location
Free shipping to Australia or Shipping to Croatia starting from $4
season messages
It's wintertime in Australia- gear up! vs. July is the best time to explore Croatia- choose a swimsuit to fit your next adventure
5 Best Sydney Coffee Shops vs. 5 Best Coffee Shops in Zagreb
A person visiting your website from Australia will see a different type of content from the person visiting it from Croatia. It's a huge advantage that you'll create for your business.
4. Offer Coupons Based on Category Search
Here's another great idea on how to personalize your content and increase your sales.
Offering discount coupons is great. But offering personalized discount coupons is even better.
You can personalize a coupon based on:
previous searches
previous purchases
wish lists
abandoned carts
Mila Pearson, a web designer and writer at Studicus, says "Just make sure you're targeting the right audience with a category-specific coupon and offer it to the right people. This will inspire them to go on with their shopping and buy the products they love the most"
So, if you have a customer who's already bought two pairs of jeans or has them in their wish list, offer a coupon that says:
15% off on all our summer jeans!
That will be the push in the right direction that they've been waiting for.
5. Recommendations
Naturally, we can't talk about personalization without mentioning the recommendation options for the people visiting your website. This is especially important for e-commerce websites that are selling products.

source: Amazon
So, to make sure you boost your sales and win over as many customers as possible you need to have the following sections on your website:
You may also like…
While a customer is looking at a specific product, offer other similar ones to help them narrow their search.
Recommended for you
If this customer has already done some shopping on your website, you should use that data to suggest further shopping options.
Inspired by your wish list
Customize a special offer based on the things a customer has marked as interesting to them.
These options will help you boost your sales and close more deals.
6. Send Personalized Emails
When it comes to website personalization, you can turn to other forms of marketing to enhance it. Email marketing is an inevitable piece of the puzzle that can help make your website even more friendly and personalized.
Using the data gathered from your website, you should send personalized emails to your customers:
welcome messages
birthday messages
abandoned cart reminders
special offers
new arrivals
Make sure you use the customer's first name and send them love using the data you have.
Make sure that your emails are accurately and professionally written. If you need help with writing or proofreading, check out GrabMyEssay or TrustMyPaper, professional writing platforms. You can also visit ghostwriting service.
7. Filter Search & Style
Finally, there's another great thing you can do to make it easier for your customers to shop on your website or find what they need.
Some clothing brands decided to ask their customers for specific things such as:
body shape
height
weight
shoe size
bra size
This lets customers filter their search easier and even get recommended the product other customers similar to them have purchased. It's a great way to save your customers' time and help them find a perfect match.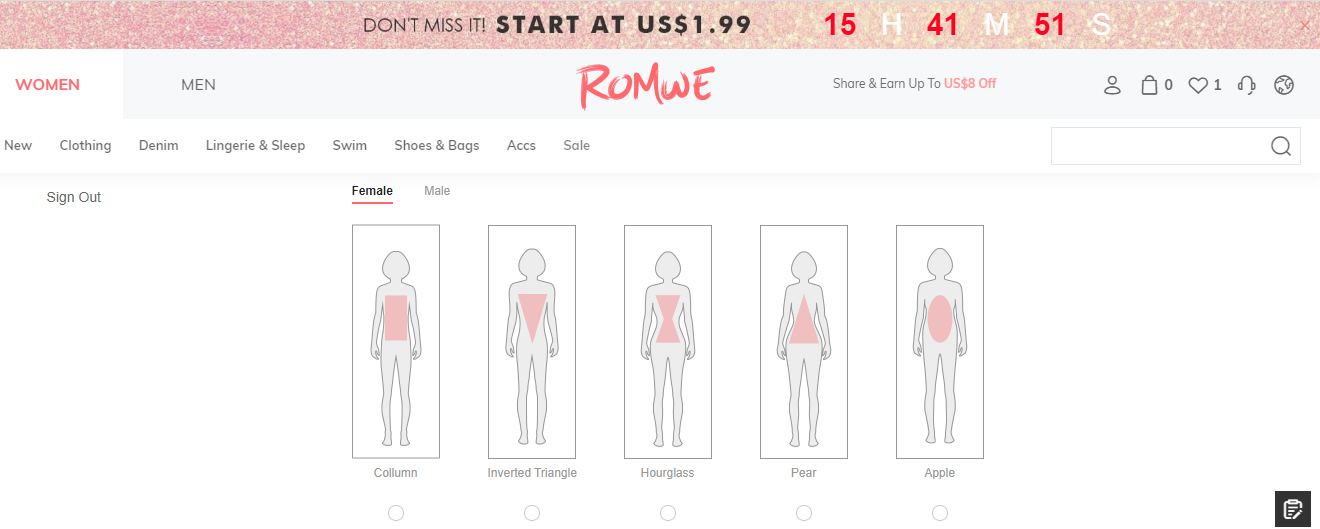 source: Romwe
Final Thoughts
Website personalization is all about listening to your customers' needs and finding a way to deepen your relationship. It requires a bit more effort and some strategic planning, but it's worth it in the end.
Use the ideas we've listed above sand start personalizing your website as soon as possible.
__________________________________________________________
Nicole Garrison  is a freelance blogger who is passionate about sharing her viewpoints and ideas with her loyal readers.  She's also a writer at BestEssayEducation and WoWGrade. She covers topics ranging from web design to digital marketing and focuses on giving practical advice to her audience.