As an Google Ads-certified Google partner who manages multiple accounts, I have seen many real-life examples of mistakes made in Google Ads. So, let's look at the 7 most common Google Ads mistakes and, more importantly, how you can correct them.
Mistake #1 – Not Knowing Your Network
When creating a campaign, you have the option of choosing the networks where your ads will be displayed. This includes the two main networks: the Search Network and the Display Network. I've discussed these networks in-depth in my video Google Display Network vs Search Network – What's the difference? Be sure to check that out!
Many users don't even know the difference or at least don't know why they should choose one over the other. Different campaign objectives require different network so be sure to educate yourself on the benefits of each.
Mistake #2 – Keyword Targeting is Too Broad
With keywords that are broad, such as "dentist" or "construction," you will likely get plenty of ad clicks, but you'll be spending a ton of money on clicks that are less than relevant.
When choosing your keywords, make sure to use keyword match types like phrase match and exact match which should greatly increase the relevancy searches that are generating clicks on your ads. After you've exhausted the use of phrase match and exact match, you can then begin thinking about delving into broad match keywords for more volume.
Read more about keyword match types here.
Mistake #3 – Never Looking at Search Terms Report
Not looking at the Search Terms Report is another giant mistake related to keywords. You can find the Search Terms Report under your Keywords tab in Google Ads by clicking on the Search Terms button. Here you can see the search terms people are actually searching for  when they click on your ad. By seeing what people type and what triggers your ad, you can determine how to steer your keywords toward better results. One way to do this is with negative keywords…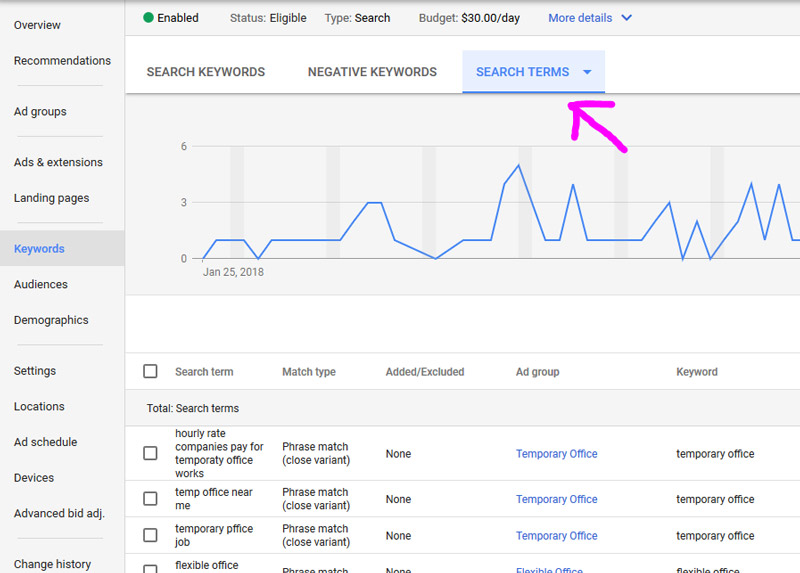 Mistake #4 – Neglecting Negative Keywords
In your Search Terms Report mentione above, you can click on one of your keywords and then hit the button Add as negative keyword. This will keep your ad from displaying when that keyword is searched, and then you will eliminate the prospect of being charged for clicks that aren't relevant. Under the Negative Keywords tab, you also have the option to manually add negative keywords and even create negative keyword lists that can be applied to multiple campaigns.
Mistake #5 – Ignoring Quality Score
Even though Quality Score is a huge factor in Google Ads, a lot of advertisers have never looked at it since it doesn't show up by default in your Google Ads account.
A Quality Score is a 1-10 number assigned to keywords. It's a measure of three things: quality of landing page, expected click-through rate, and relevancy of your ad. Quality Score is incredibly important because it combines with your bid to determine where your ad will rank in the Google search results page. If your Quality Score is higher than a competitor, you can potentially outrank them even if your bid is lower!
You can add the Quality Score column by going to the Keywords tab, then clicking the Modify Columns button. Check out my other video on a Top Secret way to create a report of Quality Score in Google Ads that is super helpful diagnose Quality Score issues.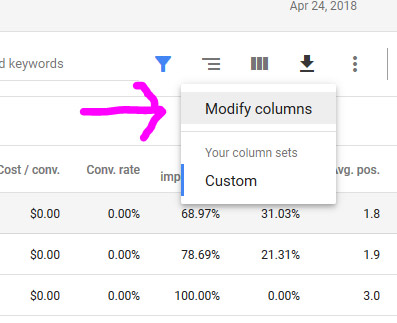 Mistake #6 – Poor Account Organization
There are many issues I see related to poor account organization, but the most common mistake I see is having generic names for your campaigns (Campaign #1, Campaign #2, Ad Group #1, etc.). With generic names like these, you may not even remember which campaign is which much less how they performed!
Your campaign names should be short but also as descriptive as possible. Organizing your account will allow you to work faster and more efficiently. Even better, if you have Google Ads and Keywords grouped appropriately, it can help increase your Quality Score.
If you're not sure how to name your campaigns, consider something simple like the name of the product or service and the geographical target. For example, Electrical Contractor – 20 miles. This may not tell the whole story but it is much more useful than Campaign #1!
Mistake #7 – Not Tracking Conversions
To set up conversions, go to Conversions under the tools (wrench) icon in the upper right.  I go into great detail on conversion types and how to set them up in my Google Ads CONVERSIONS 101 video.
Without conversions it's hard to know if you're actually having any success with your campaigns. Tracking conversions is the best way to determine which campaigns are producing results and which ones aren't.
By eliminating these 7 Google Ads mistakes you'll be on your way to outperforming 50% of Google Ads advertisers. What other mistakes do you think are most common in Google Ads?
Need help managing your Google Ads account? Check out my PPC Management.