Let's play word association…
I say "Godaddy" and you probably think…
superbowl commercials, domain names, Danica Patrick
What about "website builder?" No?

See my Full Video Review Below
More Than Just Domain Names…
Godaddy is known mostly for selling domain names and for their controversial TV commercials. Whether you have a positive opinion of the company or not, they are the leader in domain name sales in the entire world managing 58 million domains currently.
When people buy domains, their next step is usually to build a website, so naturally Godaddy has developed a website builder to upsell to the thousands of domain customers that come through their website every day.
This is my FIRST full review of their website builder, but I did play around with previous versions and they were simply AWFUL. When people asked, I would tell them not to touch the Godaddy website builder with a 10 foot pole. And most current customers were trying to transfer away from it.
Dear entrepreneurs: a GoDaddy website builder is not going to make your look like a professional. #SharkTank — Erin M. Harris (@erinmharris) September 27, 2014

Godaddy is on version 7 of their website builder currently and in my opinion, it's the first version that is acceptable. See my video review of Version 7 below. It's about time this website industry monster put some money into developing a decent product. 
My opinion of the Godaddy website builder has improved drastically, but keep reading to the bottom to see if I recommend it for you.
Here's what some people are saying about the website builder recently on Twitter:
Did a bit of updating… it's a work in progress, learning my way around GoDaddy's website builder ……. http://t.co/q4E7MybPTb — MsBeth (@MsBeth65) November 7, 2014
.@GoDaddyHelp @GoDaddy 3 nights this week website builder won't save. Your buggy system on off hrs, bad 4 #entrepreneurs #usegodaddytheysaid

— Todd Greene (@todd__greene) November 20, 2014
Much Improved Godaddy Website Builder V7 – No Free Trial
Even though the Godaddy website builder is definitely NOT the best value on the market, it's much improved to the point that it is at least usable.
There's no free trial of the Godaddy Website Builder, so you're not able to give it a test drive. So take advantage of my video walkthrough below to see exactly what the builder offers before dropping your cash on it.

Try Godaddy Website Builder For Yourself
Problems with the Godaddy Website Builder?
No Blog?
Chances are you've heard of a blog. Blogging is pretty popular to say the least.
Godaddy seems to disagree though because they don't include a blog in their website builder. They do have a blog widget, but all the widget does is populate a feed to a third party blog that you setup on another blogging service like tumblr or blogger. This may not seem like a dealbreaker, but with blogging being the best way to create new content on your site, not having a blog will make it awkward to build your Godaddy site over the long term.
Blank Slate Designing
Creating designs from scratch may sound like creative freedom, but one of the reasons people choose a website builder is to get a head start with the design process.
The Godaddy website templates are OK as I mention below, but beyond the design they give you, there are no pre-set page templates like you'll often find in other website builders.
In Weebly, when a new page is created, you can choose from 4-5 different types of pages and a few different header images styles to help you create new pages fast.
In Godaddy, you'll be creating new pages from scratch which can become a bit time consuming. Your best bet may be to copy pages previously created so you don't have to start from ZERO.
Godaddy Website Builder Templates
Like I said, the templates  offered by the Godaddy Website Builder are just OK. But that IS an improvement from BAD which they were in previous versions of the website builder.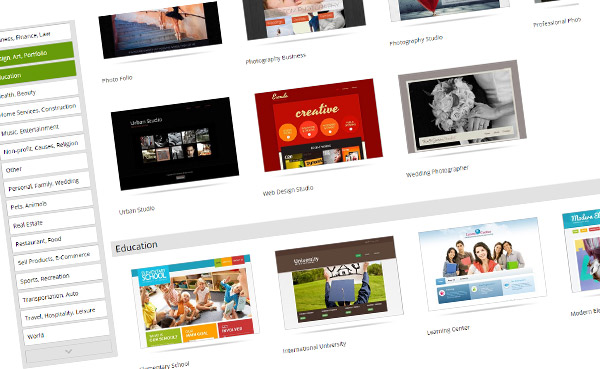 There are a couple hundred designs to choose from and most of them are targeted to a particular industry so you should be able to find something that works for your website. It's fairly easy to edit the designs for color although elements will need to be edited individually. I couldn't find a way to quickly choose between different color schemes the way you can in other website builders.
Another limitation of the sales process of the Godaddy website builder is that you can't see live previews of the designs before signing up. You can only see thumbnail versions. This makes it tough to confidently choose a design theme before signing on the dotted line.
The Website Builder Itself – a little "loose"
The user experience of the Godaddy Website Builder is good overall. It's intuitive and easy to use. There was nothing that simply didn't work and no errors encountered.
Godaddy's website builder has all he basic elements you'll need for your website including:
text
images
photo galleries
social share and follow elements
Youtube widget
contact forms
You can see all these elements in my video above.
However, for a do it yourself platform designed mainly for beginners, it is a little "loose". What do I mean by that?
The best way to describe what I mean by "loose" is to compare it to the Weebly website builder that is fairly rigid. When you drag an element to the site in the Weebly website builder, it snaps into place and is already correctly aligned.
The Godaddy website builder doesn't do a whole lot of snapping. When you drop something on the screen, it stays exactly where you put it. There is a snap/auto-align option but it was unpredictable and didn't always align objects the way I hoped.
Also, trying to edit text wasn't incredibly intuitive. I tried to edit the title text style and it didn't change. It appears that they have preset styles in each theme which can save time in the long run, but will take some figuring out to really make them time-efficient.
Dragging elements to the screen and editing them is pretty straight-forward, but even the settings boxes that pop up for different elements showed up in different spots in the content editor space and made the process more confusing than it had to be. You can see an example of this at 8:55 in my video above.
I would expect to see some improvements with these "loose" items in future versions.
Godaddy Website Builder Pricing
Godaddy is tought to beat when it comes to pricing since they often offer good deals and discounts. When I started reviewing their website builder, I signed up for Godaddy's business plan at $9.99 per month.
Already at the time of publishing this post, they are offering deep discounts on the website builder. Personal for only $1/month, Business for $5.99/month, and Business Plus for $10.99/month. I'm not sure how long it will last but you can head over to their website and check current prices.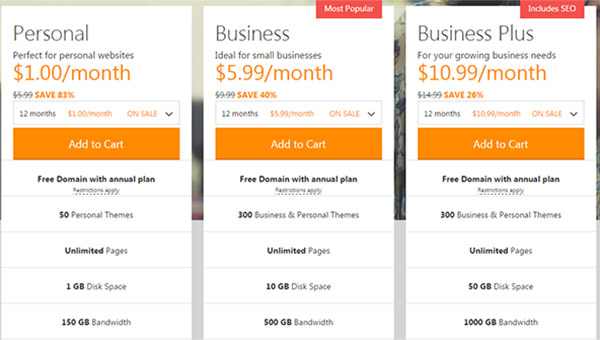 The Personal option is pretty limited. It only offers 50 different design themes and doesn't include a mobile site. It may work for some people, but I think the Business plan is the best value. It gives you access to all the design themes and also gives you two email addresses which many small businesses need anyway. This will be an email address on your own personal domain name, not yahoo.com, gmail.com etc.
An email address would cost you a few dollars per month elsewhere so the value of getting email addresses AND website for $5.99 is obvious.
There aren't many good reasons to get the Business Plus plan unless you want the 5 email addresses it includes.
Do I Recommend The Godaddy Website Builder?
Godaddy is an OK option for some people.  If a few (or preferably all) of the items below are true of you, then the Godaddy website builder may be a good enough option for you.
Already have a domain with Godaddy
Stumbled onto a great sale on the Godaddy website builder
Really just want the 2 email addresses on the Business plan and will setup a basic website
Not interested in creating a blog
Only need a website with 3-5 pages
Get Started with the Godaddy website builder OR See some other website builders I recommend.