There's nothing worse than a website with cheap clip-art for images. If you are a website owner, using clip-art or cheap images is a great way to make your visitors leave your website very fast. Using cheap clip-art images will convey a low-quality website and make your visitors believe the content of your website is not worth reading.
So what are your options?
Professional Stock Images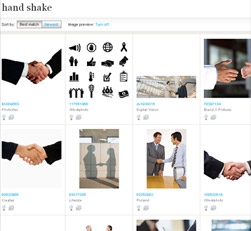 Unfortunately, using high-quality images legally is not cheap. There are hundreds of professional stock image sites that sell licensing to use their photos. These stock image sites are the best place to find high-quality images for your site. You can type any phrase and get pictures that fit the searched phrase and most pictures are available in many different sizes and resolutions.
Like I said, these stock images are not free, and they are usually not even cheap. Typically the smallest sizes are $5 and the high-resolution images can be as much as $50! Fortunately, there are some stock image sites that offer royalty free images that are much cheaper.
Royalty Free and Rights-Managed Images
Royalty free images are available for unlimited use with no restrictions once they are purchased. On the other hand, Rights-Managed images have many restrictions for their use and are priced depending on their use. If you are looking to save money, stick with royalty free images. There is a wide enough selection of royalty free stock images that you should be able to easily find the images you need.
iStockphoto For Royalty Free Stock Images
I have used many of the stock photo sites including Getty Images and I have found iStockphoto to be the most reasonably price with a great selection of images. You can get many low-resolution images for $1-3. iStockPhoto works on a credit system. You purchase credits in packages and use credits to download images. The more credits you buy at once, the lower the cost. They also have subscriptions available for users purchasing in bulk for even more savings. Click the banner below to sign up for iStockphoto for free and get 10 free credits!

Web Eminence Complete Website Package Has Stock Images Included!
If you are looking for a complete website package with professional stock images included, you might be interested in my Complete Website Package. Many web designers will charge customers for the cost of the stock images. With my website package, all images are included. This is a great value to my customers.