So, you're not a graphic designer, but you want to create a professional looking infographics in order to share data in an eye-catching way. You could hire a designer but that could be costly. You could create one from scratch but that could be time-consuming.
Fortunately, there are several easy-to-use programs that can assist you in creating high quality infographics (and more). Venngage is one of the most popular, and with 100s of templates to choose from as well as FREE account options, is it the best choice for you? Let's find out in this review!
Venngage at a Glance
The first thing you may notice about Venngage is that infographics aren't all it has to offer. There are customizable templates for presentations, reports, charts, resumes, posters, flyers, newsletters, and more. Basically, even if you aren't in need of infographics, you'll likely be able to utilize Venngage for other marketing materials.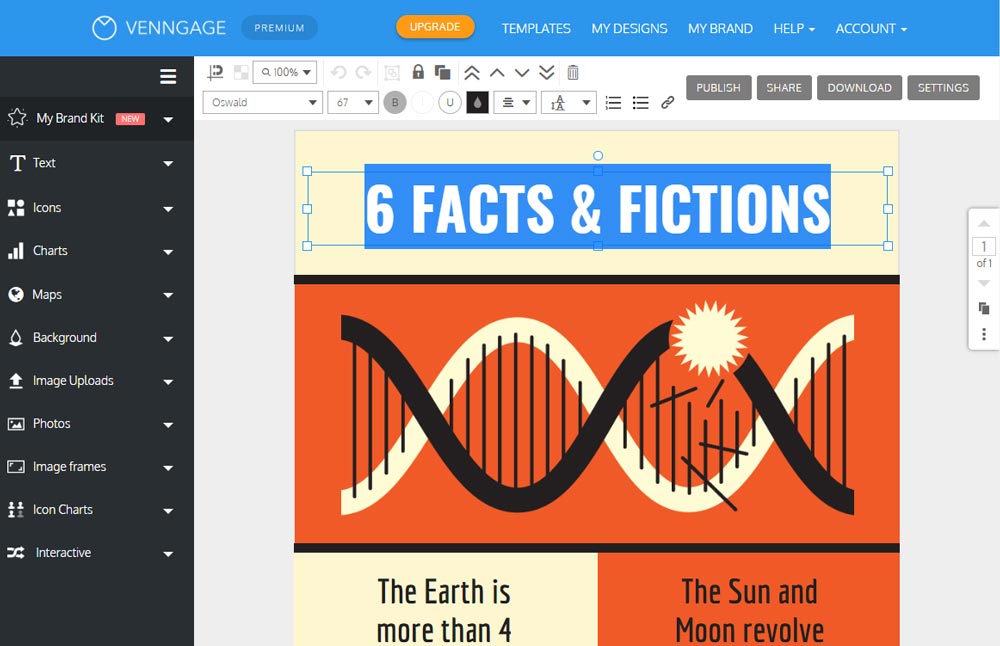 Building Infographics With Venngage
The infographic templates that are available are plentiful and can be easily searched by categories that include informational, geographic, comparison, list, and many others.
Beyond the great selection of templates, one of the things I really like about Venngage is how easy it is to customize them. It only took me about 10 minutes to change my template once I'd found the one I liked. That included reworking text, changing an image, and rearranging some of the icons.
I do want to note, though, if you have ZERO design experience, there is a slight learning curve to understand the available toolbars and their functions. But, once you've worked with it for a bit, it's easy to navigate and fairly intuitive.
Once you've created your infographic, you are then able to publish directly to Venngage, share across social media channels, or download directly.
Additional Options For Infographics
The sheer amount of options users have when building infographics might be a bit overwhelming. In fact, there were actually quite a few features that I didn't even need to explore that others might find very useful.
Users can add custom charts, allowing you to control color, font, etc., and enter your own data or directly upload a Google Drive Spreadsheet. You can add maps and create visual data sets like maps of states of the US. Users also have the option to upload their own images or search Venngage for stock photos.
There are also interactive options allowing users to add polls, quizzes, or sign-up forms. Keep in mind that these interactive additions won't work when exporting infographics as a JPEG, but fortunately Venngage does have a paid option to export as an Interactive PDF.
If you want complete control, you don't have to use a template. You can start with a blank canvas and customize the graphs, colors, images, and text from top to bottom.
There are also options to upload a Brand Kit, which will include your own logo (or one you've built with Venngage) and your businesses' trademark color schemes. This can help add a consistency to all the marketing materials put out by your company.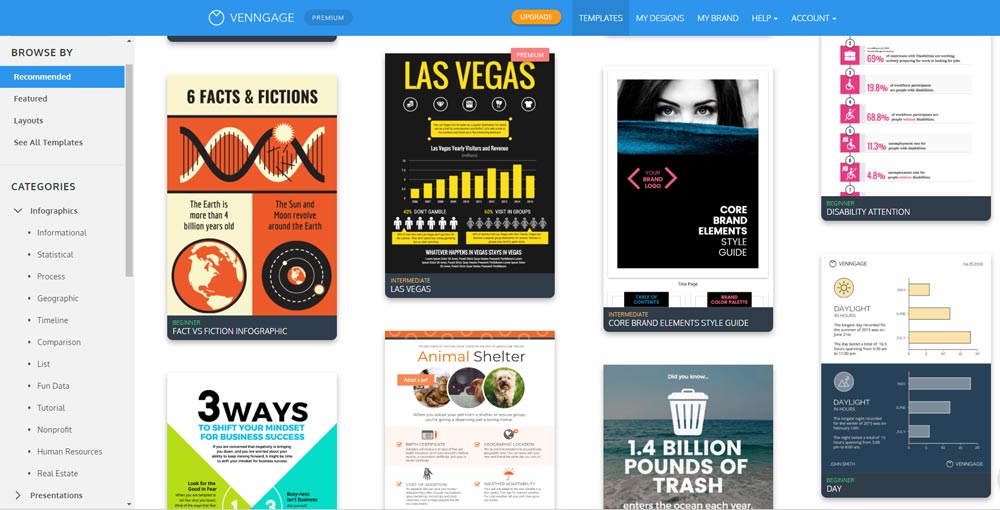 Venngage Pricing
As of this writing, the Premium plan is $19 a month and includes unlimited docs that you can create, a max upload of 50 images, and the ability to export to PNG & PDF.
There is a FREE option but with this you are only able to create 5 infographics that come with Venngage branding.
There is a third Business option for $49 a month, which includes a max upload of 100 images, additional templates, branding kits, hi res export options, interactive pdfs, team collaboration options, and priority support.
Venngage isn't the only program available as there is also Easel.ly, Infogram, Canva, Logogenie.net an online logo design service, and others, so it might be worth digging around to see which program best meets your needs. And as always, I'll answer what questions I can in the comments below!