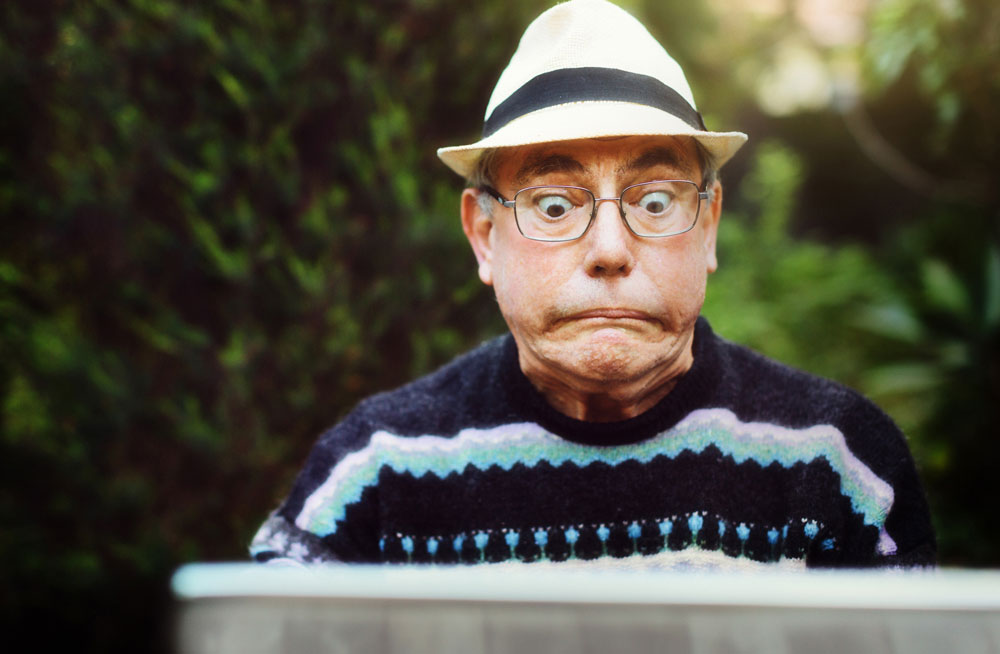 Good website design isn't optional anymore—It is now an important asset to businesses. It is one of the key factors that influence you and your business's online presence. And surprisingly it's easy to mess it up.
In fact, most growing brands are guilty of making the same website design mistakes.
These mistakes that we see time and again are mostly subtle—but they can do a lot of damage. In this article, I'll cover 10 most common web design mistakes along with some easy hacks and fixes for how to avoid these mistakes and bring in more business. Now, let's take a look at those mistakes.
Mistake #1 – Outdated Approach
The Problem:
We're too used to certain web design formats. Since we are familiar with them, it's easier for our eyes and brain to absorb the offense. However, it's not the same case with the visitors of your website. Traditional web design approaches were successful in their own time, but today, you need a website that makes visitors go WOW!
The Fix:
To make your brand stand out from the crowd, you should be willing to use creative, unique elements in your website. You experiment with moving images, videos, colors, and other trending design elements. Here's an example—The Great Agency. The web design highlights the power of the "Adding contrast" technique. Also, it shows how you can break the monotony of color uniformity by using dark and light colors.
Mistake #2 – Cluttered Layout
The Problem:
It's not your visitor's fault that they don't know where to go when they visit your website—it's yours. Having a cluttered, visually confusing website is the second most common website design mistakes brands make these days. They fail to guide their visitors through the website and as a result, the visitor leaves within 2 seconds of visiting the website.
The Fix:
Your website needs a focal point. It should (on its own) guide visitors to where you want them to go. Here's an example—ProofHub. The website is about Project Planning Software that meets every growing team's needs, and you get the same message from the first look. The clean, clear layout of this website drives visitors towards a demo or a FREE trial – which is, kind of, the focal point of the website.
Mistake #3 – Too Many Colors
The Problem:
The kind and the number of colors you use on your website have a strong psychological impact on your visitor's opinion of your brand or product. And using too many colors in your website design just make your brand look not-so-delightful.
The Fix:
Use color combos (set of three) that reflect the brand and are visually delightful. Also, avoid selecting random colors. If you're looking for some inspiration, visit Waaark. The web design reflects how vibrant and elegant color palettes can make your website and brand 5x more attractive.
Mistake #4 – Poor Text Placement
The Problem:
If you have filled your web pages with long paragraphs and random fonts, then you are guilty of making this next big website design mistake. Most of us make the design cluttered with text. As a result, the visitors fail to get the message (what you do, why you do it, and how you can help them) your website is trying to convey.
The Fix:
Make your website easily scannable. Divide long-form content into readable chunks so that your design looks clean and spacious. Create a design that lures readers to read till the end. Also, add high-quality content and quotes. Visit The New Yorker, the website design is popular for its state-of-the-art approach to present content online. The design is inspired by the idea of minimalism. The overall look of the website is clean and it lets the content speak to its visitors.
Mistake #5 – Not-So-Simple Navigation
The Problem:
It is in the first 5 seconds that your visitor decides whether s/he wishes to continue browsing your website or just close the tab. Now, the latter is most likely to happen if you make it too hard for visitors to find what they need. And it does because most websites have pages that don't align with the website's primary focus.
The Fix:
Do ensure that your website is easily searchable. Set up proper navigation and organize your content into categories so that visitors can browse them as they like. Also, include a search box so visitors can find things quickly and easily. Here's an example—Dataveyes. The design of this website ensures that people can easily access the information they want without intruding on the content.
Mistake #6 – Too Many Types Of Fonts
The Problem:
Too many types of fonts mean too much effort to read. A website that uses too many fonts looks chaotic and unprofessional. As a result, people who visit the website instantly loose interest in reading what it has to offer.
The Fix:
Select the right font type and size. Make sure that the fonts used on your website are neither too big nor too small. For ideas and inspiration, explore Mixbook. It is a responsive, nicely-designed website with the right text and font alignment.
Mistake #7 – Overused Image And Icons
The Problem:
Using images and videos make your website visually attractive, but too many images crowd out your message. These are many brands that use the same images and icons on different web pages, making it quite annoying and boring for visitors to navigate through your website.
The Fix:
Use visually attractive, high resolution and not pixelated images in your web design. Also, make sure every image, texture, or gradient on your website reflects your brand's personality. Looking for visual inspiration and ideas? Explore web designs like That Agency.
Mistake #8 – Not Optimized For Mobile
The Problem:
When your website is not optimized for mobile, it is 50% more likely to be not recommended. People nowadays seek a great mobile experience. From an everyday planner to an eCommerce website, people don't want to miss any crucial moment. So, they want to be able to access any/every website on the mobile. Sadly, most websites aren't properly optimized for mobile.
The Fix:
Build a responsive, mobile-first web design. Also, test its functionality before you launch it. It's not enough for the website to just look good on mobile—it needs to be fully functional. If you want to nail mobile optimization, take inspiration from mobile website designs like Shutterfly, Google Maps, Typeform, Etsy, etc.
To Wrap Up
A great-looking website is important. By altering the impression of your website design—from bad to good—you can conveniently increase the amount of traffic, leads, and sales you get from your website. This article presents a comprehensive list of mistakes as well as fixes that will help you build a website that has a constructive impact on your brand's professionalism and appeal.
Are you guilty of any of these common website design mistakes? And do you plan to deal with it? Share your thoughts and experiences in the comments below!