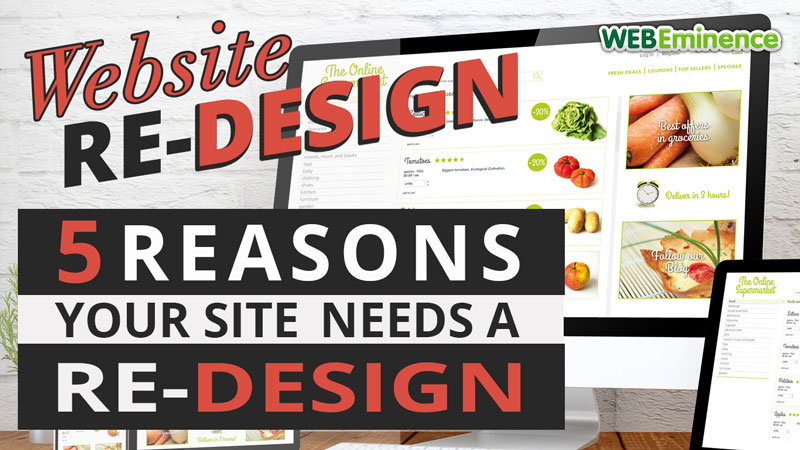 Websites seem to go out of style faster than the latest fashion trends. So how do you know if your website needs a redesign? And is it all a matter of style or is functionality at stake?
I'll tackle these critical website redesign factors in this post and also answer common questions about how a small business website redesign usually works.
First of all – how do you know if your website needs a redesign? Here are a few ways to answer that question for yourself.
1. If your website is not mobile responsive, you might need a redesign.
You may have noticed people walking around with smart phones the last few years! Mobile traffic has been growing steadily the last decade and with smart phones getting smarter and mobile data connection speeds increasing, the trend seems like it will continue for years to come. It's becoming more and more important to have a website that is mobile-friendly. "Mobile-Friendly" is a somewhat subjective term but you can check if your site is mobile-friendly using this tool that Google provides.
In the last few years mobile traffic has reached 50% in most industries. You can read more about these stats and testing your site for mobile responsiveness on my other post – Is My Website Mobile Responsive?
I can confirm these stats with the stats of my advertising clients. I have 30+ advertising clients generating about 50,000 clicks in the last 100 days. These clicks are generated all over the US in various industries. As you can see below, over 65% of the clicks generated for these clients came from mobile traffic.

If that doesn't convince you that having a mobile responsive site is important, you may be interested in Mobilegeddon which occurred in 2015. This is when Google announced they will prioritize mobile-friendly sites in the rankings and penalize sites that are not mobile-friendly.
So if your site is not mobile-friendly, that may be one of the top reasons to redesign your website.
2. If you don't like how your website looks, you might need a redesign.
Design is subjective and web design is no different. You may have loved your website 10 years ago. Time has flown by and now you hate your site and it doesn't reflect well on you and your business. I'd say that's a pretty good reason to invest in a website redesign. People will undoubtedly be looking at your site even though you're not overly zealous in sharing your outdated site. You want to have a website you are proud of and can share confidently.
3. If EVERYONE BUT YOU doesn't like your website, you might need a redesign.
Even if you think your website is awesome, you're just one person, And you're one person likely with a blind spot because your website is your baby that you've spent blood, sweat and tears on over the last 10 years. Here's where a leader needs to be open to suggestions of other people they trust. Ask your customers, employees, or family members what they think of your website. How does it look? Is it easy to use? Does it work well on a their smart phone?
Feedback from 5 people will be way more valuable than your own opinion of your website. If the feedback is mostly critical on the design and functionality of your website, it's probably time for a website redesign.
4. If your website no longer clearly communicates your business clearly, you might need a redesign.
If 10 years have flown by since you created your website, there's a high probability that you've been so busy that you've not had a chance update the content on your site and it's now WAY outdated. Sally is still listed as your receptionist on your staff page but she left 4 years ago. And your address has not been updated since you moved 6 years ago! These content pieces can be easily changed without a full redesign, but if your old website is guilty of these minor offensives, the chances are high there are several more issues with the site overall that will warrant a full redesign. It's likely that your mission, strategy, or services offered are no longer accurately reflected on the site. Maybe all the photos are outdated too. Again, these things could be updated on the current site but when the site is this old and you're needing to make massive changes anyway, it's a good time to consider redesigning your entire site.
5. If the copyright at the bottom of your website says 2002, you might need a redesign.
Most sites have a copyright line at the bottom and it's supposed to be updated each year to the current year. But oftentimes this doesn't happen and so the archaic copyright line becomes a clear indicator of how old the website is. If your copyright date on your site is 10 years old or even 5 years old, it's probably time to consider a redesign. Technology has changed so much in the last 5-10 years that there's no doubt you could massively improve the look and function of your website. Screens are larger (or smaller in the case of smart phones) so you can be more strategic with high-resolution images and a suitable font size. Overall design trends have changed too and you don't want to be left with a clearly outdated design.
If you can't remember how old your site is, you can use archive.org to view old versions of your site. It's like carbon dating for your website and it should help you pin down exactly how old your site is. It's probably older than you think!
Common Questions on Website Redesign
Will there be down time during the redesign?
If done right, there's no need to have any downtime when completing a website redesign. The site will be created in a different directory on your hosting or even on a different host entirely if you're planning on moving your hosting. The new site will be built in the background on a temporarily URL so that only you and the web designer can view it. When the site is complete, only a few settings need to be changed to make the site live on your domain in a matter of minutes. At this point, there can be a bit of downtime but it will be minimal – a matter of seconds or minutes and it can be done at a specific time when web traffic is at a minimum (weekends, late night).
What will happen to my old website?
Your old website will no longer be active once the new website is activated. When I complete a redesign, I typically would keep the old files on the server in a separate directory or download a backup of the old website just in case it's needed for reference in the future.
How long will the redesign take?
How long a website redesign takes will depend on the size of your website and the web designer who is completing the work. I build simple informational sites of 5-10 pages all the time and the time frame for the entire project is usually 3-4 weeks. A website redesign is not much different than a new site design from scratch and actually should move faster because a lot of the content should already be readily available from the old site.
Will my existing site be used or would a web designer start from scratch?
This depends on your current setup and the web designer doing the work. I often start from scratch when redesigning a website but a lot of the content from your current site can be used. Some text content will simply be copied and pasted into the new site and image files can be saved from the old website or downloaded directly from the existing hosting account. It's rare that a web designer will work on your existing site to do a redesign because this is difficult to do without causing a lot of downtime. Sometimes I copy an existing site to a new directory and work on it there if I'm NOT starting from scratch and want to work from the existing site without a lot of down time.
How much should a website redesign cost?
A lot of business owners probably shy away from a website design because they thing it will take several months and cost thousands of dollars. A website redesign is really not much different than standard web design so it should be priced the same. With my web design service, I create simple informational sites of 5 pages for $590 and up to 10 pages costs around $890. My prices are lower because I utilize a premium WordPress theme that is customized for each client. Many designers utilize this same method but still charge a lot more – sometimes $2,000 plus for a 5 page website. If you're having a totally custom design created from scratch without the use of a pre-designed theme, the process can be longer and is likely to be at least $5,000.