One of the best options to use for building up your photography website is WordPress, no matter how many other tools appear on the market every day. If you have any doubts about the choice, we are going to explain why you'd better opt for
WordPress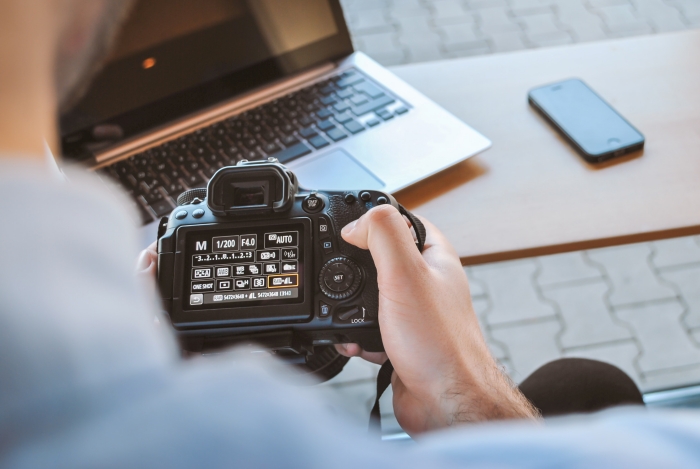 Photo by JESHOOTS.COM on Unsplash
Before we start speaking about the benefits of WordPress for creating your photography website, let's have a short look at what WP actually is. It is a powerful CMS (Content Management System) with a lot of options for creating anything you would like to on your website. There are a lot of options for your content management system platform. You do not need to have an expert knowledge of coding to do it. There are a lot of tutorial videos online which can help you to cope with the task. A variety of plugins, customization choices, and extensions lets you make your website exactly what you feel is beneficial and useful to have for your further photography business promotion.
Now, let's discuss the indisputable pros of using WordPress as a platform for your photography website.
Flexibility of Functions
If you need enhanced functionality for your website, WordPress is a great option. It provides a lot of brand-new solutions such as numerous plugins and extensions alongside the inbuilt options to make your site as functional as possible. You can get most of them for free though some extensions are payable. The tool provides more than 40 thousand choices to opt for and they are enough to make your photography site successful.
Moreover, the platform allows for easy integration of other software items you may want to use.
No Worries About the Price
This is an open-source platform. It means that you can get most of the functions for free. However, you will need to pay for:
Hosting.
Domain (including a URL for your site and the name).
Theme.
The latter is quite important for your website's promotion. So, choose carefully among a great variety of layouts the platform can provide to make your online business recognizable.
Remember that aesthetics is also very important for your needs. The site will impress your potential client at first sight if you use all the perks provided by the platform wisely. Try to reflect your mission, personality, and style to make your service more attractive.
Great Possibilities for a Perfect Design
WordPress provides a lot of options for creating a unique design that is flexible and tailored exactly to your brand. There are two main options to use it according to your bulk of work, taste, and overall aims.
There are hundreds of templates from various providers to build your site on and it is the first option. You just add your content to a ready-made template. Here, you can choose from minimal layouts to rich and bold settings or classical and refined looks.
Or you can obtain a custom design option that will clearly and closely correspond to your brand and its style. You may have a look at any online photo editing website to understand how to use the advantages of WordPress for creating your unique design meant for conveying a straightforward message about your services to potential customers.
The options for creating exactly what you need are limitless here so the right choice will allow your website to enhance its value and attract more traffic and/or lead conversion. Of course, making your website from scratch is costlier than using a template but the choice is always yours.
The Platform Which Is Very Easy to Use
WordPress is a platform that offers a great user-friendly intuitive interface. You do not need to go deeply into web design or coding to use it. The setup is quite simple, indeed as well as managing and updating your website. Each page uses beautiful customizable blocks which are easy to remove or replace, add something to them or shift their order. You will receive a page structure that you need for your purposes. Your clients will be delighted to see all the information they want in one place located and structured in the most convenient and understandable way.
You can always use numerous tutorials or help from the platform's support team if you have doubts.
Worldwide Network and Multilingual Options
The entire global community that employs WordPress can count as more than 75 million users. They constantly share their ideas on the improvement, add some tips and tools, ask and answer questions and provide additional resources for further custom WordPress website development. So you will never be alone while using this platform.
If you work with international customers or are planning to roll out in the future, you can create your website in several languages. WordPress provides this option with special plugins so you will never bother using a special translator program.
You can also make a multisite platform that allows for having a separate site or page for different languages. This chance also works very well for SEO promotion.
You Can Make Any Options and Control Them Individually
It starts with your personal choice of a hosting provider and such a choice may affect further performance, speed, and efficiency. It is also very helpful when you want to make sure about complete security.
Other platforms of such kind may have their own terms and conditions which may not comply with your needs. Heer, you will not have these problems because you always make a choice of your own.
The efficiency of your website will depend only on your server capacity, location, and backup. The latter is quite easy to maintain and it makes you feel more confident and secure without any limitations.
SEO Is Improved
It is all about Search Engine Optimization that matters a lot when you want to make your website visible and recognizable for clients. In this respect, WordPress is much better than other site-building platforms. Let's consider its benefits:
It is a great way to develop a unique Image SEO strategy.
It has high-quality SEO plugins to provide more control over keywords and images which can be shared in social media.
You can adjust your website's loading speed in accordance with your needs because you are free to choose any hosting provider and server options.
Your XML map can be easily generated and submitted to Google or other search engines for better site indexation and ranking search results.
Your site will be conveniently optimized for working with different browsers and devices.
You will get access to all the snippets for receiving any SEO information.
So, you can see that promoting your photography website online will be quite easy with WordPress.
Creating an Online Shop for Free
You can really do it with WordPress. If you want to sell your products, such as prints or presets, you can make your online shop using an online shop platform. WordPress allows for adding it to your website for free.
The installation is quite straightforward and once again, it does not need any special knowledge. You will just follow the instructions from the online shop platform providers and integrate them into your website.
Final Thoughts
Therefore, you can see now how effective and useful WordPress can be for creating your photography website and promoting your business. It is amazing how well this site-building platform can comply with all your needs and requirements. It provides a great number of optimization, functionality, and customization options that will serve you perfectly for future advance and complete success.