Data loss – it can cause you to lose weeks worth of hard work or your entire WordPress site all together! Trust me, you don't want to learn about data loss the hard way, and having a solid WordPress backup plan in place is the best way to avoid it!
Fortunately, you have a few options when it comes to backing up your WordPress site including WordPress plugins and built-in backup plans that are included with popular hosting companies like GoDaddy and Bluehost. Check out my video below where I show you the ropes and read on for details…
WordPress Backup Plugins
Many WordPress backup plugins are easy to install and use, but a few stand out from the rest. As mentioned in the video above, you can check out a detailed breakdown of some of the most popular in WPBeginner's list of the 7 Best WordPress Backup Plugins Compared (Pros and Cons).
Their list includes the following plugins:
Of the seven listed, UpdraftPlus is the plugin that I've used most often. It's free but has a premium version that allows users to migrate and clone sites. Once installed, you can easily view your existing backups, schedule backups, and remotely store backups of your site.
For more opinions on this list of plugins and others, check out list list of the 9 best WordPress backup plugins from Intent Marketer.
Why You WordPress Backup Should Be Stored Remotely
Remote backup means a backup is stored in a different geographic location on a server separate from where your website server is. It's like giving a copy of your house key to a relative for safe-keeping and so you don't lock both keys in your house!
Setting up a remote backup is crucial since storing backups on your web server can be costly in a few ways.
First of all – if there is a data loss or hardware damage on your local server (or a zombie apocalypse), your original data and backup may both be wiped out at the same time. I've also seen this type of complete data loss when a customer forgets to pay for their hosting account and the data gets wiped after a few months of non-payment.
Secondly, if you're adding multiple backup sets to your local host, you will likely run into server storage limits that can lead to fees or outages.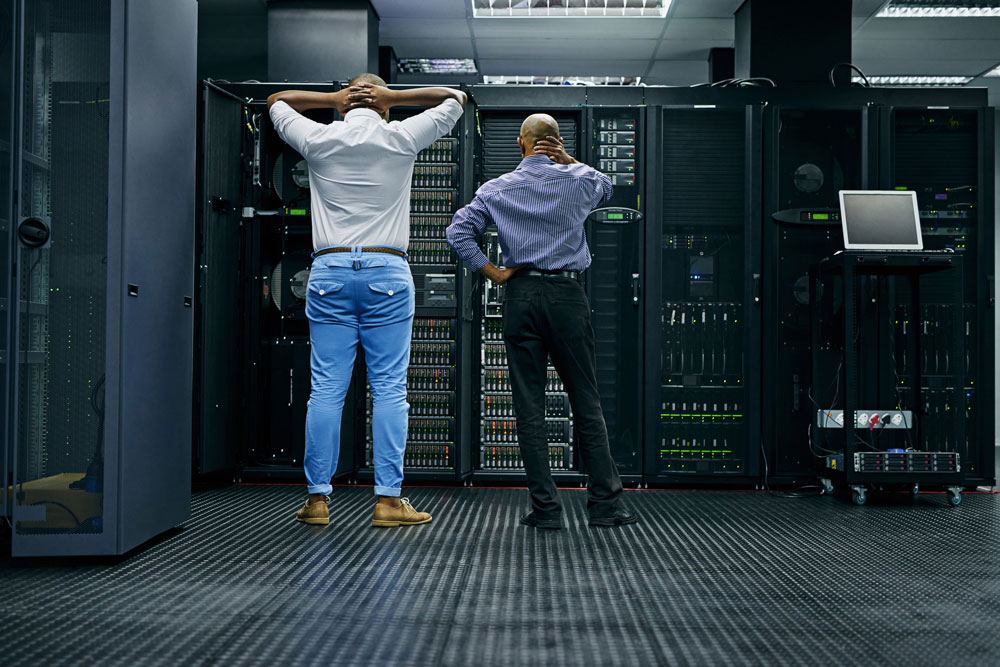 While remote storage isn't usually free, it's usually very affordable and gives extra peace of mind that your data is safe on a different server in a separate location. If you're used to using Dropbox, the popular online storage solution, there are good options with plugins to use it as your remote storage location.
If you have a site that rarely changes, you may be able to get away with manually backing it up a few times a year  This will save you space and money as it can be stored on your local computer which is still separate from your web server. If you update your site often, this may still be an option but not quite as appealing since it requires manual effort.
WordPress Backup Without Plugins
If you don't want to install a bulky plugin, you do have another option. You might have a hosting account that provides cPanel access or somet type of control panel with built in backups. With this access you'll likely have the option to download your full website backup and store it locally on your computer.
Make sure to find out what your backup options are by contacting your host for more information.
GoDaddy – Free Daily Backups?
I use GoDaddy for domains but I've never been a huge fan of their hosting. Even so, they are one of the most popular hosting companies in the world due to how large their domain business is.
With GoDaddy, all plans include free daily backups and one-click restoration. If using GoDaddy, you will want to inquire if that backup is going to a remote location or being stored on their web server. You may once again run into storage quota issues, and if you're not on a remote server and it goes down, you could lose both your site and backup at the same time as mentioned above.
Bluehost Built-In Backup
Bluehost's Prime Plan includes CodeGuard which is a remote daily backup and makes WordPress backup plugins unnecessary. CodeGuard also includes daily site monitoring for changes, one-click restoration, and stores redundant copies of backups across multiple secured locations.
*Make sure to do your homework when deciding on a hosting plan as many at the lowest price level may not include any backup options.*
Another WordPress Backup Option – Premium Hosting
The third option might be the simplest: I'll do the work for you! I offer a dedicated server where I host and maintain a couple hundred WordPress client sites. That means no plugins on your end and managed remote continuous backup. My server is setup with a continuous (hourly) remote backup, 1 mirror drive backup, 1 nightly local backup, and another remote backup to Amazon S3 three times per week. So you won't lose your data on my server! You can follow THIS LINK to get more information on my Premium WordPress Hosting.