A large portion of website owners have WordPress sites, and whether you built the site yourself or had someone else do it, it's important to know how to best maintain your site and keep it running at the highest level.
I have over a decade's worth of experience in building and maintaining WordPress sites, and it's with that knowledge that I offer these critical maintenance needs and will even show you what it looks like to hire a company to do that work for you.
WordPress, Plugin, and Theme Updates
This is the maintenance that you're most likely to encounter and could includes updating the WordPress core software, plugins, and your design theme. Depending on the theme you use, each developer has different processes for updates. So, there may be a bit of homework to do here. You can normally check for theme updates directly from your dashboard and start the process with just a couple of clicks.
If you have the option, you should see if your theme allows for auto-updates as this is the quickest and easiest way to ensure that your site is running the latest version. If you're using a paid theme, you will likely need authorization from the developer (such as a unique login or API key) in order to authorize your license and update the theme.
Keep in mind that before updating you should be sure that your site is backed-up as a theme update could potentially break something and make content hard to recover. More on this in another section.
Plugin updates can be done on the Plugin page of the WordPress dashboard. If you are backing up your site regularly, you can confidently run all plugin updates without any worry of breaking anything. I've updated hundreds of plugins on hundreds of sites and cannot think of any issues I've ever had. If you're running large plugins like WooCommerce or a drag-and-drop builder like Visual Composer, you may want to be a bit more careful and research before updating.
The same goes with WordPress core updates. There are several per year and most are small and will have little noticeable effect. There are some larger updates like the 5.0 update where the Gutenberg editor was introduced. These are larger and can break your site builder or theme if they are not compatible. Apart from large updates like that, I never hesitate to run a WordPress core update – especially if I have a backup in place.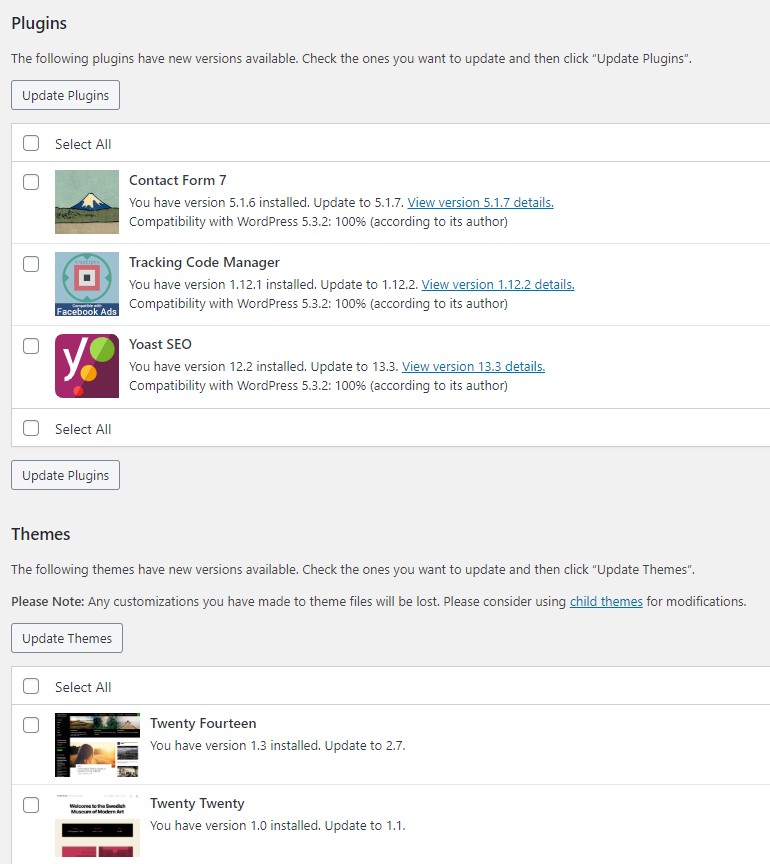 WordPress Dashboard showing plugins and themes that need updating
Content Updates
This includes adding new text, images, pages, etc. If you're a little bit savvy with WordPress, you may be able to handle this on your own. This doesn't include major overhauls; it's just keeping your site up-to-date with any brand changes or other routine website updates. This usually entails going to the Pages or Posts section after logging into the WordPress dashboard and updating the appropirate pages. HOW these updates are done depends on your theme and framework you're using. If you're utilizing the standard WYSIWYG WordPress editor, it should be as simple as editing a Microsoft Word document.
Up-Time Monitoring
Simply put – this is all about making sure your site is online and active. I have client sites go down for a variety of reason. Oftentimes, it's because they didn't renew their domain. Or maybe they exceeded their storage or bandwidth limits.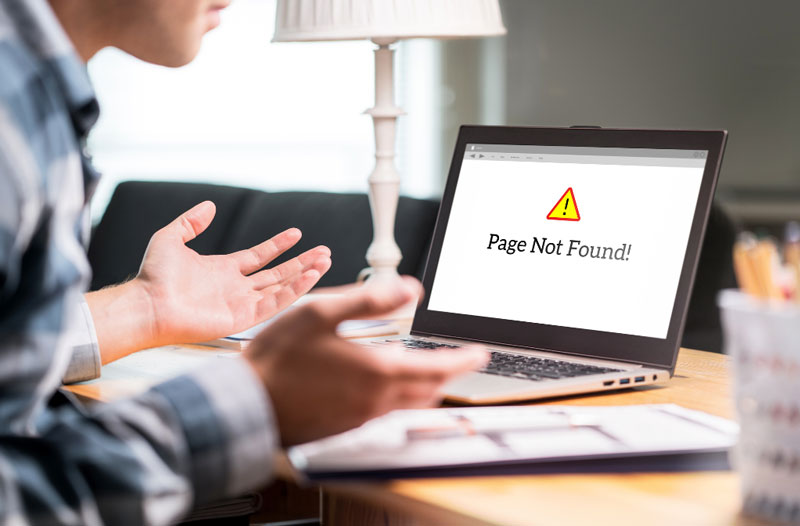 If your site does go down due to a domain expiring, the registrar would send out a notification and probably was emailing you for weeks about renewing your domain. Make sure you have a valid email on file with your domain registrar and consider using auto-renew or registing a domain for several years to avoid this disurption. 
There are plugins and 3rd-party services that offer uptime monitoring. I rely on error messages from my server and clients contacting me when the site goes down. It may not be a super high-tech approach but it works for me in these limited circumstances. If you can't afford any downtime on your site, than consider a more robust setup using a 3rd party service like Uptimerobot.com or Pingdom.com.
WordPress Backups
It was mentioned before but it's certainly worth mentioning again, you need to have your site backed-up regularly. Depending on the hosting company you've chosen, automated back-ups could come along with a price.
Some WordPress maintenance services tout backup as a major selling point but it really shouldn't be. With many hosting companies like Hostgator or Bluehost, hosting comes with backups for as little as $6 a month. So keep that in mind when valuing backups with a WordPress maintenance package.
All backups are not created equal! There is a bit of research required as some places offer onsite or on-server back-ups, which keeps everything on the same server as the site itself or at the same site. Offsite, which backs your site up on a totally different server at a different location would be preferable for obvious reasons.
To explore backing up WordPress further, I did an entire video on the subject of backing up WordPress.
Security Monitoring
This is a big concern for a lot of the site owners that I encounter. They want to make sure that their site isn't susceptible to hacking. The most common way this happens is through weak passwords. Brute force login attemptes are always happening on WordPress sites. These are efforts to break into your site by using servers to continuously attempt login with an enormous amount of password and username combinations. These types of attemptes are pretty easy to block. There are plug-ins such as WordFence that include firewalls, malware scans, and the ability to limit the number of login attemptes to protect your site.
Other common WordPress hacks are done through commonly used plugins that have vulnerabilities. I haven't experienced this on the sites I host and it's likely because plugin developers are smart in eliminating these vulnerabilities. Making your your plugins and themes are updated is a great way to protect yourself as the updates often include security patches.
Tech Support
I personally get contacted by clients quite often when they need tech support. Many hosting plans will come with different levels of support depending on the amount paid each month, but IT support is always better when it's personal. Quicker and higher-level service will cost more but may be worth it if you're not very savvy with WP and need more assistance.
Reports & Audits
If you need help with SEO, don't expect to get much help there if you're paying less that $100 a month for maintenance. Some company's spend thousands on SEO each month!
What you can expect is reports on how your site is performing. I would recommend setting up Google Analytics and checking it on your own. Don't pay extra monthly fees for a maintenance service to "monitor" analytics for you. You should only be paying a one-time fee for them to set it up if anything since that's probably all they are doing.
If you'd like to set it up on your own, I have a walkthrough video that you can find at Google Analytics Setup – Check Status on Your Site and SET IT UP. Quick Guide.
Paid Options for Site Maintenance
So, now that you know what you need to look for when maintaining a site, you may have decided that you'd rather put it in someone else's hands. Fortunately, there are paid options out there that will handle all of it for you. Let's look at a few options I've found online that seem to be good examples of what to expect.
Curiousminds
Curiousminds has 3 different packages: Professional at $78/month, Professional Plus at $289/month, and Enterprise at $899+/month. (Prices could obviously change in the future)
At the lowest level, you'll get daily, off-site backups (remember that isn't a huge value as discussed above). They will also mange WordPress updates and security and offer some IT support.
However, if you want up-time monitoring, reports, and developer assistance for content updates, you'll be looking at the Professional Plus package at $289/mo. The higher in price you go, the more dedicated service and support you'll receive.
WorkPress
WorkPress  is another option with a multi-tier package structure: Starter at $97/month, Small Business $149/month, Professional Business at $269/month, and quoted prices at the Enterprise level.
At the Starter level, there are also backups, managed WordPress updates, theme updates, and support. Going up a level you will get additional support and Google Analytics (remember what I said about that, though). You'll also get a bit of graphic design work. All of this support, as well as additional things like conversion consultations, increase as the price does.
If you have any questions about WordPress maintenance, comment below or ask it at WEask.tv. If you're interested in having me host and maintain your WordPress site, feel free to get in touch.