I've built over 300 websites in the last several years, mostly for small business owners. Throughout those years, I've had daily interactions with website content, allowing me to develop a good sense of what works and what doesn't work for small business websites.
And while, in most cases, I don't directly write the website content for my clients, I do advise them on ways to ensure their content is clear and complete.  And it all comes down to answering 6 basic questions: Who? What? When? Why? Where? How?
WHO?
Who are you? Who is behind the product/service? Who will customers interact with?
You need to give site visitors a sense of who you are. Let them know who they'll be dealing with, and most importantly, let them know there are real people behind the product.
Most often – this is content is presented on an ABOUT page. Consider including brief biographies with your credentials, experience, and even pictures of your team. Let potential customers know they are in good hands, but also let them get to know you and your team as people. A little personal information can be a nice touch as well. Do you have pets? Love to travel? Hike on the weekends?
A great example is my client Rejuvenated – a medical spa based in Fayetteville, Arizona. Their ABOUT page is laid out beautifully. They include friendly, professional photos of their staff as well as the experience, education, and just as important, the wellness philosophy of their MDs.
Answering WHO is especially important for a business like Rejuventated because of the sensitive nature of the service. Patients need to be put at ease through comfort and professionalism. They need to know WHO is going to be caring for them.
Just remember, consumers like a personal touch, and this is your opportunity to introduce yourself!
WHAT?
What do you do? What products/services do you offer? What can customers expect?
When answering this question, it's all about simplicity. You want a visitor to immediately understand the products and services your small business provides. Let them know that this is the site they've been looking for. Let them know that you are offering exactly WHAT they need. There's no room for confusion here. People want to know they are in the right place, so let them know exactly WHAT you offer.
I built a site for a janitorial company in California called DMS Janitorial, and they do this remarkably well. As soon as you land on the site, plain as day in big, bold letters, visitors see: "YOUR RELIABLE CLEANING & MAINTENANCE EXPERTS" followed by "Dependable Maintenance and Janitorial Services in Southern California." In just two lines, you know exactly what DMS does.
Scrolling down their homepage they go into greater detail, listing specific services they offer and including visual aids so that any visitor can see if DMS is for them. Beyond the homepage, visitors are also able to navigate to a services page through the main dropdown menu.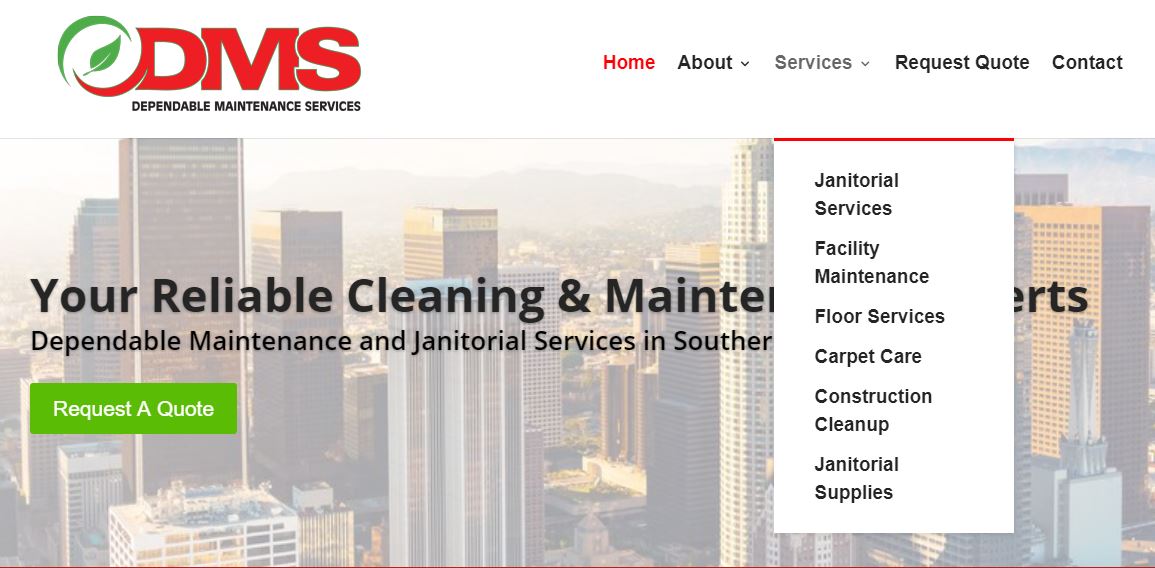 WHEN?
When are you open? When will orders arrive? When is your team available?
Answering this question can vary depending on whether or not you're a brick and mortar, e-commerce shop, or some other type of business. You need to let site visitors know WHEN they can physically visit your store or otherwise get in touch. Are you open Monday through Friday, 9am-5pm? Maybe you're only open at Midnight on Wednesdays…
This category could also include information about product/service timelines. If someone orders, will it be shipped overnight? Is it hand-crafted and will take 3 weeks before it's ready?
Lead times are important in many business. People often ask me how long it will take to create and finish a website. I get asked this all the time and since it's something I am often asked on the phone, I have added it to my website as well in a few different places including the FAQ page.
For an example of when it's a great idea to tackle the WHEN, check out the site I built for the basketball club, the Low Country Storm. For a club like this, it's vital to offer specific dates and times. Parents and players need to know when tryouts and other activities will take place. They answer that question right on the homepage – "2019 TRYOUTS MARCH 2ND". You can't miss that! They also include schedules in a tab that gives dates and times for Practice, Tournaments, etc. It's enough to let you know exactly where you need to be so that you can plan your own schedule accordingly.
Keep in mind that WHEN applies differently to different businesses and may not be as important for some as it is to others. But, if you pride yourself on being open 24 hours a day, 7 days a week, make sure that everyone knows!
WHY?
Why is your business unique? Why should someone choose you over your competitor? Why do you do what you do?
A very important but often overlooked question, you need to answer WHY you deserve a potential customer's business. You may answer this question within a mission or purpose statement but approach it as though you're pleading your case to new clients…. because you are! You need to be passionate about what you do so that customers can feel like they are in good hands. This question is especially important if your business takes a one-on-one approach to dealing with clients.
I did a website for Association Consulting Group, and they did a fantastic job of answering WHY they do what they do. You can navigate to their purpose statements directly from their homepage, and it's here that they let visitors know of the legitimate challenges of an HOA and how and why they are going to help. According to their statement, they want to help those that need it 'make a positive impact in HOA communities nationwide.'
They continue to illustrate WHY it is so important for them to give back by telling a personal story of their daughter and her tragic passing to a brain tumor. Because of this heartbreak, they contribute to a charitable fund in her honor. This story gives a deep purpose and human perspective to what drives them as a small business.
For your own site, consider letting visitors know why you have a personal stake in the business you run. This is especially important when running non-profits and charitable organizations. Always remember to let your passion shine through!
WHERE?
Where are you located? Where can customers find you? Where do you service?
This one may seem like a no-brainer, but surprisingly, it's still missed by many site owners. If you're serving a particular region or town, you need to make this clear. Often people are looking for something local, and it would be a waste of time for them to be looking into a business located in another state. Put it right there on the homepage, especially if you're a brick and mortar institution.
This is also incredibly important when it comes to ranking in search engines. Google needs to place you on the map, and on way they do this by crawling your content. So, make sure to include your target area to help both search engines and human visitors find your business.
A fertility clinic that I built a site for, Midwest Fertility Center, does this really well. They have four locations in Illinois and Indiana. Being split between two states, answering the question of WHERE is very important to them. Right on the website, as soon as you open it, it says, "A trusted provider of IVF and fertility services in Chicagoland and NW Indiana." That's as clear as day. You know where they are and who they service.
Scroll down a bit and you'll find another section with a map of the overall region and a listing of the four different locations with addresses and contact info. Again, it's all about making it obvious, especially when your business. You really can't over-communicate this one!
HOW?
How does your business work? How do you make your product? How do I get involved?
People often want to know the finer details of how a business works. In fact, the process may be what makes your business truly unique. Don't leave people in the dark, let them feel like they know everything upfront. It's a great way to quickly build trust.
The American Tiny House Association knew that  HOW was going to be a very important question to answer. On their site, we laid out how to get involved in three basic steps: Become a Member, Start a Local Chapter, Attend Workshops & Events. This is all made perfectly clear right on the homepage. There's even a drop-down tab to reinforce how visitors can get involved.
For your own site, you might want to walk your visitors through how to sign up, or how to order, or how to utilize your service. Think of it as giving directions. It's all about explaining your business in simple terms and giving 'next steps' to those that are curious.
It's could be as simple as answering, "How do I get started?" With that in mind, it could be a good idea to have a "next steps" page or to give specific calls to action such as calling a number for more info or submitting a form.
I've Answered These Questions, Now What?
After you've put thought into answering these six questions, I'm confident that your website will be complete in its messaging. By giving a good overview of what you offer, you'll get better results from potential customers and clients.
Within all of this don't forget that your personal, unique voice matters. You're not just building content – you're telling the public who you are. Make every sentence matter and make sure it says something about you and your service. Stand out from the pack while being clear and concise!
If you're looking for someone to build a website for you, I've done this plenty of times. Check out my complete website package so that my team and I can help you make sure that all of these questions are answered within your site. And, of course, if you have questions of your own for me, please let me know by commenting below.