If your small business requires the scheduling of appointments, you want to make that process as simple and streamlined as possible for your clients. To stay competitive, small businesses are turning to booking applications that allow clients to schedule appointments directly on their website. While there are many of these applications all with subtle differences, I'm going to take an in-depth look at YouCanBook.Me. So, let's see if this is the right tool for your business.
Getting Started with YouCanBook.Me
When getting started, there are actually helpful walkthrough videos right there in the site's dashboard. We'll cover a bit of the same info  in this post, but this post is more about how the program might benefit your specific business.
In the dashboard, you can create your first linked calendar, creating the connection between your personal calendar (on Google, iCloud, or elsewhere) and YouCanBook.Me. The important thing to note here is that you can add as many calendars as you'd like for $10 per linked calendar. Editing all of the available options is fairly intuitive but there are a lot of levers to pull, so let's dig in a little deeper.
When dealing with the "basic" features tab, you can change your direct booking link with any sub-domain making it a unique [email protected] link. You're also able to pick which calendar you want with options ranging from Google calendar to iCloud calendar to Microsoft calendar and others (you'll find this in Integrations under Settings).
Once you've  chosen your calendar and custom URL for your calendar, you are given complete control over what times are available to be booked Monday-Sunday. It's here that you will determine how long the appointments will last. So, if you make appointments available from 8am to 5pm and want them to last 1 hour, your last available appointment will appear as 4pm. Another nice feature is that you can set an amount of padding between appointments if you need additional time for yourself between meeting with clients.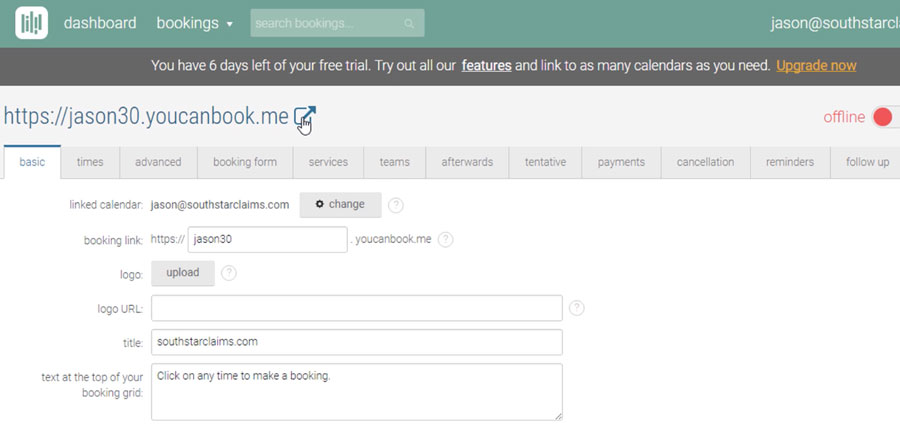 More Advanced Calendar Features – Colors, Time Padding, Services, and more
Those are the basic calendar features but with YouCanBook.Me you can still go much more in-depth in the "advanced" settings tab. Here you can set up a minimum booking window so that people aren't able to book a meeting five minutes before it starts. No one wants to be caught that off guard! You can even set a time limit maximum for advanced bookings to decide how far into the future you want clients to be able to schedule their appointments.
You have the ability to customize the actual form your clients see whenever they select a time. Here you can determine what information you'll request including name, contact info, and customizable questions you'd like to ask as well as set what services they can choose from so you can better prepare for each individual appointment.
Speaking of services, there is actually a dedicated "services" tab.
This is where you can create services and determine the time duration that each of those services can be booked. There's even more customization here where you can add descriptions and images to better educate your clients on each particular service.
Once a booking is completed, you're able to customize the display message that appears afterward. As you can tell, I'm using the word customize quite a bit. That's because YouCanBook.Me truly does allow you to really personalize the booking experience to your own tastes…
…except for one key area.
YouCanBook.Me Limitations?
The place where this platform is a little lacking is in the payment options. You can set up costs for each appointment in the "service" tab, but you're not able to choose to accept a wide range of payment options The only payment processor available is Stripe which is popular and widely used, but some people may look elsewhere if they are looking for integration with another payment processor specifically.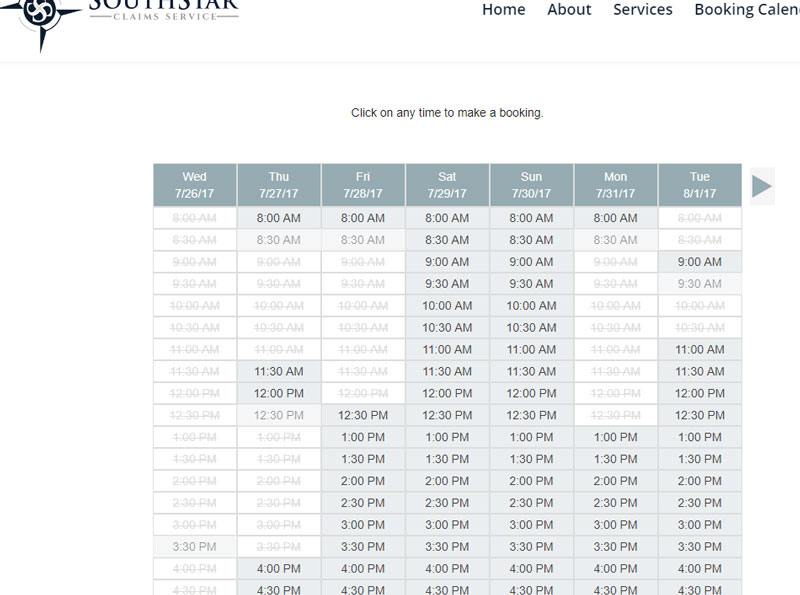 How Does It All Look – Putting it on your site OR do you even need a site?
You've been given a lot of control so far and that continues when it comes to your bookings page's appearance. You have preset options in several styles and within those presets you can then tinker with the fonts and colors to better match the overall style of your site.
Once everything is where you want it, you have the option to generate an iframe code to copy into the HTML of your website. You can also send a link that will take people to a dedicated page with just the booking calendar. So you don't even need a website to use YouCanBook.Me.
Within your dashboard you are able to click the "bookings" link and see all the appointments you have, past and present. Here you can accept bookings and reschedule if necessary and have the option to export all of your bookings for your own records.
The Verdict on YouCanBook.Me
YouCanBook.Me is a fairly simple, user-friendly tool so it's no wonder why I often come across businesses that use YouCanBook.Me links right there in their email signature.
Personally, I really like the tool's focus on timing flexibility and calendar integration. I actually use the program for some of my own clients, so that's an endorsement in and of itself. Of course, there's still that issue with the lack of flexibility on the payments you can accept or discounts you can offer, so it is in no way perfect. All in all, I think YouCanBook.Me is definitely worth checking out or least giving the free trial a look and seeing if it's for you.