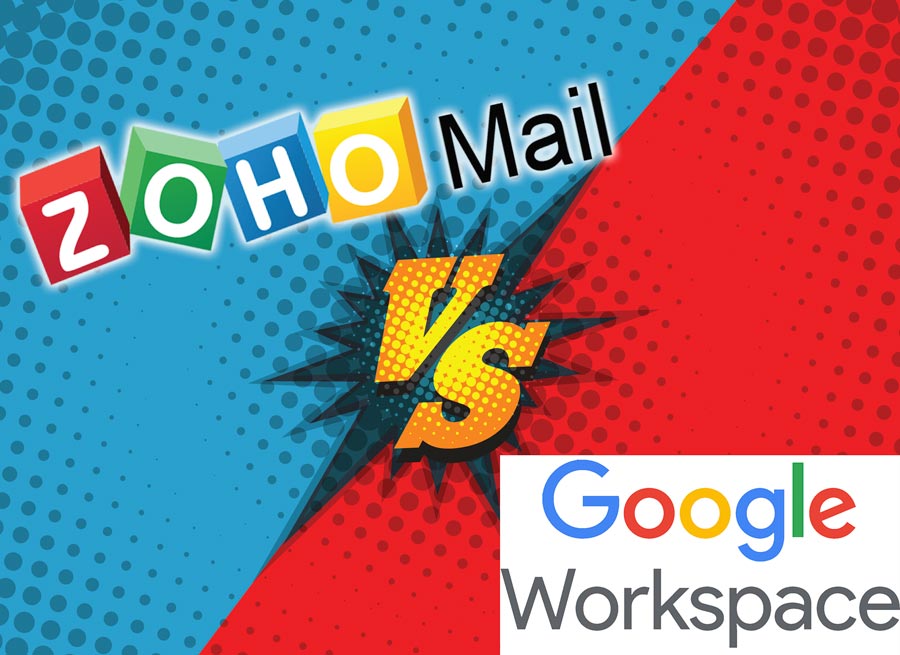 Zoho Mail vs Google WorkSpace Email…
It's a walk-off! or at least an Epic Email Battle
The ultimate battle – Zoho Mail vs Google's Workspace email. Normally, a smaller company like Zoho wouldn't have a chance against a juggernaut like Google. How is Zoho even in the ring with Google? The simple answer is – free is powerful.
Zoho has been offering free hosted email since 2008 and that's really the only way I've come across them. And while they offer many other cloud software services for small and large businesses alike, every time I hear about them it's in reference to email. Granted, most of my clients are small businesses looking for ways to host an email address on their domain.
The biggest players in the hosted email space are Google and Microsoft (via Outlook, Office 365, etc.), but Zoho also breaks into the top 10 based on data from datanyze.com
Let The Email Battle Begin
So rankings and reasons aside, let me give my opinion on how Zoho fairs against the top provider of email hosting in Google. I use Google's Workspace for my business email so I have experience with it. While I haven't used Zoho Mail on a regular daily basis for an extended time, I've gone through the setup process and fiddled with it enough to give an informed opinion.
1. Email Setup
Setting up email on a custom domain can be intimidating because of DNS changes that are required to TXT records and MX records. Did I scare you with those terms? These are pretty basic changes to your domain name settings that are no sweat for Larry, the IT guy, at a larger company, but it's enough to take out the typical small business owner for the best part of Tuesday morning!
To see what I mean about MX records and the like, check out my video below on the setup process for Zoho Mail. I was able to do it in under 10 minutes, but I am about as big of a computer geek as Larry.
Once you get your access to your domain registrar account and muster the courage to enter the DNS settings, it's really not too tough.
Both Google Workspace and Zoho Mail provide good instructions and a pretty simple setup process. So no clear winner. I'll call it a tie.
Winner: TIE
2. Pricing
Pricing is really the reason Zoho appeared on my radar in the first place. They are one of the few, if not only, providers of hosted email on a custom domain at no cost. Sure – you can get email from gmail, hotmail, yahoo and others for free but we're talking about email on your custom domain name which typically costs you monthly.
With Workspace, you'll pay $6/user/month and that's the typical price you'll find from other large providers.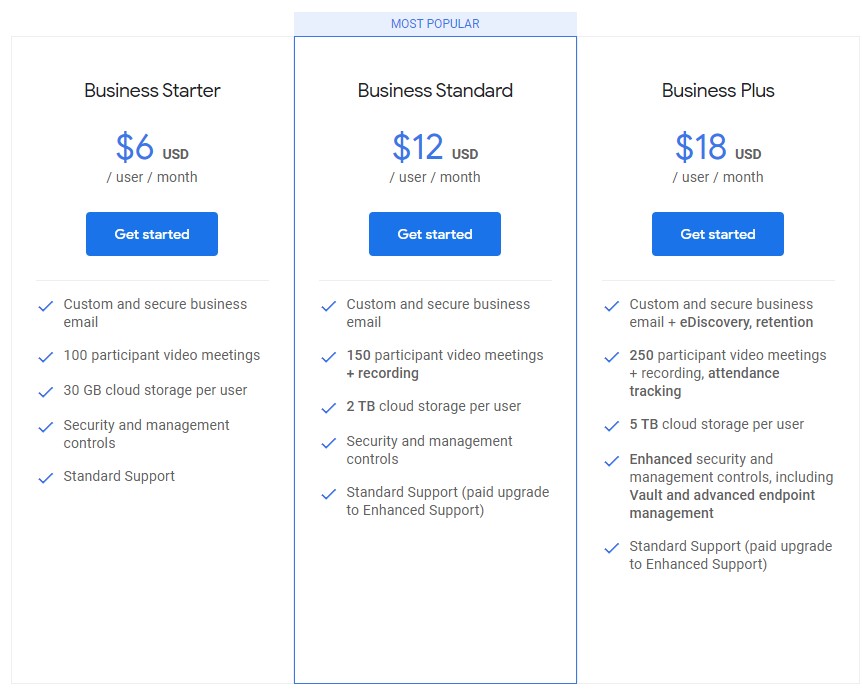 Zoho Mail Pricing
Zoho Mail offers real value for free. They currently allow 25 users on a single domain with a limit of 5 GB per user. That's pretty impressive for free I must say!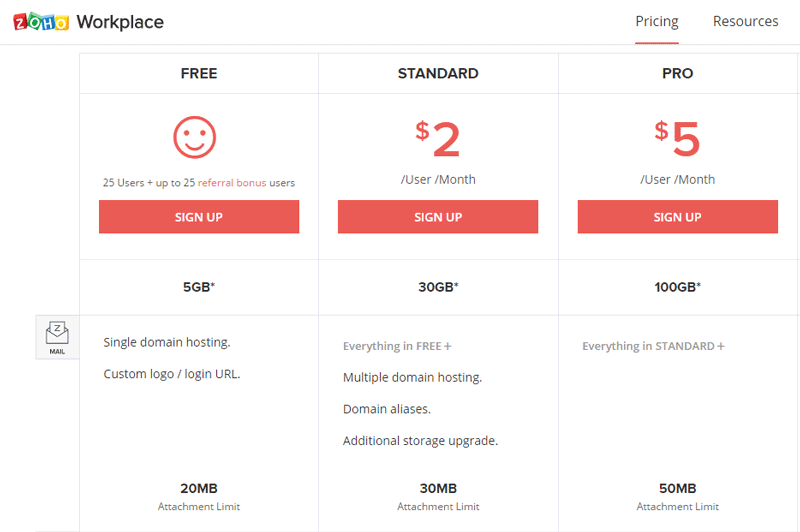 The winner here is Zoho – hands down!
Winner: Zoho Mail
3. Storage
How much storage actually matters really depends on how you manage your email. If you have an email client on a computer where most of your email eventually resides or you delete most of your emails, storage space may not really be an issue. If you never delete any mail, send a lot of large attachments, or don't have any local storage on an email client like Outlook or Mac Mail, you may find yourself running into storage issues even with the 100 GB for Zoho Mail and 30 GB for Google Workspace currently offered on their $5/user/month plans.
So Zoho wins this battle based on storage per dollar offered, except that Google Workspace goes to unlimited storage at their $10/user/month level if you have more than 5 users. So we'll call this a tie as well.
Winner: Tie
4. Spam Filtering
Who cares about spam filtering right? You really don't care about spam much on your brand new email address, but give it a few years and you'll find yourself deleting tens or hundreds of spam emails per day. No business owner should be spending time deleting spam emails!
Check out my post on spam filtering options and how I've dealt with email spam.
I host many email accounts for my website clients as a convenience, but I have many of them contact me a few years in with spam issues. My hosted email on cPanel/Apache has some built-in spam filtering via SpamAssassin which does an OK job using a scoring system to block spam emails but will unfortunately often block emails you want, too. So it's a process of blacklisting, whitelisting, and checking your junk mail. Not fun, especially when you miss an important email and find it 5 days later in your junk mail.
Zoho Mail – Questionable Email Filtering?
So how do Zoho Mail and Google Workspace fare with spam filtering? I have not used Zoho extensively, but I had to guess that a host offering free email hosting has to suffer in some areas. After all, you get what you pay for. I suspected spam filtering might be one of those areas and it appears to be true based on reading through some forums on Zoho. See for yourself below.
https://forums.zoho.com/topic/want-a-true-spam-block-feature-not-just-a-spam-filter
https://forums.zoho.com/topic/recent-enhancements-in-anti-spam
It's hard to know how well it will work for you until you're using it, but you may be able to use solutions at the email client level like SpamFIGHTER described in my post mentioned above.
Spam Filtering – The Reason I switched to Google Google Workspace
I ran into spam problems myself on my own server and it's the reason I eventually decided to pay the $50/year for a Google hosted email account. The client-side solution worked for a while but as I started to use email more on my phone, it didn't cut it as spam messages increased.
I've been using Google Workspace for about 2 years and the spam filtering is awesome. I can't remember ever seeing a spam email in my inbox – literally! And the false positives are very rare. I haven't done the calculation but false positives are under 1% for mailing list emails that I signed up for and less than .01% for manually sent emails.
Google has boasted 99.9% accuracy in their spam filtering and I concur. Rather than just rely on rules created by users and email scoring systems, Google combines these with machine learning (artificial intelligence) and their massive account base to continually improve their spam filtering. It takes high tech AI to beat spam these days and Google is one of the best-suited companies to get the job done.
If you're spending even 5 minutes a day deleting spam, I'd consider trying out Google Workspace free trial for email to save yourself valuable time and remove that annoyance.
Winner: Google Workspace
5. Mail Apps on Desktop and Phone
Unless you're using a mail client like Outlook or Thunderbird, you're gonna spend a majority of your email life in the mail apps provided by Zoho and Google Workspace.
Google Gmail App
Google offers the standard Gmail app to their Workspace email accounts. It's pretty good. I've used it since 2005 and never had any major issues with it. Some people hate Gmail because of the conversation structure. It messes me up sometimes and does seem like it could be more intuitive. There's something rudimentary about the structure, and I find myself losing emails or whole conversations. It may be my own fault, but I am looking forward to future enhances in Gmail technology since it seems like it's remained mostly the same for many years.
I really like the Gmail smart phone app and that it works much like the desktop browser app which has its faults, as mentioned above, but has become very familiar..
Although I've not used many of them, Google offers a ton of extension apps in the form of Chrome browser extensions that are a definite advantage to using Gmail for email.
Zoho Mail App
I don't have extensive experience with the Zoho apps like I do with Gmail so I'll need some help here from all the Zoho users out there. Please comment below and let me know what you love/dislike about the Zoho Mail app on smart phone and desktop browser. And how does it compare to the Gmail apps?
In my research I came across the Stream functionality in the Zoho Mail app and this is pretty cool. If you have a team of people on Zoho Mail, you can collaborate socially on an email conversation without sending actual emails. This speeds up collaboration and cuts down on forwards, reply alls, and other cumbersome email activities that are common in our email-infested work lives!
I will go without scoring this category until I get some feedback from readers. The suspense builds…
Winner: TBD
6. Support
I'm not a big user of phone support. Most tech companies like Zoho and Google have built up extensive knowledge bases of online support documents that make it easy to find the answers you need without listening to "on hold" music for 37 minutes.
I have interacted with Google Workspace support and heard from others who have interacted with them. They appear to often be US-based with good English and generally helpful in setting up email accounts. They seem to be above average when placed up against most large US tech companies.
I've not had experience with phone support with Zoho but although they have US offices, they are based in India and I assume most of their support is there. I called their US number which wasn't too hard to find with a few clicks. I was on hold for about 15 minutes and apparently #2 in the queue. I hung up because I didn't have more time to wait. This is exactly why I avoid phone support when I can!
I give this one to Google based on personal phone experience with the two companies.
Winner: Google Workspace
And the Winner Is…
I know you want to have a clear and decisive choice, but email needs are so different for every user that there can't be one winner here. For some people, cost is the #1 factor and they can't afford $5/month for Google Workspace. So then, Zoho's free option for email will be a clear winner.
But for those who are buried in email spam every day, Google Workspace is a must-have for you and will be well worth the $50/year.
Then, there are lots of factors that are determined by your email lifestyle.
Check out other critical email topics on my blog!
What's Your Experience? Who is the winner for you?
This post is just my viewpoint. I welcome and need your comments below to help round out my own opinion with the opinions of other users of Google Workspace and Zoho for email. What's your experience been? Which do you use and why?