There's always a star kid in every school who is not less than a campus celebrity. Front seat, fashionable attire, and best buddies are some of the identification clues to spot such a dynamic student in the campus.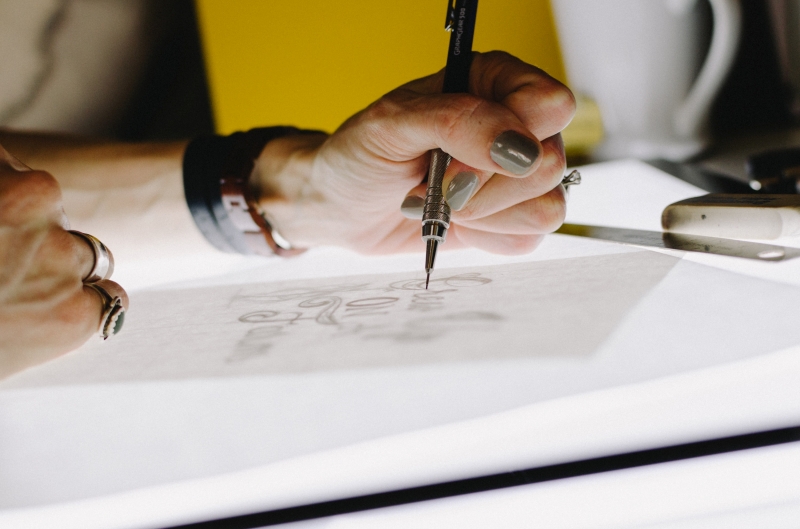 Photo by Kelly Sikkema on Unsplash
This special status phenomenon gracefully applies to brands with some having a luxurious logo!
A luxury brand logo helps the company stand out and sell their products with premium price tags.
Do you want to include your brand into these premium companies with a luxurious logo?
Nope! You don't need to wait for a century to list yourself along these big names such as Chanel, LV, or Versace.
All you've to do is start with the right corporate face that hints at your being a luxury brand. And only a luxurious logo design can make it possible.
Below are some of the cool luxurious logo design ideas that you can consider for your brand's logo.
Idea #1
You don't need to add gold, diamonds or silver embroidery to make your brand logo luxurious!
Follow the initialism rules while working to create your luxurious logo and have an edge over other brands in your competition.
And if you're worried about the success rates, look at the century old brands such as Louis Vuitton, Gucci, and Chanel who have been using initialism in their logo design.
And while you work on your luxury brand logo with initialism rule, don't forget to pick the right font family such as Sans Serif that gives your lettermark a special status.
Idea #2
There's another rule that we can borrow from our first luxurious logo idea, initialism, that you can try while giving your brand a special status in your target market.
In this logo design ideas approach, you can take the initials of your brand name, capitalize them and invert them!
Simple, right?
There are several benefits of using this approach such as you can have a unique, appealing effect on your consumers. And you can easily give your brand a premium brand status that gives its introduction in the first example just like Chanel or Christian Dior did with their logos.
Idea #3
Do you want to give your brand a royal status?
Or let's say that your branding plans are to add an imperialist effect in your brand that is only for specific consumers who are willing to pay 3x price in comparison to other brands?
Try giving your luxurious logo the kind of element that hints at your being a royalist!
Look at Rolex who has a prominent crown in its logo design and try to come up with something similar to that approach. (But don't copy them)
The main idea is to include some shapes, abstract art forms or anything that suggests consumers about your royal nature and how you're the best match for them.
Idea #4
Do you value a significant tradition from history or love a unique perspective of any culture? If you support it that much, why don't you add it in your brand logo to make it a luxury brand, then?
Hermes Paris is an ideal example who uses a royal chariot in their logo design to connect back with the history.
Dig deeper in your history subjects or anything that attracts you about any culture and make it the main highlight of your luxurious logo.
Or you may look at Versace who has a very interesting reason to use Medusa's head as its logo design. Since people used to love Medusa so much that they risked their lives to see her single glimpse, Versace positioned itself as an irresistible luxury brand, too.
Once you've turned your idea into a design you like, you'll want to test your logo before making it official. Using PickFu, a do-it-yourself split testing platform, you can upload your design mockups and collect instant feedback from your target customers.
Optimizing your logo in this way will ensure that the one you choose will position your luxury brand where it belongs — at the top.