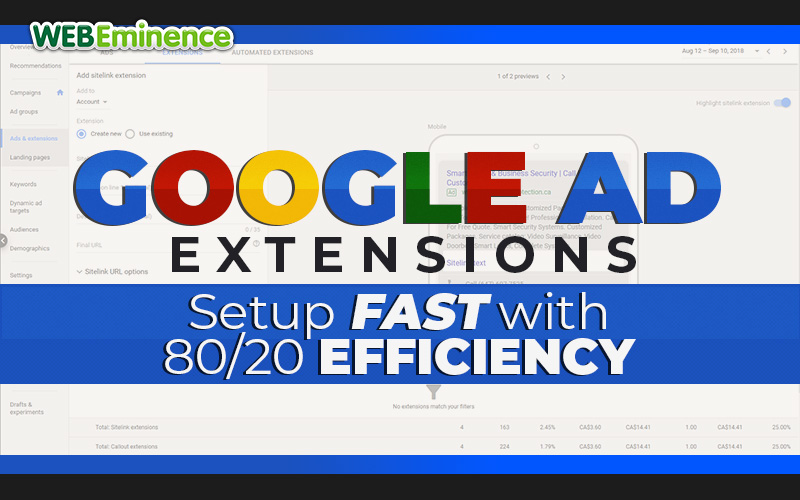 The real estate on a search results page in Google might be as valuable as land real estate in some industries. If you're paying for Google Ads, you're getting less clicks if you're not utilizing ad extensions to maximize the size of your ad on the page.
It doesn't cost you anything to display ad extensions and it may even increase your Quality Score and thus potentially lower your costs per click over time. So the only reason people don't do it is that they don't know how or they don't have the time.
I'll show you HOW in the video below but I'll also show you how to create a few of the most key ad extensions in a few minutes. You don't need to spend hours creating every single ad extension and you probably never will. So let's create 20% of the ad extensions that will get you 80% of the results. I'll show you the 3 most important (and easy to setup ad extensions below)
Callout Extensions
Callout extensions are the easiest to setup. They are a few words each and Google Ads will display 2-6 callouts separated by dots under your ad description in the same format as your ad description.

You can create these at the account level so that they will display on all your campaigns. Just make sure they are relevant across all your campaigns.
Callouts are typically used to highlight important aspects of your offering that may or may not be already highlighted in your ad text. Some examples are below:
Free Shipping
Open 24/7
Lifetime Guarantee
32 Years Experience
Sitelink Extensions
Sitelinks take a bit more effort but the are well worth the additional time. Check out how much extra real estate you'll gain in the screenshot below from adding sitelinks. Not only will your ad expand, but you'll have a better chance of connecting with your potential customer because you'll be presenting them with additional pages on your site.
For example, you may selling home security systems but the searcher is looking for business security systems. If you sell those as well, you can include that as a sitelink to make sure you are not missing out on potential clicks and customers.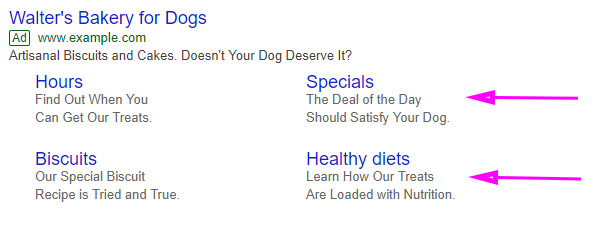 Call Extension
If you want new business, you probably want phone calls from leads. If you don't currently accept phone calls, you may want to consider answering the phone. I manage Google Ads for over 30 clients and nearly 50% of all conversions tracked across all accounts are phone calls.
Sidenote: If you're not currently tracking phone calls as conversions, check out my post and video here.
Call extensions are probably simpler to setup than call extensions. All you need to do is enter your phone number at the account level and you're call extension will be eligible to show on ads. On desktop, your phone number will be displayed so searchers can pick up the phone and dial your number. On mobile, the extension is usually displayed as a "Click To Call" button that people can tap on their phone to dial your number directly.
Either way, you'll be charged for 1 click but you'll also have a valuable phone call and hopefully a lead or sale.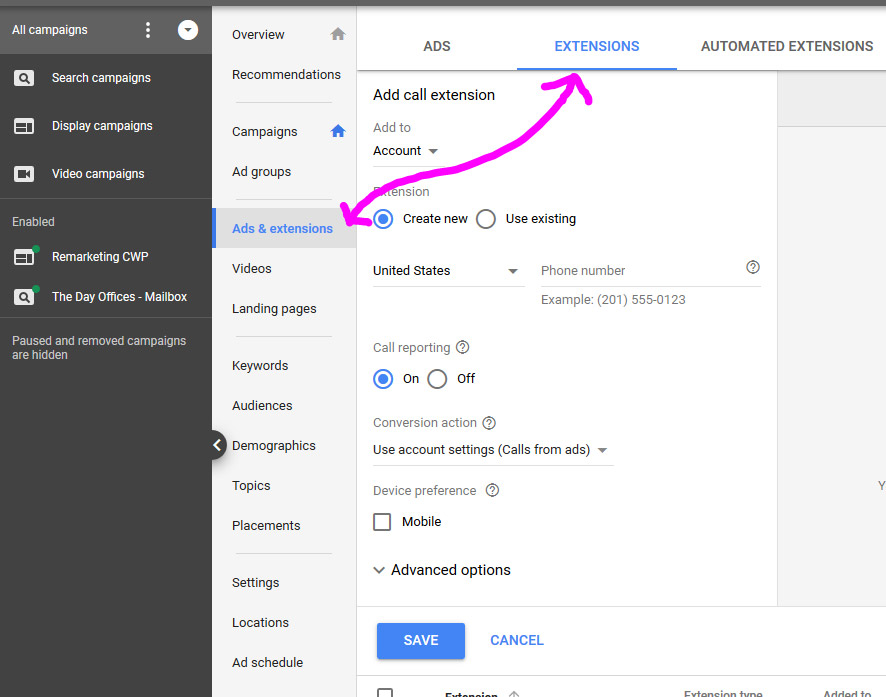 Automated Extensions
When it comes to automated extensions, there is some good news and bad news.
The good news is even if you don't take advantage of the 3 simple ad extensions above, Google Ads MAY automatically create ad extensions for you and show them with your ad.
The bad news is you have no control over what they show. For example, Google Ads might find pages on your site and create sitelink extensions. But they might show sitelinks that aren't totally relevant to a campaign and that could result in wasted spend and poor results. You can TURN OFF automated extensions so they are not generated. This potential of wasted spend is enough for me to NOT recommend automated extensions and HIGHLY recommend at least setting up the 3 ad extensions above.
Google Ads seems to add new ad extensions all the time but the 3 above have withstood the test of time are likely to be around for a long time. That's another reason to take 5-10 minutes to set them up today.
Got questions about ad extensions? Comment below to ask question or share your experience with ad extensions. What are your favorite ad extensions besides the 3 I mentioned?