Welcome to another edition of
WEask.tv
, where I answer your digital marketing questions on a variety of topics. Today's question covers taking donations on your website — a great topic for non-profits or other charitable organizations.
From Dana:
 Hi Ryan,
I am on a few different non-profit committees and we are working on trying to figure out a way for people to donate money for the fundraising on our website.
We want people to be able to go to the website and donate right there. Please let me know if this is something you can build?
Now while this isn't something that I would build myself, a donation platform is definitely something that I could integrate into someone's website utilizing a 3rd party provider and I've done it often.
There are a few different ways to go about this, so I'll be covering three different methods for taking donations or fundraising using tools that can be integrated or embedded into your site.
PayPal
When it comes to taking donations, the majority of my clients use PayPal. It's incredibly simple to stick a DONATE NOW button on their website so that visitors can click to quickly donate with credit card or PayPal account.
If you'd like a rundown on adding a PayPal button to your site, be sure to check out my video Add Paypal Buy Now Button To Website where I go over the steps to add the code to your site using WordPress or any HTML editor.
A lot of non-profits prefer PayPal because it's a method that you can get up and running right away. The fees are also reasonable. PayPal charges 2.9% plus $.30 per transaction with no monthly fees.
PayPal also has dependable infrastructure, allowing users to utilize PayPal's own hardware and apps to take donations in person. You are also given the option to send donation requests by email or mobile alert. If you want simple – PayPal is the way to go.
DonorBox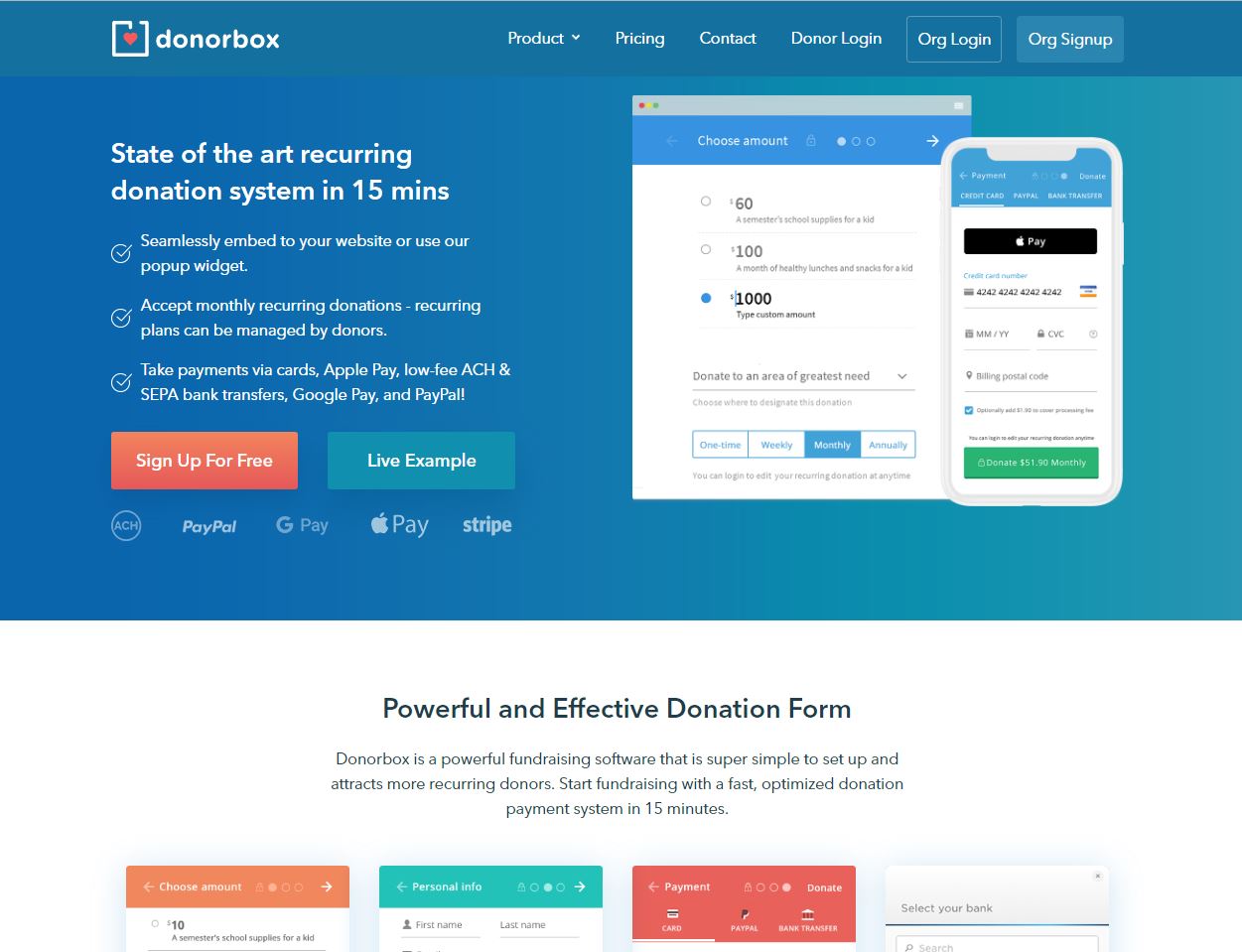 While PayPal may be the quickest and easiest way to take donations, it does lack features. Fortunately for those looking for more bells and whistles, there are other options out there for taking donations on your site. DonorBox is a fundraising platform that I've personally used to make donations.
Just like PayPal, DonorBox buttons can be embedded into your site, but here they can also be used as a pop-up widget so people stay on your website rather than being transferred to Paypal.com to make their payment. With DonorBox, there are more robust options such as recurring donations and making bank transfers instead of just credit card transactions. You also have customizable forms and donation pages, as well as additional paid features like analytics and tracking, legal assistance, and safety and security features among others.
This method has similar payment processing fees to PayPal, but there are no transaction fees if you collect less than a thousand dollars a month. After that, the transaction fee goes to 1.5%.
Network For Good
Network For Good is another level up in terms of both features and cost. This fundraising platform is more focused on being a CRM for non-profits, giving users a ton of features when it comes to donor management.
There is a focus on outreach to new potential donors through custom donation pages and peer-to-peer campaigns. Network for Good has also set themselves apart by offering fundraising coaches that work directly with non-profit organizers.
This platform is a bit more expensive with pricing based on your number of contacts. It starts at $200 and goes up in $100 increments from there depending on the number of contacts you store in the system.
Those are just three options for taking donations on your site. There are many, many more tools available, and while it's in your best interest to do your own research, hopefully the platforms I detailed give you a good idea of what's out there.
If you have a related question, please comment below. And if you have a question on a new topic that you'd like me to cover on WEask.tv, head over to that site now to post your questions.
Notes