Check out my in-depth Bigcommerce video review…
Who Is Bigcommerce For?
You're scared – I get it. Building a website is a little scary and an e-commerce site has many frightening technicalities.
You don't need to be scared though. In my opinion, Bigcommerce is easy enough for a beginner to pick up and use. The interface is clean and easy to navigate and beginners will love that they offer a lot of guidance in the form of next steps and pop-ups that guide new users along the way in creating an online store.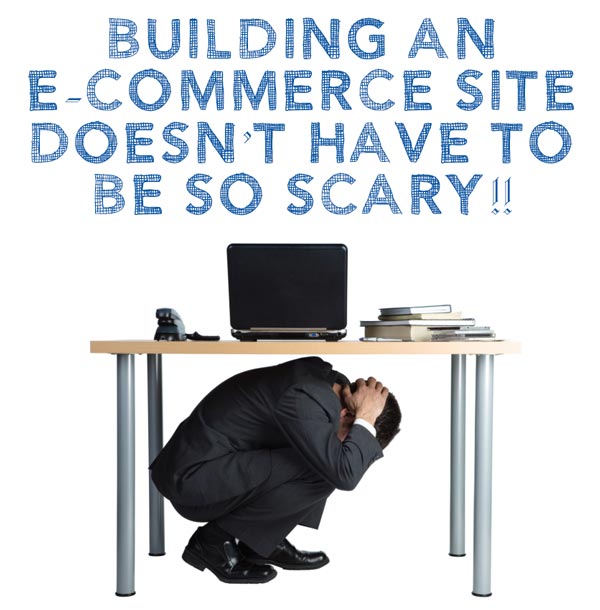 When you click around the software for a while, you quickly realize that Bigcommerce is not just a elementary e-commerce platform for beginner DIYers. It offers a ton of features and customization that experienced e-commerce sellers and developers can take advantage of.
Features like WebDAV access, HTML template creation, and integration with shipping and tax software make Bigcommerce an attractive option for established sellers that have been selling online for years. Check out my video above to see some of the advanced features of Bigcommerce with your own eyes.
The pricing structure also seems to benefit higher volume sellers and be a little tough on new sellers just starting out. Let's talk more about pricing…
Bigcommerce Pricing
Bigcommerce offers a 15 day free trial which is better than a poke in the eye, but 15 days can go by about as quick as a poke in the eye. Even in doing my review of Bigcommerce, my 15 days ran out and I had to ask for an extension to continue reviewing the platform. And the Bigcommerce team was nice enough to oblige.
Free trials are always helpful, but the monthly price is really what we care about. Bigcommerce starts at $29.95 per month comparable to the competition. It then jumps to $79.95/month for the Plus level where Real-Time Calculated Shipping and ZERO transaction fees are probably the biggest selling points. There's a new Pro plan offered at $199.95 offering additional features. With new order limits, it appears the main reason for upgrading will be hitting different order $ amount and quantity order limits.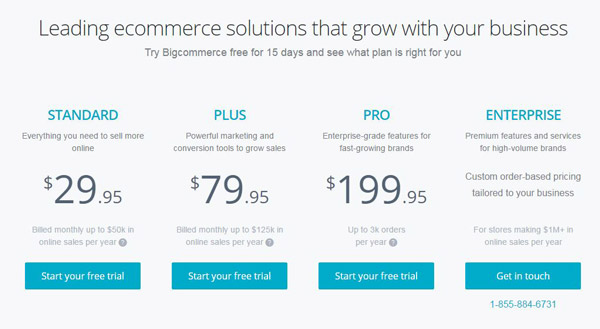 Bigcommerce offers Enterprise level custom pricing for high level sellers where you get a dedicated account manager, data migration tools, dedicated IP address and SSL certificate. One thing that I noticed that is only included in Enterprise level is the product filtering using tags like colors, prices, and other product options. This is a handy feature that should probably be included in lower packages if they want to compete with other e-commerce platforms.
The 1.5% transaction fee with the $29/month Standard plan might be really cost-prohibitive for people trying to build up a new store from zero. By the time you pay $29/month, 1.5% transaction fee, plus 2-4% credit card processing fees, your already slim margins are shrinking down to nothing.
Thanks to my high-powered review, Bigcommerce has recently removed transaction fees. OK, it may not be because of MY review, but it probably didn't hurt. Regardless, having the transaction fees removed makes Bigcommerce a much more competitive option for beginning online sellers to lower their costs and begin selling online.
Bigcommerce Design Themes – Just Good Enough
Bigcommerce has been around a while and so have their design themes apparently. Age is good for wine and cheese, but it's rarely good for design. In browsing through their design themes, you can tell they are getting up there in age. 4-5 year old designs become pretty obvious and this is the age I would peg on many of the design themes in the Bigcommerce bank of themes.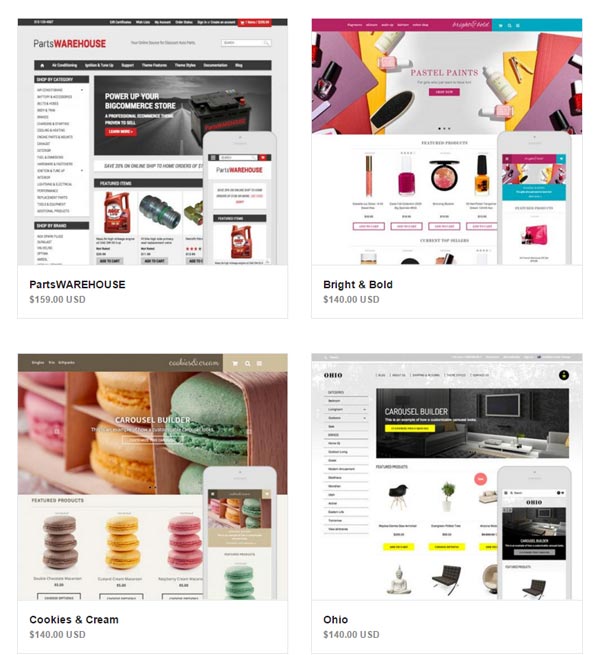 They offer 15 or so free themes, but many of the themes have a $140-$250 price tag and may not deliver a value to match the price.
In reading other reviews on Bigcommerce, it sounds like the designs were worse in the past and they've made improvements. That's good to hear and hopefully they will continue to add new design themes. There are also plenty of Bigcommerce Experts that can tackle a custom design for you or rework one of the themes. Check out the Showcase on Bigcommerce.com and you'll see some really impressive designs. These are probably the very best out of almost 100,000 sites, but it still shows you the potential that exists in designing a Bigcommerce site.
Bigcommerce Compared to Shopify
I have a video review on Shopify that gets a lot of views and it's what led me to do a thorough review of Bigcommerce in the first place. I wanted to compare the two, and here are my bullet points on how the Bigcommerce and Shopify compare. I'm curious to hear your thoughts if you've experimented with both. If that's you, please comment below.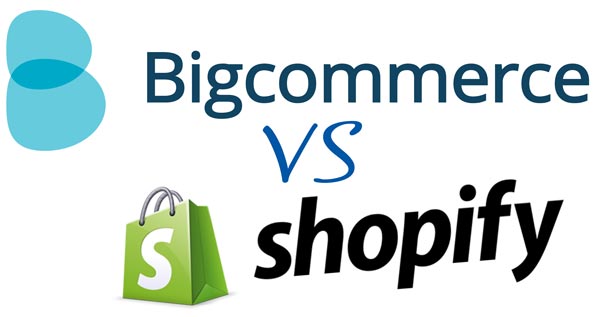 Shopify is a more simple setup overall that beginners will find easier to use, if for no other reason than it simply has less features and pages to navigate.
Bigcommerce does offer more standard features which I get into below. Some of these features will be add-on apps with Shopify that could cost money.
Bigcommerce designs are not super exciting, but I've always been impressed with the designs offered by Shopify. A big factor in this is probably that Shopify allows 3rd party designers to sell design themes and as far as I can tell, Bigcommerce does not.
Shopify has a lower price point to get started with their Starter plan under $20/mo. They also allow you to eliminate all transaction fees by using Shopify Payments to process your payments.
A LOT Comes Standard with Bigcommerce
On my initial browse of a Bigcommerce account, I was impressed with the advanced features that Bigcommerce offered. And "advanced" may be the wrong word, but they are just bonus speciality features that not everyone will use, but many stores will utilize to expand their store's functionality and marketing. Here are a few examples:
Gift certificates – Selling gift certificates in your store is a built in functionality of Bigcommerce and available at the Standard account level.
Custom Fields – Depending on your products, you may need to request custom information from buyers like a personalization text, a delivery date, or just order notes. You can easily create custom fields in Bigcommerce.
Wish Lists – Many sellers might not have wish lists on their must-have list, but it's a pretty slick functionality to easily add to your store with a few clicks. Anything that can boost sales and conversions should be a welcome feature for online sellers!
Integrations – Many sellers are already using tax and shipping software like Avalara, Endicia, Quickbooks, etc. Integrating with these services is already built-in to Bigcommerce and this will be the single biggest selling point for some larger sellers.
Who is Behind Bigcommerce?
According to Inc.com, Bigcommerce was founded in 2009 and lists them on their top 5000 list for fastest growing companies although growth seems to be slowing in the last few years.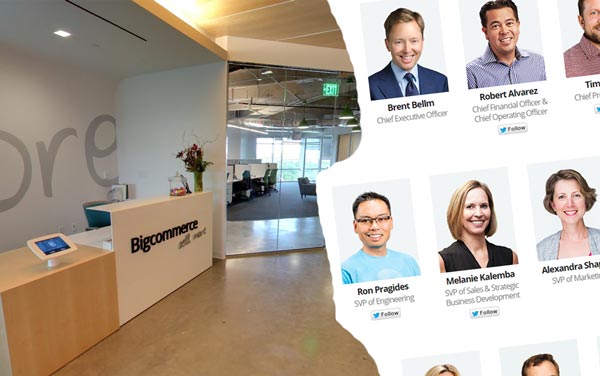 Bigcommerce is based in Austin, Texas in the US and also has offices in San Francisco and Sydney, Australia.
With over 350 employees, a leadership team pictured on their website, and solid growth for the past 10 years, it seems customers can be confident in the stability of this company and certain they will be around for a while. You never know of course, but the company's appearance and presentation are definitely a positive for me.
Bigcommerce Free Trial
If you want to give Bigcommerce a whirl, you can start a free trial here. If you have any questions or want to share your experience with Bigcommerce, please comment below.