Like everything on the internet, the world of digital marketing continues to evolve and advance.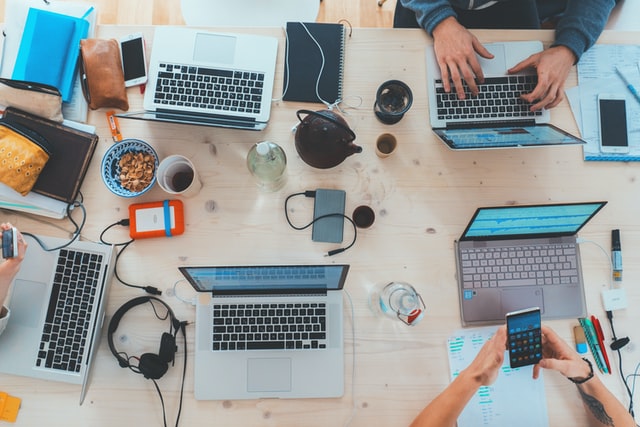 Photo by Marvin Meyer on Unsplash
Old ways die down as new trends emerge. Everyone has to be on guard to stay ahead of the competition.
This includes the healthcare industry.
Gone are the days when hospitals, clinics, and healthcare professionals relied solely on traditional advertising. The market compels them to embrace the internet to promote themselves.
Almost everyone seeking healthcare is now using the digital alley to learn about different providers and help them decide where to go. If they did not see you online, they would not know about you.
However, digital marketing involves different aspects. The healthcare industry is somewhat new to this concept, and it can be overwhelming. Fortunately, they do not have to worry about everything all at once.
Build a Reliable Website
A great way to establish someone's online presence is to launch a website.
There are various reasons a website is a must for all businesses, including healthcare providers. It introduces you to prospective clients, establishes your credibility, helps you generate leads, and allows you to provide quick customers service.
Having a website can also make some processes easier. For example, patients can book an appointment online and request medical examinations for themselves. Thus, you must put all the vital details on your website, such as all your services, locations, and contact information.
Accessibility is also an essential factor when it comes to websites. They should load up fast so that people can get all the information they need at once. In addition, they should be mobile-friendly to enable everyone to visit them anywhere using their smartphones and tablets.
Check out your competitors' websites to pick up some good points that you can apply to yours. You can also note down some elements they could have had used and add them to your website.
Choose a Site Builder
Once you have a plan for your website, it is time to start putting your website together. Creating a website does not have to be complicated. You can hire a professional web developer or do it yourself.
There are online tools such as site builders that can help you.
Site builders allow people to create websites from scratch even though they have no knowledge or experience with codes. It is perfect if you are a new healthcare provider with a limited marketing budget.
These builders feature a drag-and-drop interface that you can customize to your liking. You can also easily upload images and videos for your website on their integrated storage.
In addition, they provide web hosting services, so you do not have to worry about those anymore. All you have to do is to come up with a domain name that your target audience will remember right away.
There are various site builders on the internet. If you find it hard to choose one, here are five of them that are most suitable for healthcare websites:
1. SITE123
SITE123 gets its name from its three-step model that helps you create a website right off the bat. All you have to do is to choose the type of website you like, curate your content, and launch your website.
It provides a wide range of designs suitable for different types of businesses. You can choose the one you like and customize it to fit your needs. There are also free icons if you need to create a logo on the spot.
Furthermore, you can use easy-to-use SEO and social media tools to widen your website's reach on search engines and social media platforms. Lastly, all SITE123's websites are mobile-ready, so you are indeed good to go.
2. uKit
With more than 350 designs, uKit can be anything you want to be, including a healthcare website. It allows you to play around with design elements such as typography and color schemes.
This site builder can hold together a vast number of pages without losing organization. So you can create different pages for all your services and staff. It also has live chat and callback features that will allow you to communicate with your clients.
Moreover, uKit has a unique promotional tool and integrated SEO settings that will guide you through stirring your website in the right direction. It also allows you to use Google Analytics to monitor its performance.
3. VEVS
VEVS caters to businesses that involve a lot of bookings and appointments. So it is perfect for healthcare businesses. It comes with software designed to help you access your patients' bookings from your website.
This site builder can also save patient records that list their history with you and their findings. In addition, detailing your services will not be a problem anymore because VEVS can showcase them along with images, descriptions, and pricing.
Still, VEVS does not forget other essential elements for websites such as SEO tools, SSL, and domain hosting. It can also guarantee that your visitors will have a great experience with your website through its quick loading and easy navigation.
4. Wix
Wix is a site builder that offers flexibility and security. It is HIPAA-compliant, making it an ideal site builder for healthcare websites. Your patients can rest assured that their information will stay safe and private.
You can choose from more than 500 templates and customize the template you like. There is less restriction, so you can try many things until you end up with the best design for your website.
Wix's versatility may be intimidating. However, its simple drag-and-drop interface is suitable for beginners. It also allows mobile optimization, so your website is accessible anywhere without computers.
5. WordPress
WordPress is probably the most popular site builder out there. Many businesses use it for their websites. It is complete with SEO tools, Google Analytics integrations, and many more.
According to Digital Authority Partners, WordPress sets itself apart by being an open-source platform. It means that you can play with the WordPress codes to design your website in any way you like and add the functions you need.
WordPress also has a blogging feature. You can share industry-related insights regularly to keep your visitors engaged. Lastly, its mobile app allows you to access your website's notifications or update some content using your mobile phone or tablet.
Final Words
These are five site builders on the internet that you can use to create your website for your healthcare business. Though there are still many others, feel free to use these as a starting point wherein you can learn and determine the things you want in the future.
You do not have to stick to one site builder forever. The healthcare industry is an ever-evolving field. There will be new services in the future that you might want to provide but your site builder cannot accommodate.
For now, these site builders may be your best choice. They have crucial features ranging from themes, storage, security, and digital marketing. User-friendly and versatile, these site builders can put your business on the web for more people to see.