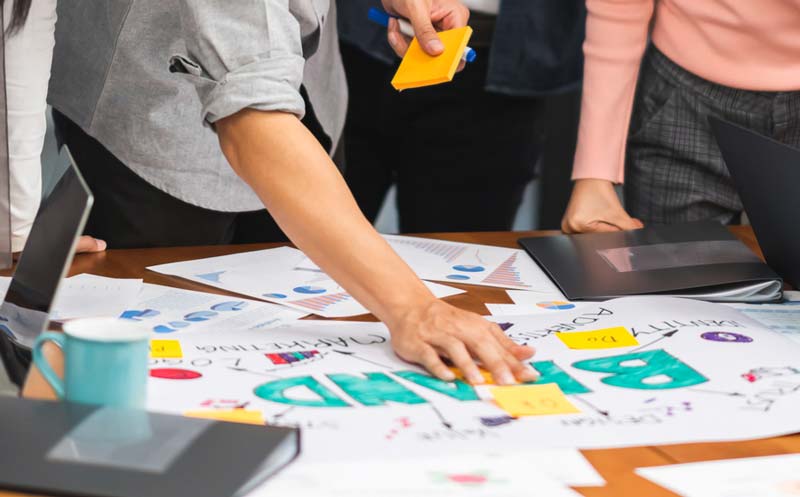 Would you hire a content marketer who describes themselves like this?
"I'm a highly skilled content marketer who can help your business."
Most people wouldn't care a lot about this personal statement. Some might even cringe and share it on LinkedIn as an example of horrible personal branding.
Unfortunately, such devoid of value, broad, and dispassionate personal brand statements are all over the place. All they do for young professionals is damage their reputation and postpone the start of a career.
We're not going to let that happen to you.
This guide is here to help you write a unique, compelling, passionate, and value-packed personal branding statement. Learn more about top branding companies today!
Plus, we have a bunch of examples from well-known people to inspire you.
Sounds good?
Let's begin with a quick intro to get you in the mood for creating.
What is a Personal Brand Statement?
A personal brand statement is a one- or two-sentence phrase describing your expertise, audience, and main value proposition.
It's unique to you and you alone.
Basically, a personal brand statement is an answer to these questions:
What is your job?
What are you passionate about?
What differentiates you from the competition?
How do you help your clients achieve their goals or resolve problems?
One or two sentences to squeeze all of this? Sounds like a bit of a writing challenge…
Not necessarily!
With the right personal brand statement tips and examples, you'll make one for yourself quicker than you think.
Let's see how it's done.
How to Write a Personal Branding Statement [+Examples]
Here, list techniques to help prompt you to come up and write a unique and relatable personal brand statement.
1. Determine Your Value Proposition
Your Value Proposition is the core of your brand statement. This is the reason why people would want to contact you.
That's why we need to address it first.
So, the big question: What should someone hire you?
Be careful with your answer because it shouldn't just describe what you do. The best way is to describe the outcome for the customer.
For example, instead of saying, "I build websites," try "I build online stores that help businesses sell by providing a positive shopping experience."
2. Try a Classic Formula
There's a common brand statement formula that works for many people:
"I help _________ do _________"
The first blank space contains your target customer or employer.
The second one is for the customer's goal or desired outcome that you help to achieve. Also, it can be a problem they need to resolve.
Here's an example of the classic formula in action.
An SEO consultant Mike Khorev uses it to keep his statement narrowed and focused.
By using the classic formula, this branding statement makes the outcome clear: more revenues thanks to SEO and digital marketing.
You can try this one, but there are more creative methods. Let's see some now.

3. Be Concise
Sometimes, a personal branding statement can be one short sentence.
Like this one from Harley Pasternak, a fitness trainer.
"Transform your body. Transform your life."

That's it.
Harley's passion for helping others on their fitness journey is evident in this statement. He doesn't say a word about himself and stays focused on his clients' goals.
I mean, why do people hire fitness trainers like Pasternak?
Right, they want to take care of their body. And become healthier and happier.
This example gets the point across with the least amount of words. It's an excellent technique if you'd like to stay on point with a customer's goal.
Related article: 10 Unusual Branding Tips Experts Swear By
4. Balance Your Personality and Professionalism
This is one of the best ways to create a relatable and engaging branding statement.
By showing your personality with confidence, you can boost your credibility and attract like-minded individuals. Combined with professionalism, such a statement could go a long way at creating an image you want.
Here's an example.
Frankie Ratford is a director and designer of The Design Kids, a graphic design company.
Here's how she describes herself.
"Frankie Ratford is a full time adventurer obsessed with design, travel, and business. She heads up The Design Kids and spends her spare time coaching her favorite Graphic Design businesses across the globe."
Sounds so casual, right?
But also creative and professional at the same time.
Ratford lets her personality shine in the statement by describing herself as "A full-time adventurer obsessed with design, travel, and business."
Next, she lets us know that she's heading a company and knows how to manage time effectively by balancing the career of a CEO and a coach.
Just by reading these only two sentences, we:
Can get an idea of her personality (Ratford's photo in the background complements this beautifully)
Understand what she does and how she helps others.
The result?
An excellent brand statement that combines personality and professionalism.
You can try this formula by making your statement a two-sentence phrase like Ratford. Make the first sentence describe your personality and the second one about what you do and why.
Also, consider supporting this statement by using catalog templates to demonstrate your expertise visually.
Not sure you can brand yourself effectively because your industry is "boring?" Check the guide below for tips: Personal Branding Tips for Executives In "Boring" Industries
5. Appeal to Your Client's Goal
This is how you can encourage your clients to check your services.
Take a look at this brand statement from Kate Toon, a copywriter.
She appeals to the desire of her clients – small business owners who want to sell online – to build a powerful brand regardless of their marketing budget.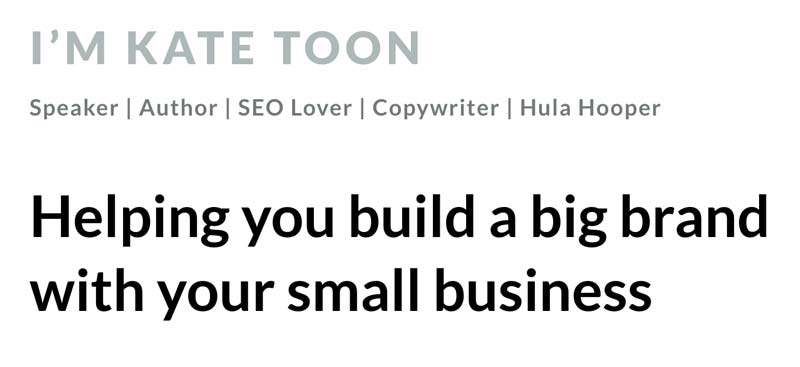 Her solution is SEO copywriting (content marketing).
It's a budget-friendly marketing strategy, which makes it great for small businesses. In fact, 53 percent of them use this strategy to attract clients.
Toon has chosen to appeal to the target clients, which was a great idea.
Every small business owner wants their company to succeed, so this one should strike a chord with many people reading this statement.
So, the takeaway here is:
Appeal to the biggest professional dream of your target clients. Just like Toon, write a statement that focuses on something they're working on.
6. Avoid Cliche Words and Phrases
Cliche means generic and overused.
Not a good combination for a personal brand statement, agree?
Here are the most common ones.
| | |
| --- | --- |
| Cliche Words + Phrases | Reason to Avoid |
| Results-driven | Meaningless. Your potential client assumes results from you. No need to repeat that. |
| I'm a guru/ninja/expert | A bit empty. Better go for your attributes. |
| Creative thinker | Highly overused, almost to the point of being meaningless. |
| Detail-oriented | States the obvious, no value for customers/employers. |
As you can see, cliche words and phrases have low value for people. They say nothing about your expertise and value proposition.
Try to avoid them as you write a brand statement.
In case you need help with any of this, check out this paper writing website that professionally assist you.
The Bottom Line
Is there a formula for a perfect personal brand statement?
No.
There are many ways to craft yours, and this is a beautiful thing. No one formula can highlight the true personality and customer value of people from different industries.
The perfect statement resonates both with you and your target customer/employer. Coming up with one could take some time, but it's worth the effort.
Remember: the brand statement you'll choose will represent you everywhere. Better invest your time and make it really good!
Author's bio. Daniela McVicker is a passionate digital marketer. Daniela is interested in everything related to SEO and blogging. She collaborates with Essayguard and other websites where she shares her experience and helps marketers make their names in the online world.