If you've looked for email options for your small business, it's likely that you've come across Office 365 by Microsoft. Office 365 is a subscription service offering communication and collaboration tools for businesses large and small. While the list of features is impressive, most small businesses initially investigate Office 365 just for the email service.
 In this post and the video below, I investigate the email service offered by Office 365 and also how easy it is to create a simple website within your Office 365 account using their Public Site feature.
Where You Read Your Office 365 Email
Most people who use Office 365 for business email will retrieve their email in a few different ways.

Using the Outlook Web App within your Office 365 account
Downloading the Outlook application and running it on your computer. You'll need Office 365 Small Business Premium or higher to have access download Outlook to your computer.
Retrieving email on your smart phone using Microsoft ActiveSync to setup an email account
Office 365 Mail Server Settings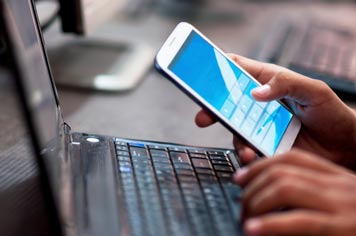 Most email hosting services will give you access to POP and IMAP mail servers to easily setup email on any email client. I couldn't find the POP and IMAP server settings for Office 365 within my account.
I asked the Office 365 chat support where to look and the agent told me to search the help section for the answer and said I needed to setup Exchange Online. I searched the help and didn't find anything.
Exchange Online is an included feature of Office 365, so I believe it is already "setup." That's one point AGAINST Microsoft Live Chat Support. No big surprise there. Thanks for the help 🙁
I did finally find this Microsoft employee's blog post on setting up Office 365 email in Thunderbird and it included the mail server names that I could not find anywhere in my Office 365 account and the support agent was not knowledgeable enough to share them with me. So here they are:
POP3: outlook.office365.com Port: 995 (SSL)
IMAP: outlook.office365.com Port: 993 (SSL)
SMTP: outlook.office365.com Port: 587 (SSL) Requires Authentication
I tested these mail servers in Windows Live Mail and was able to connect to my Office 365 account and send/receive mail.
Office 365 Pricing
At the time of writing this, you can get Office 365 Small Business for $5/user/month. That means you'll pay $5 per email address. And you can see the upgrade prices in the image below.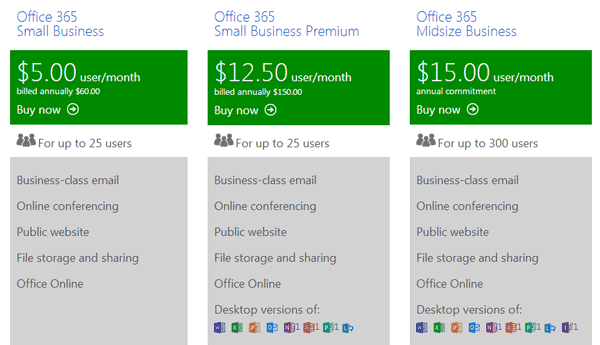 So how does that price compare to the competition?
Godaddy offers a similar service hosted by Office 365 for $3.99/user currently. I believe that's just email and doesn't include some of the other tools shown below from the official Office 365 website.
Google Apps for Business, another popular option for business email is currently $5/user/month also.
Rackspace, yet another email option, is currently offering hosted email accounts for 40% of the cost of Office 365 email ($2/user/month)
Advanced Features of Office 365
Don't forget – with Office 365, you are getting more than just email service. You're getting a bunch of collaboration tools and Office software that I didn't cover in the video above. Many small businesses won't use these features and are only looking for email, but they can be extremely valuable for some small businesses.