Welcome to the first in my new Q&A series, WEask.tv! In this series, I'll be giving in-depth answers to a variety of thought-provoking questions asked by readers just like you in the realm of digital marketing. If you have a question, be sure to submit it as a text, audio, or video question at
webeminence.com/we-ask-tv
.
This first question comes from Rocky Rinker, a civil law attorney in St. Petersburg, FL. Be sure to visit rockyrinker.com to learn all about his client-focused, boutique litigation firm.
From Rocky:
I have a friend who has a law practice here in Pinellas County. He selected his new office because his web guy told him that a particular zip code would yield better SEO results than the zip he was in.
Is this a legitimate analysis point or is this modern mythology?
I ask because we are considering relocating to 33713 but wanted to see if the change in zip code would have a negative impact on our web efforts.
Thanks for any education you can give me on this.
Rocky
Rocky brings up a great question, and the short answer is… yes. Physical proximity does matter for SEO. Business location is incredibly important for brick and mortar businesses.  In general, it's always best to be in close proximity to your target market for better search results because Google likes to show the best results and the best results will most often be those closest to the searcher, especially when they are performing a location-based search. Let's dig a bit deeper…
How Important Are Location-Based Search Results?
In a blog that appeared at thesempost.com, it was stated that according to Google, "Nearly one third of all mobile searches are related to location." What this means is that when people are doing a Google search, they are often including location keywords such as a city or neighborhood or qualifiers like the phrase "near me." And even when a location is not included in the search, Google is smart enough to know when displaying local results is a good idea and will take the initiative. So what this means is – location is becoming VERY important in Google search.
How Should This Affect How You Choose a Physical Location?
As I mentioned before, you want to be near your target audience as Google uses proximity as a major factor in your site's search ranking.
Moz, a trusted voice in SEO, recently put out a report on local search ranking factors for 2018. It looked at two major categories:
Local Pack/Finder Ranking Factors – Local Park is the map that appears in the Google search results showing the location of the business as well as contact information. Moz's study found that Google My Business Signals (which includes proximity) is the largest ranking factor at 25.12%.
Localized Organic Ranking Factors – This is the main organic results (not the map) when someone does a search with local intent. In this chart, Google My Business Signals might not be at the very top but still play a major factor in ranking.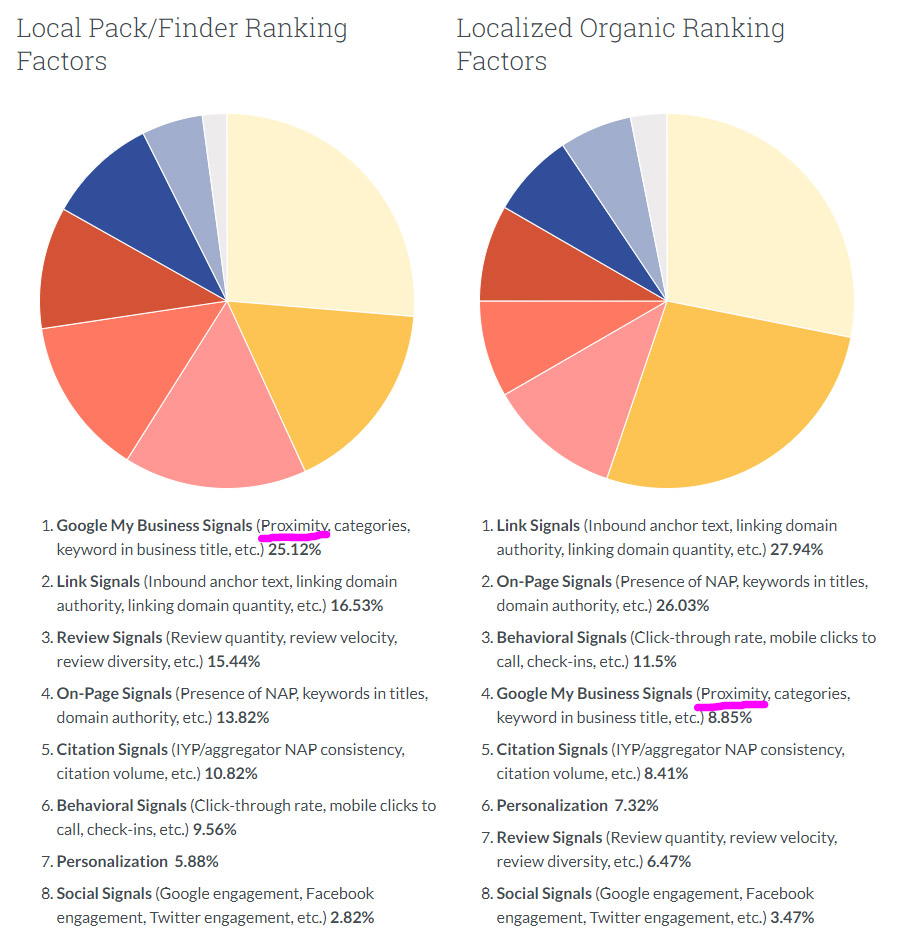 If you're curious, Google My Business is the service you use to get a free listing in Google's directory. Google gets your location info from this My Business listing as well as your address info as listed on your website. Making sure your address matches and is correct on Google My Business and your website will help to ensure Google that your location as stated is indeed correct.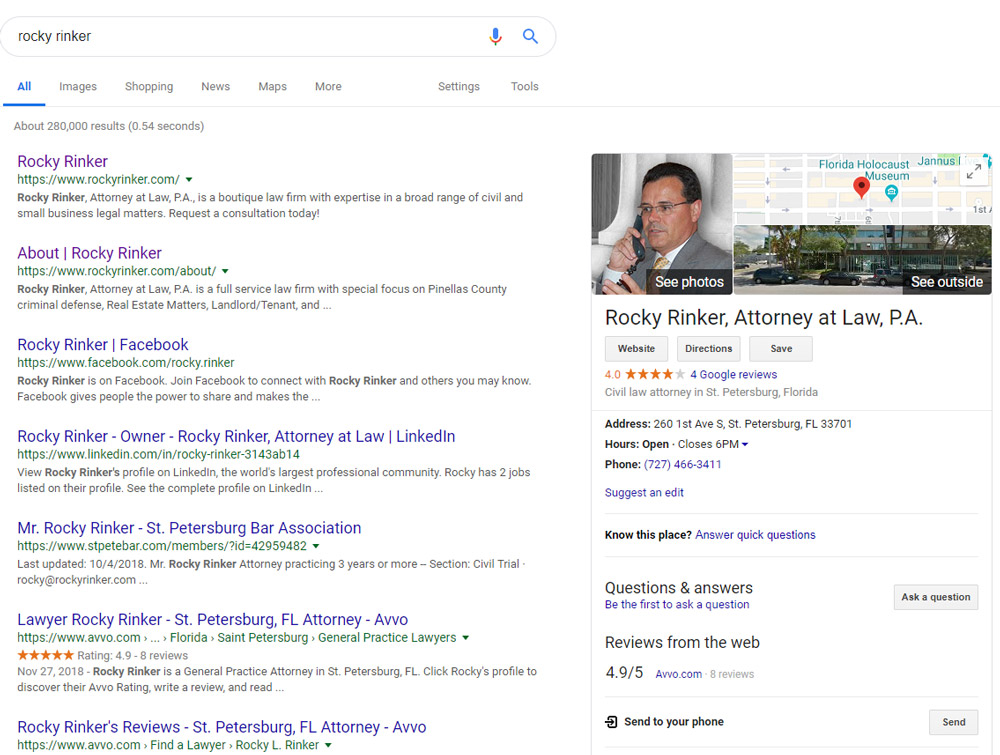 Should You Make A Physical Move? Will it Affect Your Rankings?
With all of that in mind, let's look at the specific zip codes that Rocky mentioned since answering his specific case will illustrate how I think about proximity and physical location in regards to SEO.
The local listing for Rocky Rinker's law firm is 33701, and he is considering relocating to 33713. This puts him currently in downtown St. Petersburg while the move would put him a few miles northwest. As it stands, I would NOT think making this move would have a major impact on his SEO and rankings as it's still a St. Petersburg address.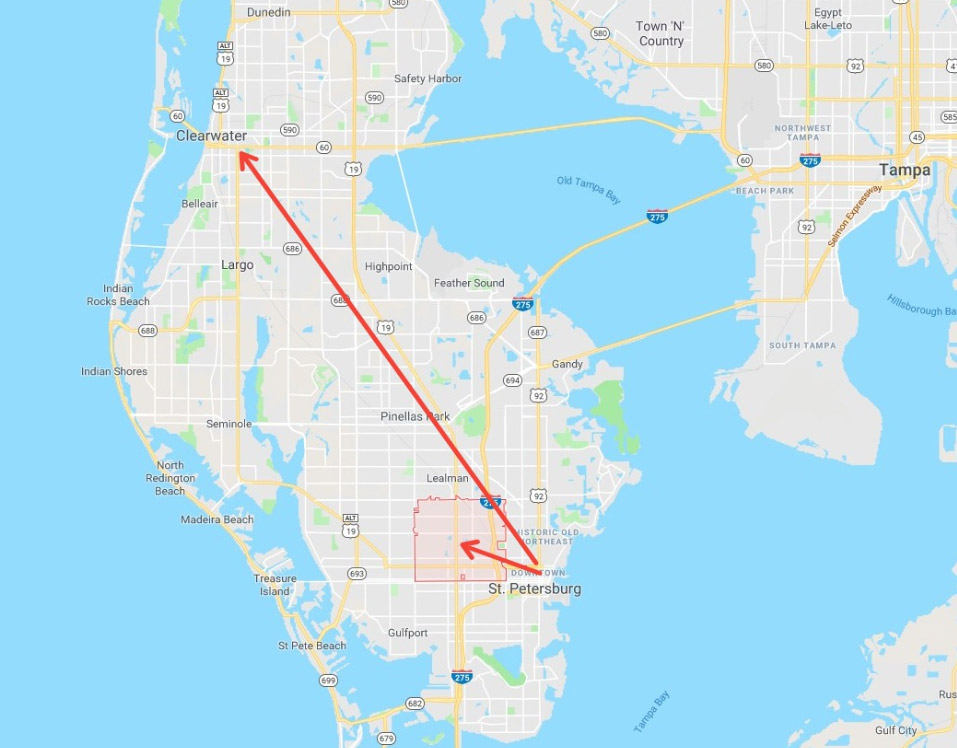 Now, if he moved several miles further northwest to Clearwater, FL, that would most likely affect his search engine rankings over time in St. Petersburg and Clearwater since his proximity to those 2 locales would have changed dramatically. f
I want to thank Rocky for the great question. We'll be answering more in the future and bringing in some other experts to answer some questions as well. To submit your question, make sure to visit WEask.tv
Notes
https://webeminence.com/we-ask-tv
http://rockyrinker.com
http://thesempost.com/one-third-mobile-searches-local-queries
http://moz.com/local-search-ranking-factors
http;//google.com/business