What is Shopify?
Shopify is an all-on-one e-commerce platform that makes selling online easy.
Selling on a website can be complicated because it requires many pieces to the puzzle…

Domain Name

Hosting
Web Design
Secure SSL Certificate
Shopping Cart
Merchant Account (to accept credit cards)
Making all these different pieces to the puzzle work together to create a safe and effective shopping experience for your customers can take some serious time and effort. Shopify allows you to get all these elements in one place for one monthly price. You can literally be selling your products online within a matter of hours.
Watch My Video Review of Shopify
How Much? Shopify Pricing…
(Updated October 2013) You can get the Starter plan from Shopify for $14/month if you are selling less than 25 products.  That's all it takes to start selling online. Shopify has a few upgraded plans  ranging in price from $29/month to $179/month for people who  need to sell more products. All the upgraded Shopify plans allow unlimited products but you will be limited on storage space with the Basic plan (1 GB) and the Professional plan (5 GB). The Unlimited plan is what you'd expect – unlimited storage.
Another important distinction between the different plans is the credit card processing fees ranging from 2.25% – 2.9% plus $0.30 per transaction. This is a critical number especially if you sell high volumes. For example, if you sell over $20,000 in your Shopify store, you'll save money paying the higher monthly payment for the Unlimited plan in order to cut down your credit card transaction fee to 2.25%.
Many e-commerce services like Shopify take a % cut of all your sales and call it a transaction fee. Shopify charged this fee in the past but did away with it when they released Shopify Payments. They are making money off the credit card processing now so they can offer savings on the transaction fee.
You can click here to see the current pricing structure and take advantage of the free trial they offer to try it out for a few weeks with no commitment.
Total Cost of Selling Online with Shopify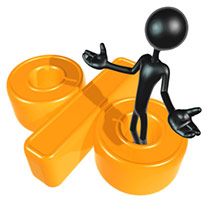 Selling online can be expensive so it's important to know your costs before starting to sell products. Your main costs will be your monthly fee with Shopify + transaction % + credit card fees charged by your merchant account.
Let's say for example that you processed 30 transactions for a total of $2,000 worth of sales in a month using the Professional plan from Shopify. Here's what your total costs would be:
Shopify monthly Professional plan: $79

0% transaction fee from Shopify: $0
2.5% + $0.30 credit card processing fees from merchant account: $59
Total cost of selling $2,000 in products in our example:
$138 or 6.90%
That probably seems like a high percentage but it would go down for every dollar you sell over $2,000 since the monthly fee is fixed at $79. For example, if your sales doubled to $4,000, your total cost in fees would probably be under 5.0% depending on the number of transactions.  Also, people selling products on eBay typically have costs of over 20% and sometimes even over 30%!! So in comparison, selling on Shopify is MUCH CHEAPER and closer to the industry standard.
Shopify Links With Many Merchant Accounts
Shopify is a great all-in-one solution for selling online but the one thing you will have to get separately is a merchant account from a third-party company. The merchant account gives you access to a payment processor that will actually process credit cards on your website. Shopify links up with several payment processors very easily so all you will need to do is enter the information for your merchant account and the money will flow from the Shopify shopping cart through your payment processor and into your desired checking account. You can find a list of all the supported merchant accounts here on the Shopify website. There are over 60 supported merchant accounts including Paypal so you shouldn't have a problem finding one that works. I have used a few in the last 10 years but have found the best pricing structure for my business with FirstData. Stripe is also a simple and affordable option with a flat fee structure and they are recommended by Shopify.

Credit card processing fees can be a bit confusing and it's easy to get ripped off. You can read my experience shopping around for credit card processor. I decided to use CardFellow.com to cut out all the guesswork and get quotes from several credit card processors at the same time. It allowed me to get the lowest cost possible. If you get quotes through CardFellow.com, just make sure the processor you choose is compatible with Shopify.
New Shopify Payments
Shopify announced some great news in August 2013 for Shopify shop owners. They now have their own integrated payment processor so you don't need to signup and integrate a 3rd party payment processor. This will lower your processing fees to 2.9% to 2.25% depending on your account and will also get rid of the transaction fee associated with some accounts. This is a big step in lowering your costs and making it even easier to create an online store. Read More.
Major Savings In Website Design using Shopify Themes
One of the biggest expenses in creating an e-commerce store is getting the site designed. If you choose a custom design for your website, it could end up costing you $2,500-$5,000 or more. The beauty of Shopify is that you can use pre-designed professional themes that are sleek and clean. Many of them are complete free to use as a Shopify customer and they offer an ever-expanding library of themes created by third parties for $80-$200 per theme.  out some of the You can click here to browse the Shopify Theme Store. And get inspired by some of the best Shopify stores in this post from Moosend.

Shopify Experts Are Available To Help You
Shopify is easy enough to use so that most people will have no problem. You can get an idea of what it will take to create your store by watching my video walk-through above. But for those who don't want to do the setup themselves or are looking for a custom design implemented for their store, Shopify has thought of that too. Shopify has setup a network of Experts that are dedicated to helping Shopify customers build their ideal online store. Most of the Shopify Experts will do a site setup for $500 using one of the pre-designed Shopify themes. If you want a custom design, you can get quotes from Shopify experts and the prices usually range from $2,000 to $5,000 depending on your project.
If you plan on building your website yourself but just want a little bit of help, Shopify support is always there to help. If you sign up through my Shopify link, I'll be able to help you personally if you get stuck.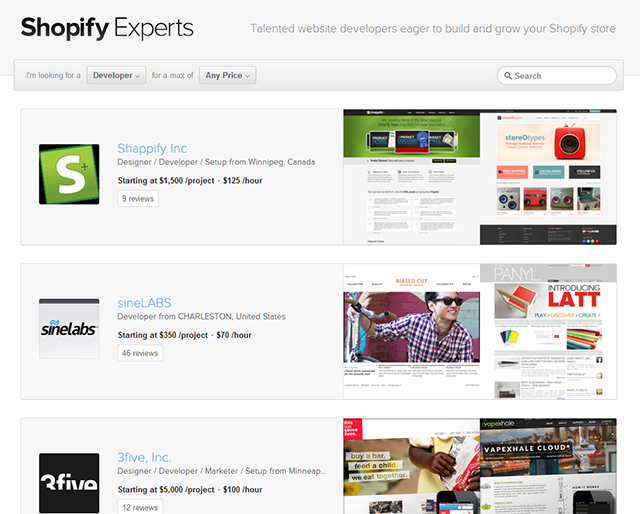 Be Selling Your Products in 24 Hours
Most people who want to sell online want to get online fast. With Shopify, you can get your store setup and selling online literally within 24 hours. Take advantage of their free trial offer to see if it will be a good fit for you. If you have any question about my Shopify overview or you'd like to share your own experience, please comment below.
Clicks & Mortar with Shopify POS
Another exciting announcement came from Shopify in 2013 and it's Shopify POS (point of sale). This allows you to easily sell your products in a physical store using a similar interface as your online store. Just select products, swipe your customers card using the hardware provided by Shopify, and your store inventory updates automatically and syncs with your online store.  I haven't tested this out myself to give a full review but it looks pretty slick. If you've used it for your store, please comment below and let us know what you think.
Enjoy this Shopify Reviews? Please share it…