As we move forward into 2019, the digital marketing landscape is witnessing a dramatic shift. The impact of this shift can be felt across every digital platform. From SEO, social media, and PPC to content marketing, digital marketers are facing some serious competition and challenges in almost every aspect of their marketing campaign.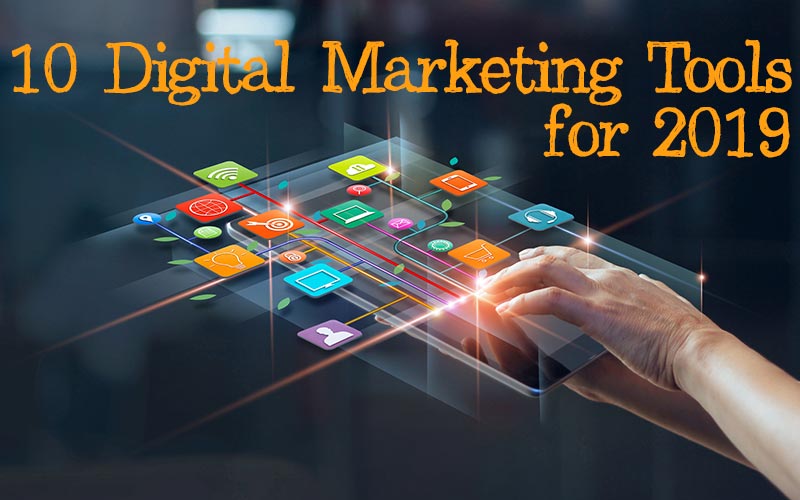 This is where artificial intelligence and automation help marketing teams manage everything that they're dealing with every day. In today's high-tech, internet-connected era, you just need the right tools to accomplish any job in your trade. The same case applies to digital marketers.
To derive more traffic to their website, optimize the content for specific keywords, run a professional email campaign, or engage viewers on social media sites, marketing teams rely on a suite of digital marketing tools to grow their business. And that's exactly what we will talk about in our post.
Without further ado, here is the list of tech tools that are changing the digital marketing world for good.
Top 10 Trending Tech Tools For Digital Marketers
Tech tools for project management and productivity
Proofhub is a cloud-hosted task management tool that makes it easier for teams and businesses to stay on top of their deadlines and deliverables. The best part about this software is its scalable feature list that meets the project management needs of any team from software development to digital marketing. The software simplifies every critical phase of a project – from planning to delegating, to tracking and delivering projects right on schedule. It's basically a single place where managers, teams, clients, and stakeholders can come together for more efficient collaboration and productive project management.
Troop Messenger has a reputation for providing top-notch services as an office chat app to a variety of businesses or domains, including software, healthcare, banking, as well as defense groups, political parties, government agencies, and others. The degree of security required with this defense-validated instrument is thus obvious. Troop Messenger's goal is to provide a safe and secure platform for its users, so it strongly suggests using on-premise chat, though it can also be made available through chat APIs and SDKs, SaaS, and other business models.
Tech tools for design, social media, and video
Canva is the kind of tool that a digital marketing team needs to ensure beautiful graphic designs. It's a graphic design tool website that provides you access to over a million layouts, photos, graphics, and fonts. The software can be used by both professionals and non-designers, allowing marketing teams to create amazing graphic designs using an extremely simple drag-and-drop interface.
Tube Buddy is a browser extension that adds a layer of tools directly on YouTube. The purpose of this service is to improve the way you post videos on YouTube. A significant advantage that comes along with Tube Buddy is that its add-ons are available for both Firefox and Chrome. With Tube Buddy, you can set titles, descriptions, taglines, keywords, and more while posting videos on YouTube. It allows you to improve your video's visibility across various search engines.
Hootsuite is a popular social relationship software platform that is designed to empower your business to adopt amazing social media strategies. It helps marketing teams to use the social web to spot potential audiences, send targeted messages, and turn them into meaningful relationships. Hootsuite allows marketing teams to schedule posts on various social media platforms (LinkedIn, Facebook, Twitter, Instagram, Google+, etc). Plus, they can track industry trends and campaign results effortlessly in one single place.
Tech tools for analytics
Google Analytics is without a doubt the world's best web analytics service. What makes this platform unique is that it's available for any business, regardless of the industry and it's available for free. With Google Analytics, marketing teams and businesses can summarize all the information associated with the campaign on high-level dashboards. It makes it easier for them to understand their visitors, figure out why they visited your site, and most importantly, examine why they did or didn't convert.
Check out my recent post on how to set up Google Analytics and what to look for in the data.

Crazy Egg is an amazing website optimization service that lets marketing teams and agencies get a quick insight into their website's performance and customer behavior. It's an innovative website analyzer software that gives you more control over your business's marketing strategies. With Crazy egg, you can see who scrolled down your website and what section of your website is being looked at the most. Moreover, it tells you how your social media is performing and which platforms are bringing the most traffic to your website.
Tech tools for keyword research, SEO, and SEM
Google Keyword Planner is one of the most used and recommended keyword research tools out there. A key reason why it's getting more and more popular is that it's available for free and it is integrated well with Google AdWords. If you need a more detailed and competitive analysis of which keyword works best for your overall digital marketing strategy, go with Google Keyword Planner.
SEMRush is the easiest keyword research tool for a marketing team. What makes this tool different from other typical keyword research tools is that it does a lot more than just research keywords for a campaign. All you need to do is add your URL and SEMRush will offer you all the keywords (long-tail as well as short-tail) that are ranking for your site. Moreover, it also offers you insight into details like traffic stats, search engine reports, Adsense CPC, and so on.
Tech tools for conversion, marketing automation, and personalization
Marketo is a leading marketing automation platform for digital marketers. The platform aims to simplify the whole marketing process and streamline all the tasks in your marketing to-do list to improve overall efficiency. It's a simple, easy-to-use, and comprehensive automation platform that has the ability to grow with your enterprise. Plus, it offers real-time personalization, allowing you to make the system more suitable to your needs and preferences.
Leedfeeder is an intuitive software solution for website visitor tracking. The core idea behind this software is to help marketing teams generate sales and boost their marketing ROI. Lead generation, automatic reporting, lead scoring, lead filtering, etc are some of the key features that this software offers. Plus, it leverages Google Analytics data, and email marketing, including email builder and CRM tools so that you can get the most accurate information on your website's visitors and traffic efforts.
There you have it! This is our comprehensive list of tech tools that every digital marketing team needs in 2019. Once you identify the right tool for your business strategy, managing and keeping track of your digital marketing campaign will be considerably easier, and faster.
Think we left a tool off the list? Have a suggestion that you would like to share? Tell us about it in the comments section.