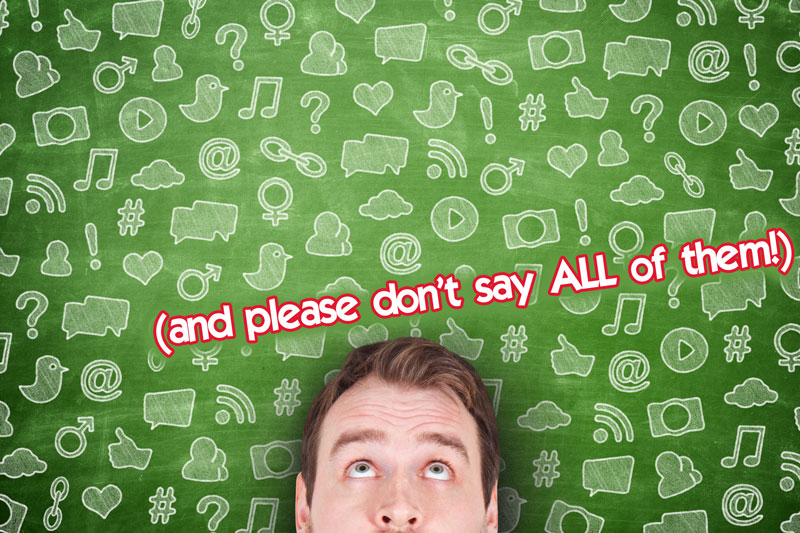 Diving into the world of social media can be super intimidating. I am very aware of that. Most of my clients are already overwhelmed by the laundry list of tasks they need to complete as a small business owner BEFORE they even think about social media.
Adding social media on top of the current task list could seem impossible, especially if you think you need to be pinning on Pinterest, tweeting on Twitter, snapping on Snapchat, posting on Facebook, and sharing on LinkedIn. STOP! Let's slow down for a moment and see if we can quell this overwhelming feeling.
Social media can be manageable. However, it is extremely important to have focused and reasonable strategy and not spray all your effort too wide and quick. Choosing to be effective with one or two social media platforms is far better than dabbling on four or five social media channels. If you try to tackle too many at once, you'll spread yourself thin and dilute the impact of your efforts as a result. If you select which ones you want to use randomly, you may not get the results that are drawing so many businesses to social media.
There needs to be some strategy in selecting which social media channels you use. To keep this selection process as simple as possible. I am going to break it down to three questions that you need to ask yourself:
What platform is your target market ALREADY engaging on?
What channels are your competitors using?
What type of content will you be sharing?
What social media platform is your target market ALREADY engaging 0n?
Step one is making sure you have pinpointed your target market. Who is buying your product or utilizing your service? Is there a specific age group? Teens? Millennials? Baby Boomers? Are you targeting individuals (B2C) or does your business target other businesses (B2B)? If your product or service is typically gender specific that is important to identify as well.
Once you have that information, you can then dive into the studies that have been done on demographics of users for each social media platform. To sum up a lot of the information out there: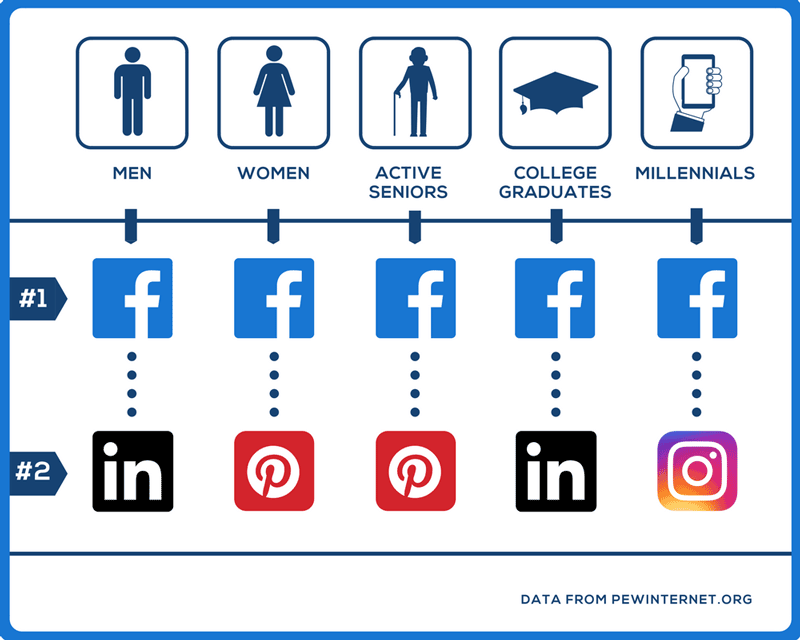 This data and more can be found at http://www.pewinternet.org/fact-sheet/social-media
The stats are out there. It's just a matter of finding your target market and pinpointing where those individuals are spending their time on social media!
What channels are your competitors using?
After answering the demographic question above, you're on major step closer to narrowing down the best social media platform for your business. However, I'd highly recommend you dig a bit deeper and answer the other two questions as well.
A great question that a very successful, established business owner asked me in order to help me gain some clarity is,
"Who is doing what you do REALLY WELL?"
No one really likes competition, but the sliver lining when it comes to competitors is we can learn from them. So take a look around your industry, visit competitor websites, and see what social media channels they are utilizing/promoting on their website. How many followers do they have on that channel? If the answer is hundreds or thousands of social followers, that is likely a good platform for you to utilize as well. Your potential customers are already in that space.
This simple analysis will provide a solid gauge on which platforms you should use It can also help you decide what type of activity works on that specific platform. What type of content do your competitors post? How regularly do they post it? How many likes or shares do their posts gain? Checking how active your competitors are on social media, as well as how well their followers engage with what they post, will provide you with extremely valuable insights. Then you can simply replicate what they have been doing and improve on it to ensure success for your own brand strategy.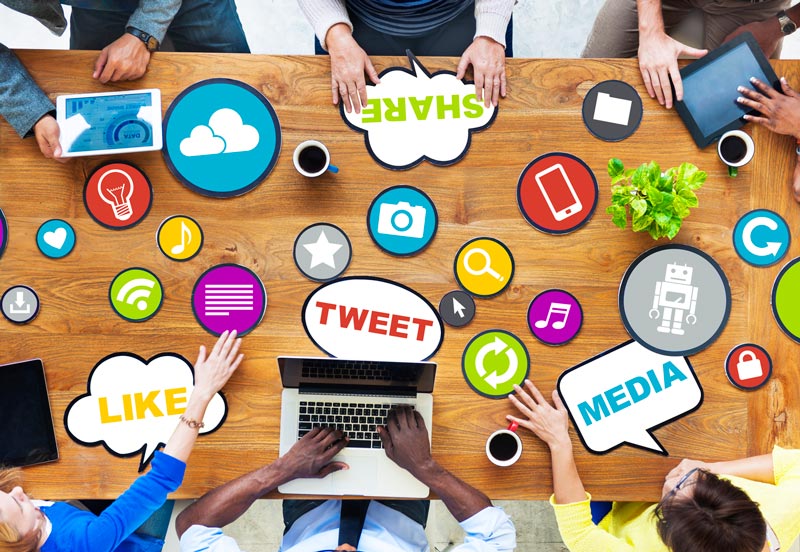 What kind of content will you be sharing?
If you have image based content, you will ideally invest your efforts on Instagram or Pinterest.
Instagram will allow you to build an inspiring visual brand story while Pinterest may be the ideal platform if you have an engaging physical product that you are looking to sell to consumers (not B2B).
If you want to share industry updates, company news and whitepapers to B2B audiences you will likely want to focus your efforts on platforms such as LinkedIn and Twitter where professionals can predominantly be found. Google+ is also a good option for professional purposes. I just like to auto-post content to Google+ since I'm not convinced that many people actually use it BUT I assume Google does!
If you want to share video content, you will want to live in the world of YouTube, Instagram, Vine, Snapchat or Periscope. If your videos are longer and more universal in its audience, Facebook and Twitter can also generate high levels of engagement.
Regardeless of where your videos are originally shared, you'll want to upload videos to YouTube as it's the world's second largest search engine with over 3 billion searches a month. I have often found that YouTube videos can rank for keywords that my website struggle to rank for which exposes my business to new audiences I never would have reached!
Finally, if you are a company that runs big events, you will want to take some time to get familiar with Facebook Events. Facebook Events can be shared on your Facebook Business Page and it a great way to organize, promote and communicate leading up to events for your business.
These are just examples and not an exhaustive list. The way content is shared on social media is continuously evolving as new features are introduced in the endless battles between social media platforms to get more active users. So make sure to keep up with the latest options on your chosed platform so you don't get left in the "social dust."
Remember, the purpose of your chosen social media channels to is support the achievement of your strategic goals.
A Few More Social Tips To Reach Your Goals:
Consider selecting well-established platforms with a large following (avoid anything new or niche).
One of the most effective methods for raising awareness and extending reach is through paid promotion. This may not be something you need to do forever, but may be needed in the beginning to boost your reach.
Slow and steady wins the race. You don't need to post 12 times a day or even daily. But sticking to a regular schedule will often get the best results. If you can only do one post per week on one social media platform, it's better than nothing!
Learning about the world of social media can sometimes feel like you are drinking from a fire hydrant. My hope is that is once you have answered the three simple questions, you will have a better idea of where you should focus your efforts as you take the plunge into the world of social media. If you have more questions in regards to social media, post a comment below as it's almost guaranteed that others have the exact same question!