Wix Mobile Bag of Tricks: Wix Mobile Website Builder
You're building your site. You want it to stand out on mobile or at least be mobile friendly. And most of all, you're looking for simplicity. Well, Wix is vying for your business and their multitude of options when transferring your site from desktop to mobile may very well win you over. But let's have a look at a few key features. First…
Why Mobile Matters
If you're not building your website to be mobile responsive, you're doing it wrong. You're not only cutting out a large portion of your audience, you're cutting out the majority. In the USA, 2017 has already seen 71% of digital minutes spent on mobile according to comScore. Since 2014, content and media consumers have chosen mobile over fixed internet access (aka desktops, laptops, etc.) and that number increases year over year. Everyone sees this happening but check out this TechCrunch article if you don't believe me.
I've covered the importance of responsive design in-depth before so if you want a quick lesson or refresher check out my article Is My Website Mobile Responsive?
I don't think it's any coincidence that Wix caught wind of that trend early and just as mobile usage was overtaking fixed internet, they started (in late 2013) sinking more resources into helping their own users focus more on building mobile sites. But how does Wix stack up nearly four years later?
What are the People Saying About Wix?
To put it bluntly, people seem to love Wix as a website builder. On their list of "The Best Website Builders of 2017," PC Mag placed Wix firmly at the top calling it the "easiest and fullest-featured website builder around."
Praise gets lumped on their ease-of use and drag and drop style, frequently updated templates, and 24/7 support.
I tend to agree and put Wix on my list of recommended website builders. 
But…
Most of this applies to the creation of desktop sites and we want to dig into that all-important mobile functionality. It's here that you're going to have to put in a bit more work.
Wix Mobile Editor
What is boils down to is that Wix may be mobile friendly, but it's not exactly hands-free.
Wix will automatically convert your site to a mobile-friendly site upon creation, but you'll need the dedicated Wix Mobile Editor to do some fine tuning. With the Mobile Editor you're able to quickly rearrange or even hide content (choosing what is and what isn't critical) that will appear when viewed on a mobile device.
As a note: You have the option to turn off mobile-friendly view completely, leaving mobile users to navigate the desktop experience on their devices, but it is highly recommended that you don't do this.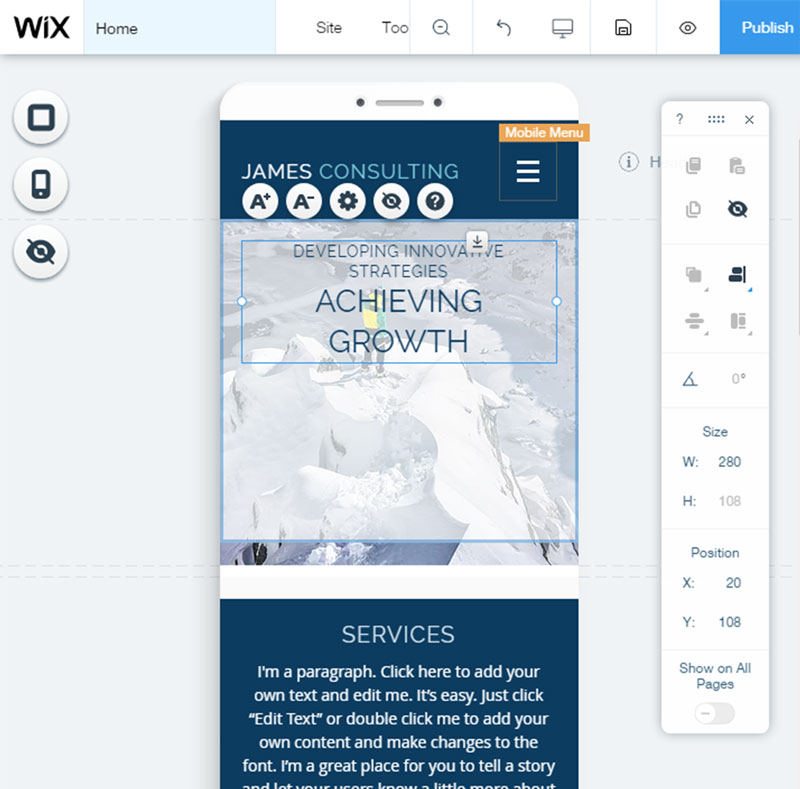 What New Tricks Does Wix Have for Mobile Editor?
Accessing the Mobile Editor is easy. All you have to do is go to the top bar of the Editor and click the mobile icon.
Fairly simple, right?
And now they are allowing you to automatically enable an Optimized Mobile View. Of course, we want to know exactly what Wix considers "optimized."
The optimization will give you a layout that looks great on mobile, turning your desktop design into a scrolling format that fits the smaller screens on smart phones, but it's still up to you to do some tweaking to really make it a seamless transition from desktop to mobile. You're going to want to look at each Page, scaling text and pictures to makes sure that everything is clear and legible.
Once you've made all you tweaks and changes, you only have to go to Mobile Settings and then Mobile View and enable the Optimized Mobile View.  Now just publish your site.
So all-in-all, the Wix Mobile Editor and Optimization are a quick way to transform a great-looking desktop site into an equally great-looking mobile site. However, you're still going to have to get hands on, double checking the mobile layout and making tweaks (sometimes major changes) to your new mobile site.
The Wix Mobile Editor is available in all the Wix Pricing Plans.
Be Responsive Yourself!
Be responsive and comment below on your experience building a mobile responsive website. What do you think of the Wix Mobile Editor?