Isn't WordPress a Website Builder?
No, WordPress(.org) isn't technically considered a "website builder." It is a free and open source content management system that you can download and use to build your website or blog. You don't run WordPress as an application on your computer. Rather, you install it on your web host and then login to build your website. Even though WordPress is free to use, you will have to buy web hosting to use it which can be anywhere from $3-10/month.
Advantages of WordPress
More flexibility – WordPress is open source and you'll have access to all the code for your site.
Design Options – Virtually unlimited design capability with 3rd party WordPress themes.
Expandable with thousands of third party plugins
Scalable – WordPress won't hold back the growth of your site.
Transferable hosting – You're not stuck with your host when you use WordPress. You can move your site around as you need to.
Cheap – WordPress is free, open source software, but you will need to buy hosting.
What is a Website Builder?
Ok, so if WordPress is not technically a "website builder", what is a website builder?
Website builders are all-in-one website solutions offering an online interface where you choose a design theme and then use a simple drag-and-drop interface to create your website. Website builders generally include hosting and you pay a monthly fee for hosting and access to the website builder software. Since website builders are not typically open source, you are limited in the amount of customization you can do.
I recommend using WordPress over a website builder, but there are a few distinct advantages to using a website builder as I listed below. If you do decide to use a website builder, make sure to check out some of my favorite website builders.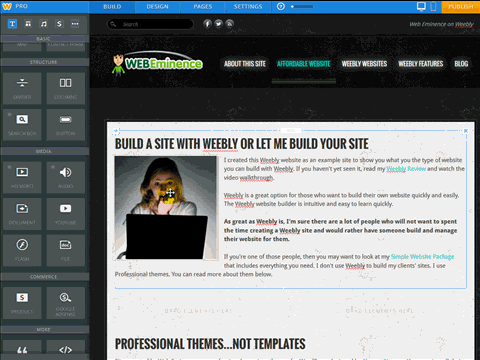 Advantage of Website Builders
Easier to use, shorter learning curve
All-in-one, includes hosting and design
You'll notice the list of advantages for a website builder is a lot shorter. That's because WordPress is an overall better option. But the main benefit of using a website builder can be summarized in two phrases:
Simplicity and Do-It-Yourself
Is WordPress Drag-and-Drop?
Ok – I know what many people are thinking – Doesn't WordPress have drag-and-drop capability? It's true. WordPress runs on design themes and many of them offer a drag-and-drop interface which makes them easier to use very much like a website builder. Generally speaking though, WordPress sites are created using an HTML text editor where it's helpful to know HTML and CSS coding.
WordPress gives you access to HTML code like you see below. Even though you don't need to know HTML to use WordPress, this is a huge plus for people who like to tinker with code.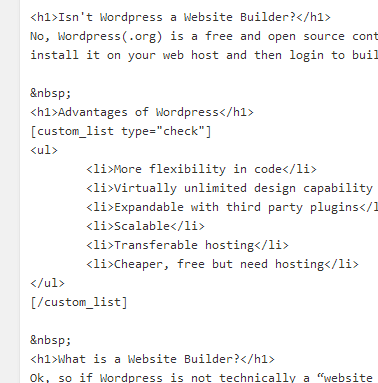 Are You Ready for WordPress? I'll Install It For You
Make sure to watch the entire video above which is meant to help you decide if you're ready to take the plunge into using WordPress. If you are, I can help you get started by installing WordPress for you and installing a premium theme for you to use. Check out my WordPress Free Install page for more info. All you have to do is buy hosting through my Hostgator affiliate link to get access to my offer.