What is Adwords Express?
Google Adwords Express, formerly Google Boost, is a stripped down and simplified version of Google Adwords. It allows advertisers to quickly display text ads to Google searchers based on the their keyword searches.
The glaring difference is that Adwords Express is much simpler to setup and use. You can literally create a campaign and have your ads displaying in Google searches in as little as 10 minutes by going through the steps of writing an ad, customizing settings like budget and target area, and submitting payment info. Compare this to Google Adwords where you could easily spend an hour or two learning the interface and setting up your initial campaigns.

Check out my video above to see how simple and time-efficient it is to setup Adwords Express. You'll also see some of the features of a full-blown Adwords account that you're missing out on by using Adwords Express.
Adwords Express vs regular Adwords
Benefits of Adwords Express
You actually can create an ad campaign in 10 minutes!
Little or no ongoing management time needed
You can advertise without a website by directing people to your Google My Business page
Disadvantages of Adwords Express
No ability to organize account into campaigns and ad groups
Scant control of keywords – You can turn off keywords, but Adwords will choose which keywords to target
You set your budget, but cannot control cost per click directly. (Read more about setting AdWords budgets here.)
No access to advanced Adwords features like bid modification by device, Adwords experiments, automated bid strategies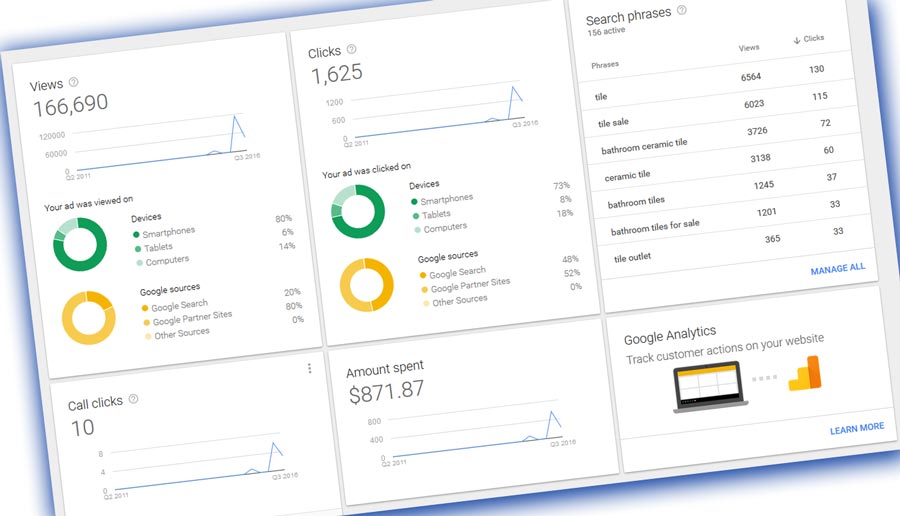 What is Adwords Express Costing You?
As you can tell, the list of benefits of Adwords Express is pretty short. As with anything that is designed to be quick and fast, quality suffers. Even though managing a regular Adwords account can seem daunting, it's almost guaranteed to get you better results. This is especially true if you're spending $300+ in an Adwords Express account.
The main reason for this is the loose keyword targeting employed by Adwords Express. During the setup of your ads in Adwords Express, you're asked to enter your product or service. Google then uses this info to target your ads to specific keywords searched in the Google search engine.
For instance, a local golf course may be getting clicks for people searching for golf products like gloves, clubs and balls, when what they really desire is golfers looking to play a round. If the golf course has a $300 per month spend, there's a good chance that $100 was wasted on undesirable keywords. I've seen this myself in many accounts I've taken over.
It's important to note that Adwords Express does give you some retrospective control of keywords. After search phrases generate views and clicks on your ad, you can view the stats as shown in the image below by clicking on "Manage All" in the Search Phrases box. Adwords Express advertisers should view this report at least monthly and disable keywords in the list that are generating clicks but are very vague one-word phrases or phrases that are not extremely relevant. Making this a monthly priority can improve your efficiency and get you better results from your ad budget.
With a regular Adwords Account, you have much greater control use keyword match types and negative keyword lists to refine your keyword targeting and ultimately make sure you are not wasting money. Plus there's a lot more you can do with a full Adwords account that I can't cover in this post – things like adding negative keywords, organizing keywords into campaigns and ad groups, creating multiple ad variations, and so much more. You can see a few examples in my video above.
Don't Want to Manage Your Own Full Adwords Account?
If you're convinced that you need to use a full-blown Adwords account but know you don't have the time or expertise to manage it, you might be interested in my PPC Management Service. Check it out now because I'm only accepting a limited number of clients.
No matter what option you choose, I wish you the best in selecting and utilizing the right Adwords account for you and your business! Comment below and let me know what you chose, how it's going, and any questions you might have.