Is your website mobile friendly? As I'm writing this, about 5% of all internet traffic takes place on smart phones. And the number is growing every year. So it's becoming increasingly important to make sure your site is mobile-optimized. There are a few ways to do this. You may want to read my post –
Is my website responsive?
, and then come back and read this overview of DudaMobile if you decide you need to create a dedicated mobile website. Watch my video below for an overview of the problem AND the solution.
Dedicated Mobile Website – How It Works
Some websites are responsive which means they adjust according to the size of the screen that the visitor is using. The purpose of responsive web design is to ensure that a site is easy to view and navigate, especially on the small screens of tablets and smart phones.
If your site is not responsive, it probably doesn't look very good on smart phones and the next best option is to create a dedicated mobile website with a service like DudaMobile.
A dedicated mobile website is a separate site on your domain like http://mobile.webeminence.com or another domain like http://dudamobile.com/webeminence (if you're using a free account from DudaMobile).
When a person visits your site on a smart phone, the browser will redirect them to the mobile version of the site. This redirect is activated by just adding a small piece of code to the home page of your site.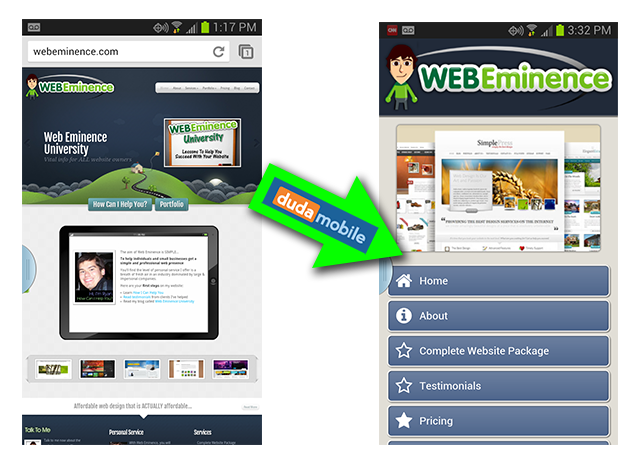 DudaMobile Editor – How Does It Measure Up?
The first time I used DudaMobile, I wasn't expecting much. Mobile websites are typically very simple and plain so they load fast. So I wasn't expecting too much frill to the website editor. But I was pleasantly surprised.
First of all, DudaMobile does a great job of grabbing content from your normal website. I will create pages and navigation for your entire site. It works so well, that many people will be able to use the automatically created version of their site without spending too much time for fixing problems.
For those who want to customize their mobile website, they'll find the DudaMobile editor easy and even fun to use. You can easily edit the content in a phone preview that shows you what the site will look like on a phone.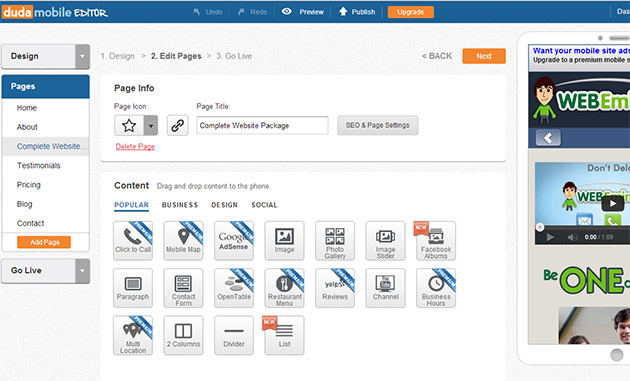 The editor uses a drag and drop interface that is intuitive and doesn't require any advanced website building knowledge like html or CSS (although the CSS is accessible for those who want to tinker with the code). The widgets available in the drag and drop interface will provide everything that most people need to create a full featured mobile website including maps, click-to-call buttons, image galleries, YouTube videos, and much more.
My only complaint is that there were a few hangups when using the editor like a lag in the controls or a elements that weren't entirely intuitive to edit but just required a bit of clicking around to figure out. Overall, I'm very impressed with the quality and options available in this editor. Even though it's for mobile sites, it's more impressive than many website builders designed to create normal, non-mobile websites.
Watch me click around for a few seconds in the animation below…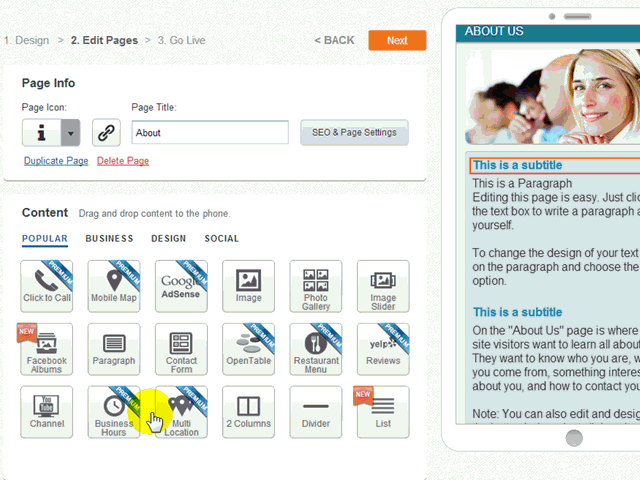 DudaMobile Free (Basic) vs DudaMobile Premium
It's a no-brainer to at least try DudaMobile because it's free to start.  And it's pretty cool to type in your URL to the DudaMobile homepage and let it create a mobile version of your site in seconds. The basic free version is limited but it will at least allow you to setup your mobile site and test some of the features of DudaMobile.
Here are some of the main reasons to upgrade to premium after trying out the free version:
It's under $10/month
No DudaMobile ads or footer on your page
You'll get unlimited pages and views
Your mobile site will be on your domain (e.g. http://m.webeminnece.com)
You'll get access to ALL features in the DudaMobile editor
If you're site is unusable on smart phones, you're probably better off having the free version of DudaMobile even though it has ads and directs visitors to the dudamobile.com domain. It's very likely these visitors would leave your site anyway if it's not mobile friendly. So you're better off showing them your free DudaMobile website rather than losing a visitor altogether.
Using DudaMobile with WordPress and Other Sites
It's easy to activate your mobile website with DudaMobile. All you have to do is add some code to the home page of your site. If you have WordPress, just install in the DudaMobile WordPress Plugin and follow the instructions. I show this step by step in the video above if you need some help with it.
Is your site mobile friendly? Do you use responsive web design or a mobile dedicated website? Comment below…