As a web designer, I tend to think a typical small business is hosting a single website. BUT, I've discovered in talking to hundreds of prospects, that many people have the need to host multiple domains and are looking to build multiple sites in an efficient and cost effective way.
Website builders like Weebly, Yola, and Squarespace are awesome tools for building single websites, and in the past, they even had plans that allowed 10 sites to be hosted for one monthly price under $10. As website builders have experienced explosive growth, these multi-site plans have vanished and customers have to pay PER SITE. So where they may have paid $10/month for 10 sites, they are now paying $100/month for 1o sites. So it obviously becomes cost-prohibitive to have multiple sites on a website builder platform. As much as I like them, if you're hosting multiple sites, it's probably time to say goodbye to Wix, Squarespace, and friends.
Hosting Multiple Sites – 10+ Sites on One Hosting Account
If you want to host 10 sites and already have your domain names, the most cost effective method will probably be to get a hosting account from a reputable hosting company and host all your website builders on it.
I've used Hostgator for over 10 years and recommend them as a reputable host. For only a few dollars per month, you can get a "Baby" plan and host unlimited domains. See my video above for instructions on setting up your Baby plan from Hostgator and creating add-on domains to host additional sites on your account.
Use my discount code WEBEMINENCE to get the best price regardless of the sales Hostgator may be offering at the time. If you have questions about which Hostgator plan is a good fit for you, let me know.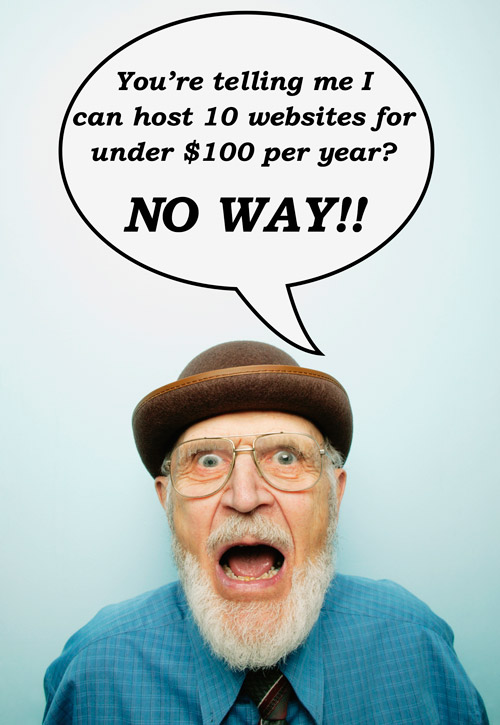 Sound Too Good To Be True?
Sounds amazing doesn't it? Hosting 10+ websites for under $100/year.
It's certainly possible, but there is one important caveat.
You will be self-hosting these sites so you'll need to find some method of actually building the sites. Hosting companies like Hostgator offer website builders that are usable, but not nearly as powerful as popular hosted website builders like Weebly. (You can actually use the Weebly website builder WITHIN a Hostgator hosting plan, but it's usually an older version).
The Best Option – In My Opinion…
The best option to build multiple websites would be spending some time learning WordPress, which is a popular free website and blog platform that you can install on your Hostgator hosting in a few clicks.
WordPress is easy to use and if you choose the right design theme, it can even be as easy as drag and drop.
Once you know your way around WordPress, you can create sites on your hosting account in a few hours and host as many domains as you want on your hosting for under $100/year.
Sure – there's a bit of a learning curve with WordPress, but once you learn the basics, you'll have the invaluable skill of creating websites on a professional platform that powers half the web and has no ongoing costs associated with it. You can also pay a WordPress developer to create the site for you if you prefer.
Get Your HostGator Baby Account for Multiple Domain Hosting Here
Questions about this process? Comment below…
This post is brought to you by… Affiliate Commissions & Readers Like You
Just being honest… I'm an affiliate with Hostgator and earn a commission if you order through the links above. The commissions help support these posts and my videos that help LOTS of people. And I wouldn't recommend Hostgator if I didn't use it myself for 10+ years and have the confidence that it will be a solid option for my readers.