updated July 2015
Weebly Website Builder – Is it easy enough that even YOU can use it?
So – you're trying to build a website and you heard about Weebly. I assume that's why you landed on this page. Weebly is a site builder that allows beginners with no knowledge of HTML to create a professional website using a drag-and-drop online interface.
I know the questions you have.
Is it really easy to use?
Will I need to upgrade to the Starter or PRO version?
How long will it take to build my site on Weebly?
I Built a Site on Weebly to Share My Experience with You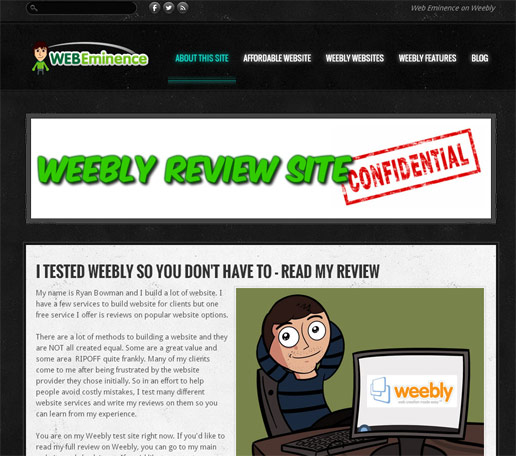 I build sites for clients but many of my prospects wish to build sites on their own. To help them avoid some costly mistakes, I test some of the popular website builders myself.
I first reviewed Weebly in 2013 and have had a Weebly account ever since. Now in 2015, it's time to update this post with some of the new features Weebly has added over the last 2 years.
Keep reading to find out more…
Weebly – The Basics
Weebly.com Home Page
Most reviews don't comment on the home pages of the site or service being reviewed but it's one of the first things I look at when reviewing a service. I can tell a lot about a website builder service by looking at their own website.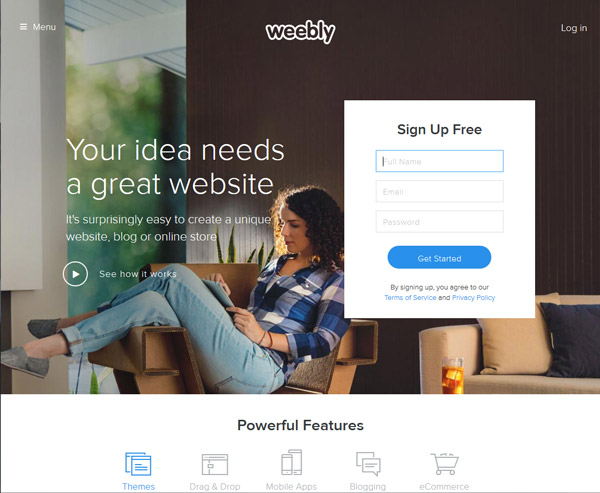 If their website is crappy, there's a good chance that their service and website designs will be crappy too.
In this case, Weebly.com is a clean and simple site that gives a concise overview of all the features you get as a Weebly member.
You can check it out and read more about  Weebly's service and all its features. I'll give you my take on their sales pitch and also go over some of the features briefly.
Weebly Pricing
Price is one of the most important factors for many people and you'll probably like Weebly's price of $0 (FREE!). Weebly does offer upgraded plans called Starter, Pro, and Business, and the biggest reason to upgrade is so that you can connect your own custom domain.
If you plan to use Weebly to build your site, I recommend purchasing at least the Starter version since it's very affordable at about $5/month and offers a few great upgrades. You can read my separate post on Weebly Pricing for more info on Weebly features and upgrades.
Domain Names with Weebly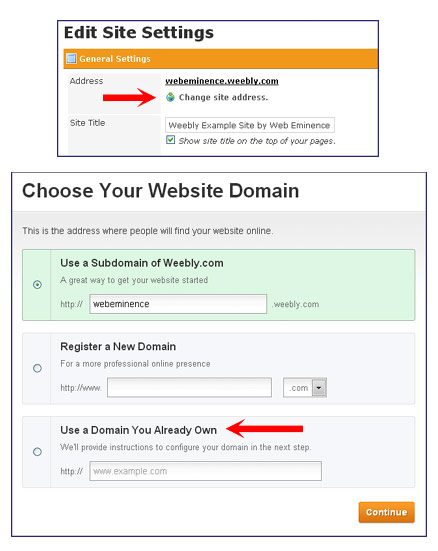 When you build your free site with Weebly, by default your website will be live on a Weebly subdomain. For example, my site is on the subdomain webeminence.weebly.com.
You do have the option of purchasing your own domain name and using it for your website so your URL is not a weebly subdomain. If you can afford $10/year for a domain name, I would recommend buying one since it makes your website look more professional and will allow you to begin building the authority and value of your domain.
Weebly will sell you a domain but their prices are a little high and you don't want to have to transfer your domain elsewhere at a later date, so you are better off buying the domain from a domain registrar like GoDaddy
After purchasing the domain, you can go into Site Settings and follow the directions to set your Weebly site to a domain you already own.
Click Change Site Address and then select the option Use a Domain You Already Own and follow instructions. (See pictures to right)
The GoDaddy link above is my affiliate link. If you purchase a domain name through that link, I'll get a small commission. As a Thank You, I'll help you link your new domain to your Weebly site. Just ask if you need help. You can also watch my video on searching and buying domain names on Godaddy.
Weebly Design Themes
One typical downside to using a website builder is the design themes or templates are usually not very impressive. It's another case of "you get what you pay for."
If you have a budget of $2,000+, you can look into purchasing a professional custom design, but I'm guessing if you are researching Weebly, you don't have that type of budget.
Overall, the Weebly design themes are very good. In comparison to other website builders that are free, they are some of the best design themes available from any service. And they are better designs than what many paid services offer! You can look at my Weebly Example Site to get an idea of what a Weebly theme looks like. The theme I used and the small screenshots below are from designs available in 2013.

There are over 200 themes to choose now in 2015 as I update this post and they are always adding more. Some of the older design themes look more like templates but if you select some of the newer themes, you might even trick some of your friends into thinking you spent $2500 on a custom website because they look REALLY GOOD!
You can see some screenshots of some of the newer Weebly design themes offered in 2015 below: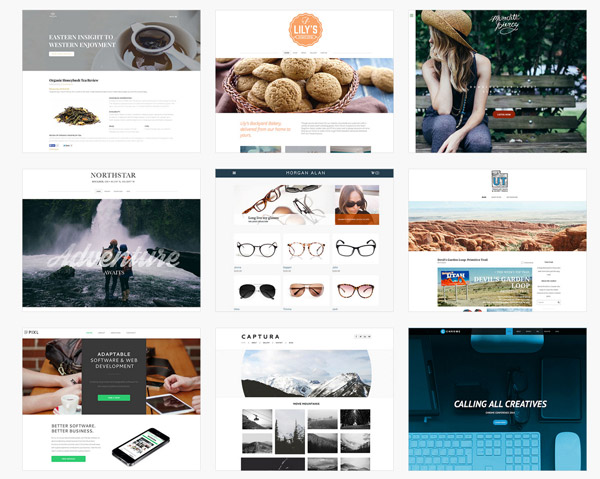 There's a lot of customization available no matter which theme you choose. You can see examples of customization options in my video walkthrough above.
Weebly's Updated Website Builder
The website builder interface is one of the most important aspects of a website service because it's HOW you will build your website. It has to be simple and intuitive so that anyone can use it. This is where Weebly shines.
All website builders claim to be user friendly but many of them are buggy or just a pain to use. Weebly works so well that is is actually fun to use.
At least it was for me.
The website builder interface is one of the biggest upgrades Weebly has made since my initial review in 2015. You can see the difference in the old and new interfaces below: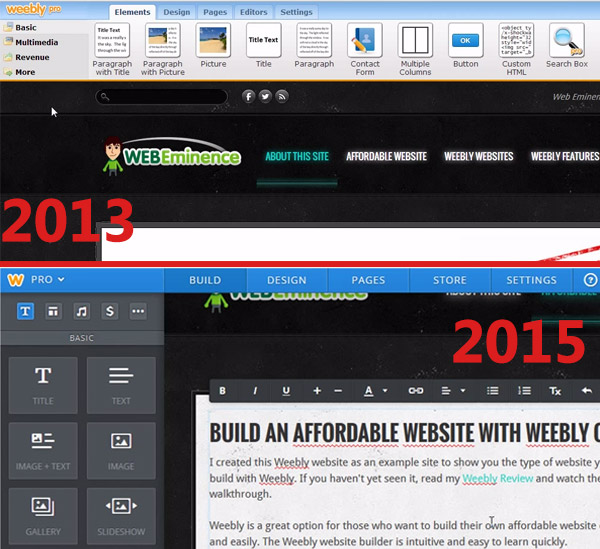 My video below is from the 2013 review if you care to see how Weebly functioned in the past. The video review from 2015 is at the top of the page in case you skipped over it.
Weebly's Boxed Layout
The boxed layout of the Weebly website builder is great for beginners because it becomes almost impossible even for beginners to screw something up. I've seen sites built on other website builders with text overlapping, pictures misaligned, and all types of design issues.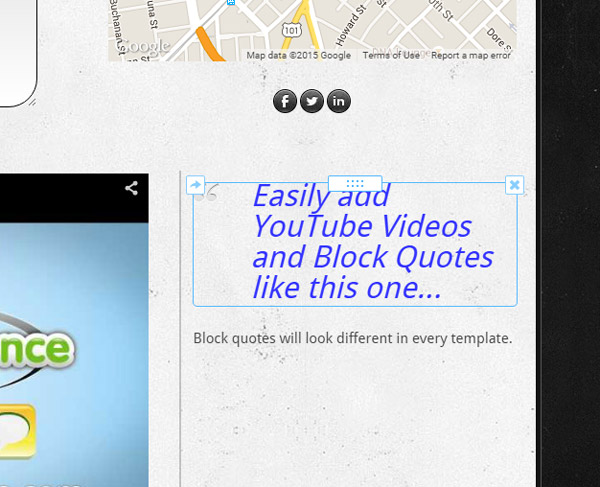 With Weebly's drag and drop interface, you can literally add 5 elements to the page in 15 seconds, and they will look perfect with correct spacing and attractive alignments. One of the reasons people don't experiment with websites is they are afraid they are going to break something. You don't have to worry with Weebly – you can't break anything and it's hard to even make something look bad!
When I put together my example site, I was able to complete it within a matter of days and I probably spent about 6 hours total. This included typing all the content and creating extra pictures.  Very little time was spent actually creating the website.
Drag and Drop Website Creation
Everything I needed to build the pages was easy to find. All the elements were dragged from the widget menu and then customized easily after they were in set in place..
You can watch my video to see examples of most of the elements you can add to your pages. They have all the standard widgets like text, images, gallery, contact forms, and maps, but they also have some nice advanced widgets like buttons, Youtube, RSVP form, forums, and more.
Weebly Design Editor – Customize with Ease
Many people may shy away from a website builder because they think the templates are too restricting when it comes to design.  Sure – you do have to choose a design theme and can't really create a design from scratch, but Weebly gives some welcome flexibility to beginners and developers alike.
First, there's the Design page that lets you customize colors, fonts, and change to an entirely different theme. You also have full access to the site assets including HTML and CSS for programmers who want to tinker with the code.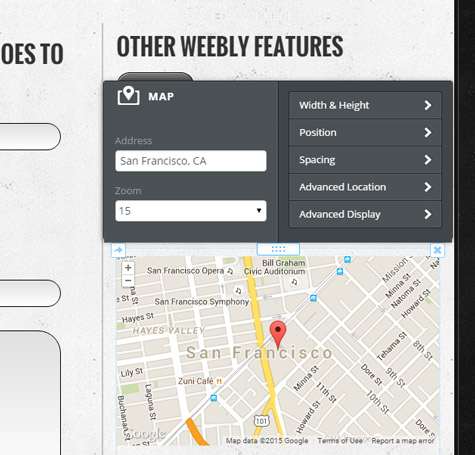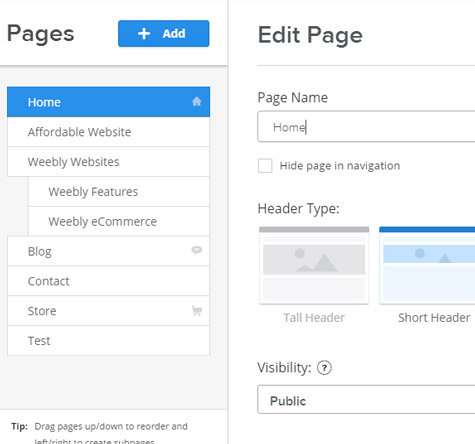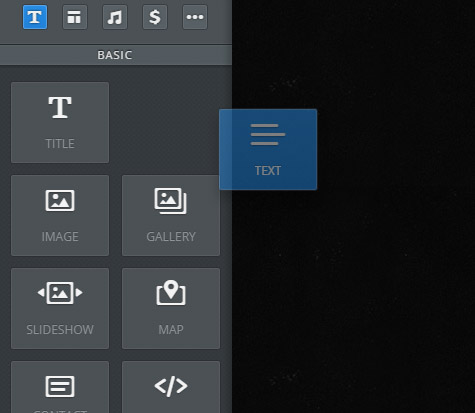 Cool Features
Weebly has a solid foundation with its website builders and professional design themes. They add to this foundation some very cool features that really make the service stand out among the competition. Their website does a great job of explaining these features but here are a few that should be mentioned here:
Mobile optimized – Your website will be reformatted automatically for visitors browsing on smart phones or tablets and you can edit the mobile version of your site just like your desktop site.
Smartphone app to login through your phone and make changes to your website on the go
Built-in multimedia – Easily add Youtube videos and picture slideshows. Plus, use Weebly's built-in ImagePerfect to crop, resize, and add effects to images. Huge timesaver!
Customized Headers & Footers – On upgraded Weebly accounts, you can customize the header and footer area of each page and copy the style to other pages. Headers have a few different styles and offer image and text sliders that are customizable.
Blog-Friendly – Believe it or not, some website builders don't even have an integrated blog. Not the case with Weebly which actually has a dedicated blog section that works with all the drag-and-drop elements and even adds some special elements for the blog page so you can customize your blog sidebar.
Ready for e-commerce – Another huge addition to Weebly since 2013 is Weebly eCommerce. You can now easily sell products on your site with new eCommerce features that make it simple to add products, customize checkout options, and customize it all with the Weebly interface you're already familiar with. Check out my video review of Weebly eCommerce.
Weebly Membership – Weebly gives the ability to add membership functionality to your site. Create a membership site where people pay or register for access to certain elements on your site. Check out my post and video on Weebly Membership.
More advanced users have full access to HTML and CSS for more customization options
Weebly Support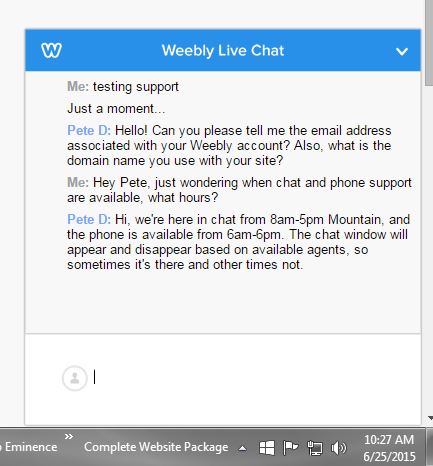 I've heard some people complain about Weebly support. Most website builder companies rely on good documentation on their site rather than phone support. So expect to find answers online faster than getting an answer on the phone. Some people may not like that, but it's the way the world operates in the 21st century.
I decided to test out their support myself so I used the online chat and called their phone number. They answered my phone call in 3-4 minutes – not super speedy but not ridiculously slow either. They also answered my live chat pretty fast as well. So their support is fine in my limited experience.
Have Your Site Online In 15 Minutes…
What are you waiting for? It's free so head over to Weebly.com and get your free site
If you have questions, come back here and post below. I'll do what I can to help.