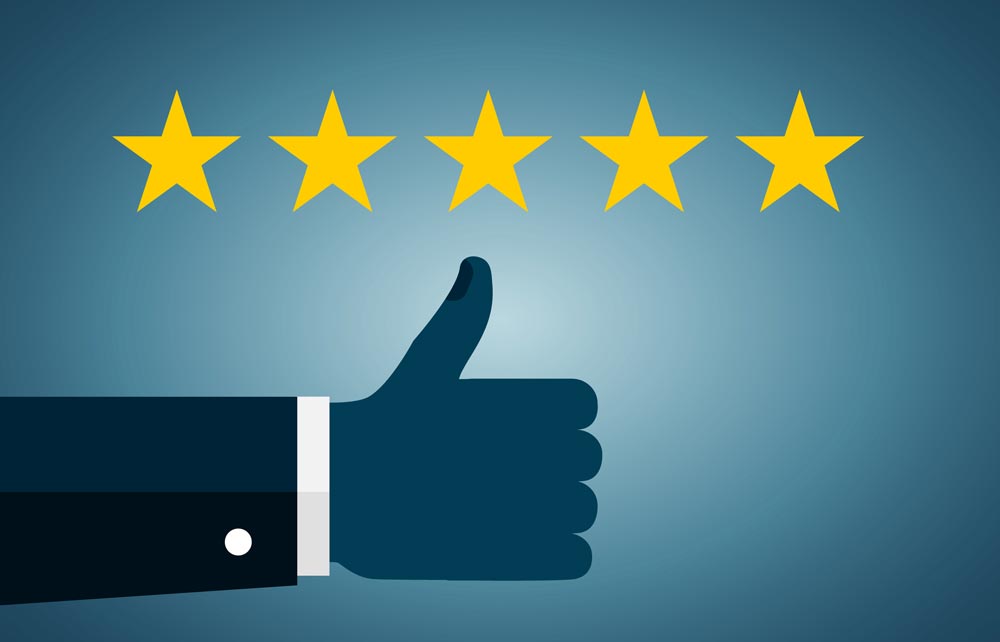 In this digital age, customer reviews are crucial to the success — and survival — of any online business.
Having a large pool of strong, positive customer reviews to dip into will see your brand's reputation soar and your products fly off the shelves. Having very few customer reviews available is almost as damaging as having a load of bad ones; both are a clear alarm bell for any potential customers scouting out your brand or products.
Luckily, there are many ways that you can improve your reviews, increase their numbers, and win more customers.
In this post, we'll be looking at the best methods for improving customer reviews and the benefits that this can provide to your business.
Send follow-up emails
Even if a customer loved your product or service, they won't always remember to pop back to your site (or whichever online marketplace you're using to sell on) and write a five-star review detailing every feature they enjoyed about your product.
Sometimes, customers need a nudge in the right direction. Sending a follow-up email after the customer has received your product or used your service will remind them to pen their thoughts.
Ask the right questions
The best ways to increase and improve your reviews is to make the whole process easier and more straightforward for your customers.
Keep your follow-up email straightforward, and use simple, specific questions to prompt customers in case they're struggling to find their own words (such as, "how did you find the delivery time?" or "what do you like most about our product?"). This will help hugely when trying to improve the quality of your reviews and ensure that you have some valuable, well-worded feedback.
By making the process easy for users, you're also going to win more brownie points — which could work in your favor when the reviews are being written.
Provide multiple spaces to leave reviews
Sending a follow-up email isn't always enough — some people might not check their inbox, or not respond to this type of communication.
Providing multiple spaces where your customers or clients can leave reviews shows that you're willing to be flexible and suit their needs, rather than just your own.
There are a few different options for different review spaces, such as:
Social media platforms (customers will be able to leave reviews and comments on your Facebook business page or under photos or statuses on other platforms)
Third-party review sites such as Yelp or TripAdvisor
Online marketplaces like Amazon or Etsy
Google My Business (which you can learn all about here)
It also provides a neutral space where potential customers can learn about your company, your products, and your service — which builds trust and increases your chances of winning more customers.
Leveraging user-generated content
If a customer has tagged your business in a tweet or Instagram post raving about the product they've just purchased, leverage this positive social proof!
User-generated content like this is essentially organic, free marketing, and will win you more customers. Retweet or repost the customer's original comment or picture — including their name or handle. They'll appreciate the shout-out, and it will add more credibility to your review.
You can also embed social media content on your own site as well, which is one of the ways you can successfully integrate your website and social media.
Let your reviews take center stage
While it's important that you highlight positive feedback on social media platforms, it's essential that you not only include reviews on your own website or online store, but also shine a spotlight on them.
You can integrate reviews with your product pages (or service pages), which customers will find super useful when reading up before purchasing — and will encourage them to buy.
You can also create a testimonials page using curated reviews; this is a great way of highlighting all of the positive feedback that you have received.
Reviews are also an important customer acquisition channel that influences how much your business is worth – especially your website. Due to the increased competition online, a brand is no longer defined by what it tells people it is; instead, it's defined by what other customers tell each other.
As a vital source of social proof, reviews can make the biggest difference between a customer buying from you rather than a competitor. Rather than spending a huge amount on paid ads, in the digital age, this means reviews act like word-of-mouth recommendations that drive organic traffic with purchase intent, thus making your website more valuable.
Whether you're trying to make your business more profitable or increase its value for a possible future sale, make sure that you display your positive customer reviews loud and proud.
Quick Tip – Filter Positive & Negative Reviews
Check out my video below for a quick tip on how to easily filter the positive and negative reviews so you can deal with the negatives and highlight the positives.
Create incentives for customers to leave reviews
Rewarding customers who review your products or services is a surefire way of increasing your review numbers (which in turn, will win you more customers).
You can use various incentives to encourage your customers to write feedback for you, such as:
Coupons or discounts off the next product they buy
Entry into a competition you're running (with a big prize)
Gift cards to be used online or in store
A free product
Free postage or shipping
Offering customers something of value like this (and for free) is a nice gesture your customers will be grateful for.
Optimizing reviews for mobile
These days, customers tend to research products on their phones while in physical stores. If you're the type of business this applies to, you need to make sure you are prepared for this and optimize your reviews for mobile by improving the speed and mobile responsiveness of your site.
This means that reviews should be easy to find and read while customers are on the move. Not optimizing your reviews means that customers could struggle to find them, and the lack of accessible information will put them off — and drive them to a competitor's product instead.
The many benefits of improving reviews
There are many benefits to using the above methods to increase and improve your reviews.
By providing multiple feedback platforms, structuring feedback, and generally making the whole reviewing process easier for your customers, you are giving them a positive experience even post-purchase. And as well as increasing your reviews, you're also winning more customers in the process.
Reviews improve SEO and increase organic traffic; after all, customers typically start their product research on a search engine.
And by highlighting customer reviews on social and your own site, you are also increasing transparency and boosting trust signals — which drives conversions.
Real user feedback is far more convincing to prospects than a product description or any persuasive sales copy you've penned yourself. Social proof is what will really encourage consumers to buy your products or services and win more customers.
The above methods are an easy way to increase the number of reviews your online store earns and improve them at the same time.
The more reviews you have, and the better those reviews are, the more successful your online business will be. Ultimately, customer reviews will help to build trust in your brand and products, increase your chances of conversion, and win you more customers.