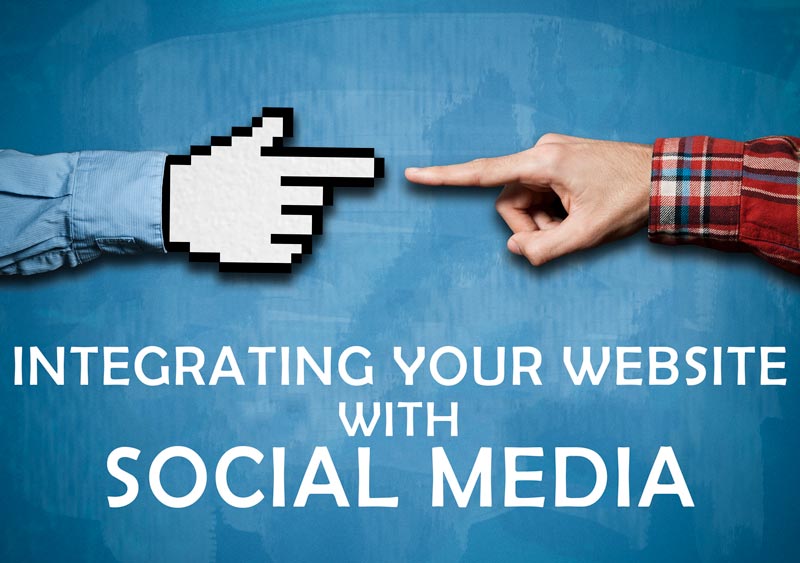 Establishing your business and your brand in the social media world takes time and energy. It is worth it (
learn why
) and will pay dividends if you can create a tribe, a loyal following that will not only return to you with their business but will refer you to others.
The magic happens when you bring your social media platforms and your website together.
When done well, your website and your social media platforms should be mutually beneficial to each other. Social media has become such an integral part of the internet that, for the majority of websites, it's their second highest source of traffic according to Winning WP!
Many clients whose website traffic I monitor have stats that look like the stats below with over 40% of traffic coming from social media.
Obviously to get traffic TO your website FROM social media you need to link to your website from your social profile or posts. That should be Action Item #1 but I'm assuming you've done that already!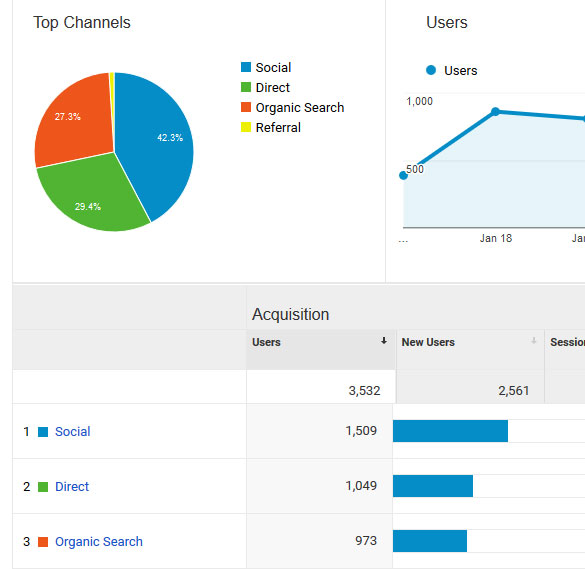 To make sure you're getting the maximum benefit of the integration of your website and social media, I want to give you a few key action items to check off. Check it out in video form below first and then scroll down for the BONUS Action Item #4
Action Item #1 – Include Visible Social Media Buttons
The first and most obvious step is to include links to your social media profiles and pages on your site.
This seems like a no-brainer, but ONLY include the icons/buttons of the social media platforms you are currently active on. It is silly to feel obligated to link out to all social media channels you've created or dabbled in. Less is more! If you've found your nitch on Facebook and have completely abandoned your Snapchat efforts, there's no reason to link to any platform that is not actively building your brand.
And even more of a no-brainer (you would think) – don't link to social media sites where you have not even setup an account. I can't believe how many people do this but people seem to think that having a Facebook or Twitter icon with links to Facebook.com or Twitter.com adds legitimacy to your business and site. On the contrary, it will confuse people and make it look like you don't know what you're doing!
Placement of your social media icons is also important. It's most effective to have social media buttons be displayed on the top, bottom or along the side of your home page. Links or buttons that remain in your navigation as the user goes from page to page are optimal.
There are several ways in which to display your buttons or links. Most website builders and WordPress design themes include built-in social icons for all the top networks.
There are no wrong ways to link to social media – just better ways! In most cases, it is more of a design preference focused on how the user will be interacting with the site. Since social media isn't a main focus of my strategy at the moment, I just place some of my top social profiles as links in the footer of my site as shown below.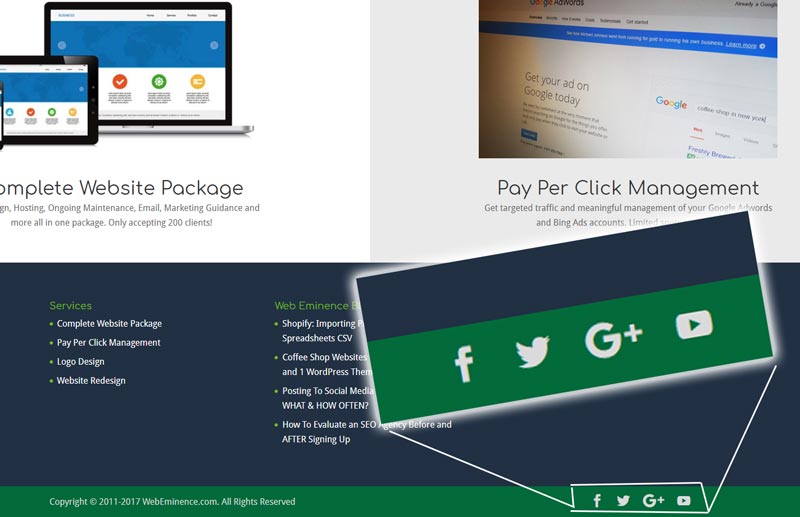 Action Item #2 – Make Your Content Shareable and Yourself Followable
Make your content shareable with social share buttons. This allows your website visitors to "buy in" and become a promoter of your business/content. They can easily share with their network with a couple clicks and boom! – your content is reaching more people. This is how "viral" happens!
Again when choosing social share buttons, choose the platforms you are actively engaged in, but keep in mind people will want to share on other platforms as well so make sure to cover the most popular ones at the time.
If you want to give users the ability to share products, check out AddThis or ShareThis. Both provide efficient and easy-to-use solutions for social media sharing across eCommerce sites with the added benefit of analytics to see how the content is getting shared.
You might also consider adding Follow buttons. These are different than share buttons which allow people to share your content. Follow buttons allow people to follow you on Twitter, become a fan on Facebook, a subscriber on Youtube, and on and on. Since I've been a customer of Elegant Themes, I also use their social plugin called Monarch. It has really slick social follow and social sharing features. That is what is generating the share buttons you're probably seeing on this page.
A recent article by Winning WP goes through the top 10 social media plug-ins for WordPress. Some of the plug-ins have a free option, while others are available after a one-time upfront investment or a monthly-membership. Check out the article to learn which plug-ins might be best for you.
Action Item #3 – Your Social Media Feeds LIVE On Your Site
Social icons, follow buttons, share buttons… what more can there be? How about widgets?
Many social media platforms allow you to place feeds right on your website that show your social activity. This is an awesome way to give people a glimpse of your social media activity without sending them away from your site. There's usually a follow button integrated into the widget. As an example of this, check out my Twitter widget below!
Pretty cool right? Thanks to Twitter Widgets and the future of augmented reality, you'll soon be able to put Donald Trump's tweets on your living room wall!
So how is this done? (Not your living room wall – just your website)
The easiest way is taking advantage of the built in widgets of your chosen social network. Most popular networks like Facebook and Twitter have widgets you can find in the settings for your account. I found my Twitter widget under Settings > Widgets in my account. You can also use plugins mentioned above to create these widgets.
Action Item #4 – Monitor & Respond To Social Media Like It's Your Own Website
Your website's "Contact Us" page is key in lead generation, correct? After you complete the action steps above, your social profiles become an extension of your business online so you have to make sure you are monitoring and responding to people there.
Social media can compliment the face-to-face and phone conversations you are engaged in for your business if done well and consistently. Responding in a timely fashion and directly to the audience allows you to humanize your brand. Fail to respond to questions or comments on your social platforms and your audience might think you're not invested in "your tribe." And that's not good for your bottom line.
When 80% of all customers expect a business to reply within 24 hours of a social media posting, it's good to make sure you or someone on your team is checking it regularly.
Tying It All Together
It is a desire of mine to see my clients and readers accomplish their business goals. I know that their website is one important component of that, but I also realize that there are others. That is why over the past couple of months, I've taken the time and energy to put together this four part blog series about social media for the small business owner.
If you are a bit late to the party, feel free to circle back and check out the 3 previous posts:
If you have read all four posts in this series, it's time to take the plunge. You have enough information and preparation. It's time to (strategically) dive into the world of social media and the endless opportunities that can come from creating a tribe of your own. Ready, set, go!
And of course, if you have additional questions along the way, I am more than happy to address those. You can comment below or email me directly.
You've got this!