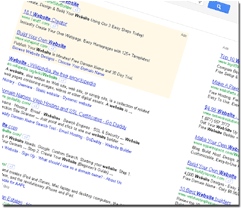 Do you need Search Engines?
Studies have shown that the majority of internet surfing sessions begin with search engines. People go to Google, Yahoo, Bing or another search engine and search what they are looking for. If you want traffic to your website, it is critical that you do not overlook search engine marketing. So what is search engine marketing?
Search Engine Friendly
The first step to search engine marketing is making sure that your website is search engine friendly. If you get a complete website package from Web Eminence, this will be taken care of for you because our websites are built with search engines in mind. If you are getting your website designed elsewhere or are designing it yourself, make sure to read more about what it takes to make your site attractive to search engines. There is a lot that goes into making a website search engine friendly that is beyond the scope of this description. Just know that it is extremely important and critical to getting your site indexed and ranked by the search engines.
Search Engine Optimization (SEO)
While building search engine friendly sites is critical to search engine success, the next step of Search Engine Optimization is off-page optimization which involves gathering incoming links to your website from other sites. The internet is called the web for a reason. It is an enormous web of sites linking to each other. To state it simply, sites with the most sites linking to them are among the most important and relevant sites in the eyes of the major search engines. In order to get your website recognized and ranked by search engines, you need to start building the incoming links to your website.
How Do I Get Incoming Links to My Website?
I have created a Search Engine Marketing Guide that will show you some easy ways to start getting links using both free and paid methods. The guide is available at a very low price and is written for beginners to search engine marketing.
The guide is also provided free to clients who choose the Complete Website Package from Web Eminence. After reading the guide, please feel free to contact me if you have any questions.