An extremely popular topic in the last couple of years is dropshipping. People who have figured out how this business model works have made millions of revenue around the world.
Dropshippers have their own online shops, they have no stock, nor do they ever touch the goods they sell. They deal exclusively with digital marketing. But, one thing at a time…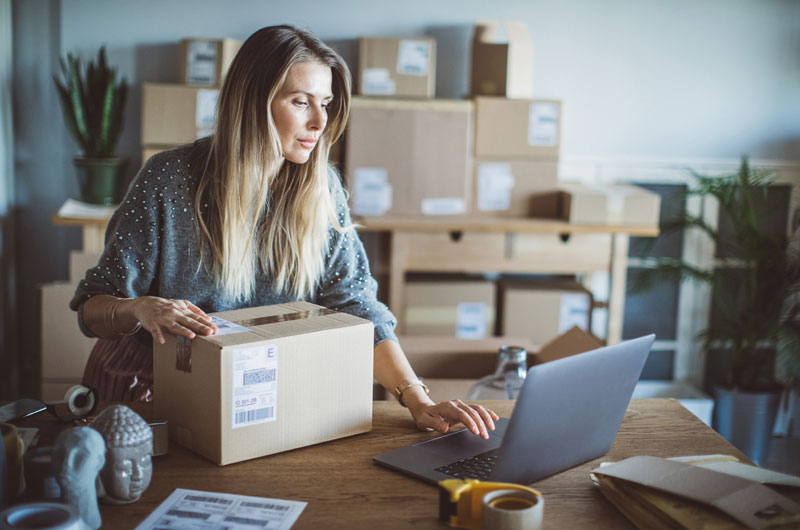 About Dropshipping
In short, the dropshipping business model is as follows:
You have your own online shop where you sell ebooks, various things or even a single thing.
You are not a manufacturer of the goods, nor do you have any of those goods in stock. You never physically touch the goods you are selling.
You deal exclusively with marketing – bringing people to the website (which you built with elements every site of this kind should have for selling products online), Facebook pixel, and many other aspects of digital marketing.
The goods and stock are owned by someone else (usually by someone in China, but it can also be local). The manufacturer is engaged in production and receives from you a certain amount of orders per day, which are then packed and sent to the people who ordered from you.
First note: Before you think this is 'easy money', you should know this – it may seem simple as we wrote, however, doing this requires extremely good knowledge of marketing, social trends, and human psychology. Only if you have mastered, at least, the basics of Internet marketing and if everything in regard to that is 100 % clear to you, only then can you slowly enter this kind of business. In particular, you have to understand very well what a sales funnel is, a marketing pixel (primarily Facebook Pixel) and all its possibilities, then retargeting, A-B testing, and perhaps, most importantly, a sense for people and their passion.
Note no.2: This is not affiliate marketing. This is incomparably better than that because you are developing your own brand. At first glance, it seems as if this is some kind of 'resale' of goods, but it is not. This is incomparably more sophisticated and even allows you to develop your own global brand, which is something that was not so easily possible until recently.
Let's Make a Dropshipper Shop, It'll Be Clearer to You
The first, and probably the most important, step is to spot a passionate group of people on the Internet, people who are into certain things. It can be people who are into beautiful watches but it is an idea that has already been exploited too many times. Let's say you make a shop on the topic of "survivors", people who are passionate about going to the mountains and surviving in harsh conditions.
This is what one such dropshipper shop looks like. It is built on the Shopify platform which is paid $ 29 per month (a bit later about that). All the things you see in that shop never get into the hands of the owner of that shop. They are located in China and found on AliExpress. The owner sets prices to a level he thinks his customers are willing to pay for it, and those orders are forwarded to the Chinese at whom these things cost up to three times less. The Chinese packs it and sends it to the US for postage of $ 2-3 and things arrive in a week.
Dropshippers usually stress that delivery is free, so they incorporate the delivery price into their own. There is an even more efficient approach in which it is said that the item is given away for free, so customers only need to pay postage, which costs, for example, $ 10 and the real price of an item with the Chinese is let's say $ 3. Postage is another $ 2, meaning you have a $ 5 profit that you can invest in marketing.
You are probably wondering why people order from a site like this instead of visiting AliExpress and ordering themselves. There are several factors. First, some have not heard of AliExpress. Second, those who have heard of it have mistrust. And third, the owner of this shop made a thematic shop, chose the best things, while on AliExpress, one would have to search and compare.
Let's go back to choosing the topic, in this case "survivors" and their equipment. When choosing a shop theme, it is extremely important to know in advance if you can target the right people on Facebook and Instagram. That means opening Facebook Audience Insights and researching a certain topic well – are there pages that bring such people together, i.e. whether there is any potential or not? Then make sure you can target those pages on Facebook in Ad Manager. You will be able to target some and some you will not. If you estimate that you have potential, then that is a good signal.
In addition, you should check if there are pages on Instagram with a large number of real followers (maybe profiles of a mountaineer) that deal with a related topic. On these pages, you can rent so-called "paid shoutouts" where usually that page would publish some of your product and a link to the shop in the "About" section on 24h. You pay $ 100-200 for such announcements (for pages of around 100K followers), and this is returned to you through sales that can be up to 50 times of what you invested if you hit it right. Keep in mind that dropshipping using Instagram influencers is a slightly different type of game – some will bring you zero sales, and some will cover all those losses and even make money over it. Facebook is a different kind of game – mostly with pixels and "conversion campaigns" (more on that later, too).
Traffic for your shop can also be brought from some other channels such as Pinterest, Tumblr, and similar. There are very creative solutions and ideas. But, it is always the same – either you will pay for the ads on that platform or you will contact the owner of the site directly and make a deal that he publishes something for you and you pay him, e.g. by transferring money to PayPal. Dropshippers mostly do Facebook (via pixel and optimization) and Instagram (via influencers) because those two methods have proven to be the most effective. So, if you have concluded that you have a passionate group of people and ways to 'pop up' on their screens, then it is a good idea for a shop.
Shop Setting
Dropshippers keep their shops in 90 % of cases on the Shopify platform. It costs $ 29 a month (when your business heats up, you can switch to a larger package). An alternative to this is WooCommerce which has no monthly charges – it is practically a WordPress site with a WooCommerce plugin for the shop. Although it seems that WooCommerce is cheaper, i.e. free, when you take into account all the vicissitudes around shop settings, site maintenance, and other things, Shopify turns out to be cheaper. Their site is always online, and more importantly, they have absolutely every plugin you will ever need for dropshipping – scarcity countdown timers, systems for importing and finding goods from AliExpress, pixel optimizers, and many other plugins. Generally, every Dropshipping course and seminar you watch use Shopify, so you can immediately find and install the plugin that someone in that course is talking about.
Once you set up shop on Shopify, you can take one of their free themes (designs). They can also be purchased – either on Shopify itself or on sites like ThemeForest. Do not burden yourself too much with the design of the home page because the key thing in this business is how the page with a single product looks like. And it should look as clear as possible, clean, with a large amount of empty space. Shopify themes are already ironed out and created to convert.
Once you have a shop, the next step is to go to AliExpress and look for things. In the case of "survivors", you need to learn everything about them for a couple of weeks (what are the trends, etc). You can use sites like WatchCount to see what is popular in that niche now, and you can also browse Instagram, Pinterest, and Facebook, to get yourself acquainted (the best is to use a combination of all this). Yes, of course, you need to register a domain and call the shop some interesting name for the purpose of building a brand.
The moment you find a few dozen interesting things (20-30 things) to start with, the next step is to fill your shop with them. Download the best images – this is the thing that makes the difference between Chinese and a serious shop. Some dropshippers order one specimen at a time first to see the quality, to know what they are selling, and to take better images. In general, a good added value can be made with images, and someone who would never buy from the Chinese will buy it from you because it appears much better with you.
Another thing where you can add value is the product description. The knowledge of copywriting helps a lot here. Chinese will write the dimensions, measures, material, and primarily dull description, while you can write an essay like "on foggy mountain mornings, this tent cover helps save yourself from humidity and will prepare you for the adventure that awaits you," and so on.
The Oberlo platform, which automates a lot, can help to fill the shop with things. Once you have done that, you need to determine the prices. It is usually put at least twice the purchase price (including postage). So, if the item is $ 3 and postage is $ 2, you must put it cost at least $ 10 and say "free shipping." Some put it to cost $ 5 and later people find out that postage is another $ 5, while someone puts "we share 500 pieces of this for free" and the postage is $ 10 (this is the scarcity effect).
An alternative to Oberlo is AppScenic, a dropshipping and sourcing Shopify app that will give you access to premium and unique products from suppliers that can ship directly from the USA, Canada, Australia, EU, UK, and other locations. This app automates everything for you, from importing and syncing products to orders, payments, tracking numbers and so much more.
Campaign
The campaign can be done through paid advertisements or through influencers. Paid ads usually convert well on Facebook, and influencers on Instagram.
First, you need to install your Facebook Pixel on the site. Shopify did it very well, they track all the events nicely, adding to the cart, shopping, and so on… without that, nothing could be done.
Secondly, you need a Facebook page. It may have zero followers to begin with but you can try to gain a few hundred followers by downloading an interesting video on a topic that is interesting and create a campaign for video views from countries that have a low CPM price. This is for the sake of having some social proof when someone opens to explore the site. You can also buy fans to start with.
The campaign is always done first for one specific product. You need to choose the 'hottest' one from that niche at the moment or something that many did not know existed and you open their eyes. It can also be something very beautiful and creative. There are various approaches – it depends on the psychology of the target group and what one is into. That is why we said that it is necessary to know psychology very well here.
There are various ways to set up a campaign but the standard dropshipping model would be as follows:
Create a "conversion campaign" on Facebook
Give it an initial pool of people from which pixel will further refine based on the first conversions (for example, all fans of the show Survivorman). Again, this cannot be done instantly, you have to know your audience well and research everything in advance.
Make a very good and intriguing advertisement – the description and image must be interesting but also call for action. It is best to collect tricks from other dropshippers here because they have already figured out what works well.
You will probably be at loss in the first few sales. This is the reason why many people give up on this step. For instance, you will spend $ 100 and earn $ 20. However, after a few sales, the pixel will do its thing and it will start to narrow your initial pool of people, which will result in a positive ROI. So, do not do this if you are not willing to invest money, at least $ 300 to begin with, in the business. That is the only way.
Now, there are variations in terms of how the campaign is set up. Some make an interesting video in which they present a product, since video view campaigns are cheaper, but then you need to make that video according to the rules for producing videos for social networks.
Sending Packages and Money Flow
You are probably wondering what happens when someone orders from your shop, i.e. where the money lies and how it is passed on to the Chinese?
First, when someone orders in your shop, it has to go on some account, right? Shopify allows you to link various payment accounts, and the easiest option is PayPal. However, not everyone would want to make transactions via PayPal, some will want via credit card. For that, you can use 2Checkout, with the note that it started to reject dropshippers lately. Another variant is Stripe but it requires you to own a company abroad. You will have few problems here but, in general, it can be sorted out, there are solutions for this. So, all in all, the money is in some of your accounts, and you do not have the goods. Now what?
Let's say today you had 100 orders for $ 10 each, and the price according to the Chinese is $ 5. Transfer $ 500 to the Chinese on PayPal and download the Excel table with all orders from today from the Shopify store – names, last names, addresses, etc. The Chinese received money and addresses, and he immediately started sending packages all over the world, wherever the orders came from. Of course, before that, you made a deal with the Chinese, asked him if he could provide a larger quantity, and everything else. In general, as soon as you tell the Chinese "I'm a dropshipper", everything is clear to him and he knows what to do. He sends everything in bags that do not show where it was sent from, and it can also put some of your brand name on them.
In case of any complaints or similar, you just return the money to the people without any dispute. That is the only way it pays off. Of course, that is why it is important to choose something that is of high quality at the beginning. If you are not ordering yourself, look at the ratings on AliExpress and the social proof signals – comments and ratings – there is a whole logic around that. And of course, do not take things from the first Chinese guy who appears – each item is sold in, at least, 20 other shops, and prices can vary a lot.
Instagram Influencers
More and more dropshippers are switching to generating traffic through Instagram influencers, as we wrote above. In short, it comes down to finding people you estimate are followed by people who would buy the item from your shop. Then make a deal with the influencers – you send them the thing, they photograph it and write a few words of praise, and put a link to your shop (or to the page where that particular thing can be bought) in their "About" section. This is called "Instagram shoutout", and the trick is to find medium-famous people who will charge around $ 100 because those that have millions of followers will ask for a few thousand dollars for their services. You can contact these when your business grows because it is not wise to experiment with such figures in the beginning.
As we said, some of them will convert you well, some less well. Be sure to tag the URL you give the influencer for the share so that you can see in Google Analytics exactly how much sales that influencer has brought you. Once you have 10-20 influencers who have brought you a positive ROI, you can continue to work with them with similar products and from there it goes easily. Of course, aside from all that, you should also gather your customer base wherever they come from. Later, you can import their email addresses into Facebook (although you have them in pixel anyway) and post some new offers to them and the like.
If You Want to Do This…
This text is a kind of introduction and, if you want to do dropshipping, you have to go into the smallest details and secrets of this. But now the principle is clear to you, we are sure. You have various video courses on the Internet, do a little research.