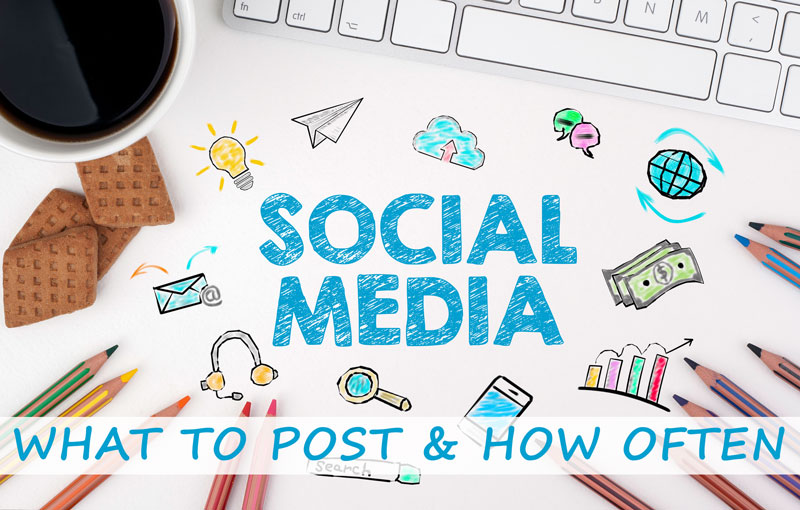 If you've read the first couple of blog posts in this series, you should already have a good understanding of why social media is worth your time and have probably been able to decipher which social media platforms you should be using to reach your target market.
Now you're probably asking questions like, "What should I be posting?" and " how often should I be posting?" Another great question is "How can I be most effective with the (minimal) time that I have to invest in social media?"
So in the next five minutes or so, I will answer these questions and guide you to some great tools and resources that will help you multiply your efforts.
WHAT Should I Post On Social?
Here are a dozen ideas of what to post. Just remember a picture is worth a thousand words so utilize images when possible!
Post Behind-the-Scenes Shots of Your Business – Transparency is what followers want.
Tell Stories/Share Testimonials – Allows you to connect with target audience on a personal level
Post Selfies – Can humanize your brand and give your brand a personality of its own
Ask Fans For Feedback or About Business Decisions – This is an effective way to boost engagement in a hurry.
Use 3 Ps of Posting – Personal, Purpose, Promotion. Check out this Post Planner Blog for more details.
Post Original Images – Using original images will make your page unique among all the stock images in a social feed. You can create images on platforms such as Canva, Design Wizard, or Wordswag
Share Inspiring Quotes – People love quotes!
Post Videos of Your Service Being Done or Your Product in Use – Videos are very eye-catching on social media and typically lead to engagement.
Spotlight Customers – Your followers and customers enjoy the attention and will likely share the post with their networks.
A Contest Post – You can run your contest AND grab emails to add to your list as well
Fill in-the-blank – Rephrase just about any question as a fill in the blank, and they often receive more engagement than basic questions
(i.e. Instead of asking, "What's the best Christmas gift you've ever received?" state "The best Christmas gift I've ever received was ________________.")
Cross-promote –  Team up with a business that offers a complimentary product or service, and help cross-promote each other
HINT: Find someone in your industry that is doing well on social media (lots of engagement) and do what they are doing with your own spin and branding.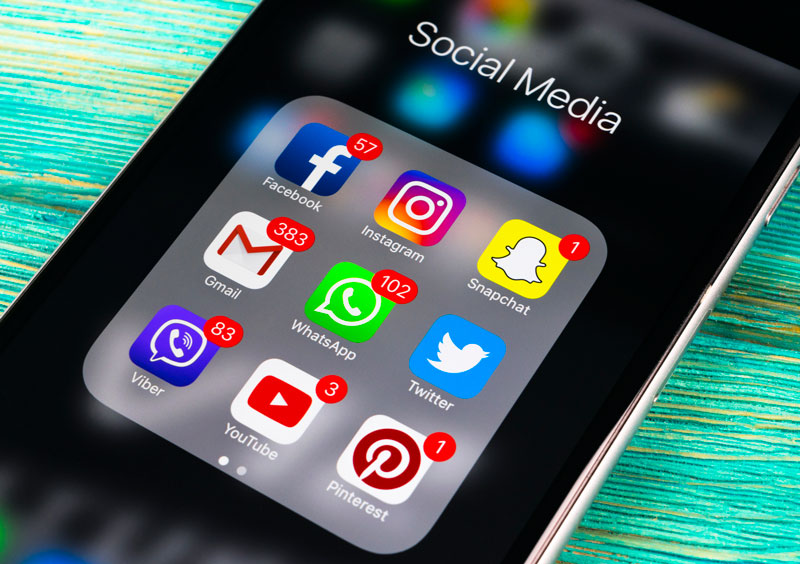 HOW OFTEN Should I Post On Social?
Most studies will agree that once per day is optimal, with a maximum of two posts per day especially when utilizing Facebook and/or Instagram. Hubspot found that pages under 10,000 fans experienced a 50% drop in engagement per post if they posted more than once per day. At a minimum, you should post to your Facebook Business Page 3 times per week. For more insight, check out the infographic offered in this post.
HOW? WHAT TOOLS Should I Use?
What NOT To Do: Take 15-30 minutes each day crafting your content and posting on your platforms.
What To Do: Take an hour or two one day a week to create at least 7 days worth of content and schedule it all out. Once you are in the "content creation zone" you will be able to maximize that time, and then you can schedule out the content you created.
Great news! There are some free tools out there with optional upgrades to assist you with the scheduling and monitoring of your social media content.
There are a huge number of social scheduling monitoring tools out there so knowing which ones to use can be daunting, especially for a new business that is just beginning to get involved in this type of marketing. The best way to know which scheduling/monitoring tool is best for you is to jump straight in and start trying a few out.
Here's  a quick overview of some of the most useful and popular tools for social media monitoring and management…
Hootsuite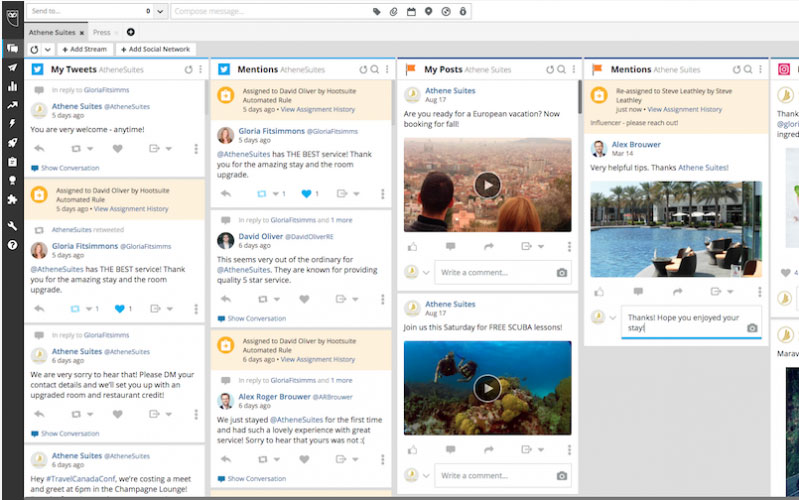 Hootsuite is the most well-known social media tool, allowing you to schedule posts, track brand mentions and manage multiple social networks all in one user-friendly interface. Hootsuite allows you to give team members (virtual assistants)  access to you or your client's social media accounts via the Hootsuite dashboard, instead of having to give them the passwords to the accounts themselves.
Features:
Manage multiple accounts in one window
Find new content to publish easily
Schedule posts
Track brand mentions
Analyse social media traffic
Pricing: Hootsuite offers a 30-day free trial with monthly subscriptions starting at $19. For more information, visit their pricing page. If you are looking for more better budget-friendly options, go for free Hootsuite alternatives.
Buffer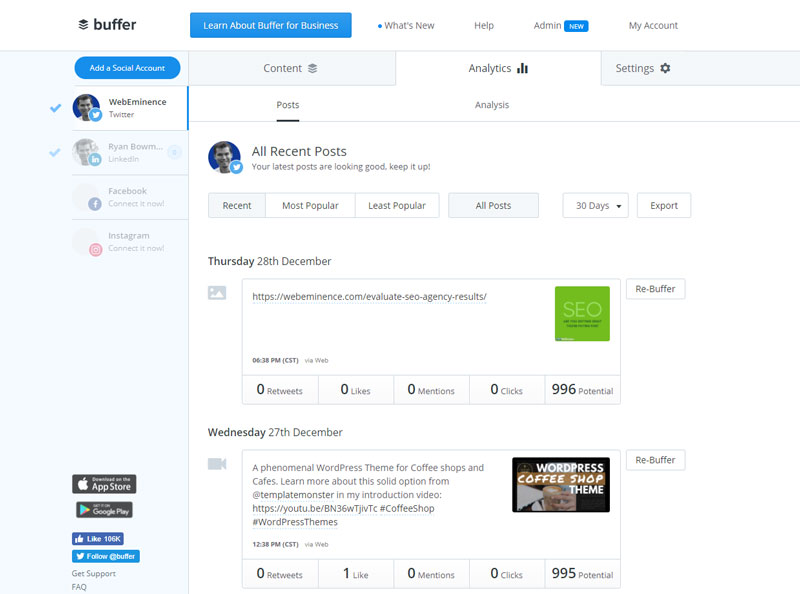 If you're looking for a tool that is easy to navigate, looks simple, and can make your posting efforts more efficient, then Buffer is definitely worth looking into in order  to managing social media. Once you create your account, you can choose the social networks you want to add to it.
On the left side, you can easily add or remove any network to your dashboard and connect your pages and profiles.
Features:
Create and share your content.
Attach images, insert links, or even create new images, all within the same window.
Access reports about your social media marketing reach on the Analytics tab.
Use these analytics to improve your marketing strategy.
Use the Scheduling tab to create a custom posting schedule
Buffer enables you to shorten your links using several different platforms.
Pricing: You can use Buffer for free with limited features. Their upgraded options start at just $10/month. All upgrade options are available for a free trial, ranging from 7 to 14 days. For pricing info, visit their site.
There are dozens of other social media scheduling platforms options for the small business owner, but for simplicity sake, I would recommend checking out those two first. Our team at Web Eminence has used both of these tools and have found them both to be extremely user-friendly. We'd recommend that you start with Buffer as the dashboard is very simple to use and understand. It's a great tool for scheduling and publishing content. Some basic analytics are included. As your team grows, you'll want to collaborate and utilize management tools for your social platforms, then you'll likely want to look further into Hootsuite.
If you have specific needs, please feel free to comment below and I will be sure to respond with some specific guidance for you and your business.
Option B: Outsource Your Social Media
If your head is already spinning, you may want to consider hiring someone to manage your social media. Social media is important. You already know that or you wouldn't have read this post this far. But social media may not be the best way for you to spend the time in your business.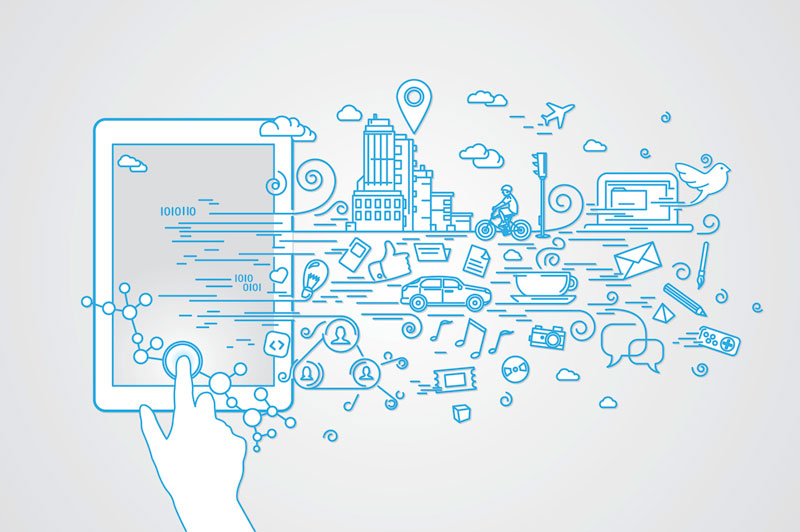 Outsourcing any activity is a critical decision and will depend on your financial situation, staffing, and other factors. As a manager of your business, you need to be efficient with resources and that may mean not allowing yourself to spend a ton of time learning social media and posting to the different networks. It may be way more cost-effective to hire someone or have someone on your staff do it for you. Outsourcing allows you to work on the important aspects of your business and leave the digital marketing to the pros, or at least to someone more proficient within your organization. Time is money, and it's best spent on things you're an expert in.
There are many outsourcing options. You will find individual consultants as well as large companies that specialize in social media management. You will find that the investment can range from $100/month to thousands of dollars depending on your needs. I have provided guidance to many of my clients and would be happy to share their experiences with you based on your needs and your budget. Feel free to comment below and I can provide you with some specific guidance/suggestions. Or get in touch with me if you need social media help and I can refer you to someone.
And stay tuned as the 4th and final post in this series will help you optimize your social media in conjunction with your business's website. I want to provide you the know-how you need so that you do not miss out on opportunities to maximize your reach.