Why is it important for you as a small business owner to develop a presence on social media? There are lots of reasons! I know that very few business owners have extra time to take on a new project like creating profiles on every social media site. Even fewer have the time to read a lengthy explanation of why social media is valuable!

So in the next 5 minutes, I intend to help you comprehend why having a social media presence is worthwhile for your small business.
Social Media Connects You with Your Target Market
What if there was a platform in which you could have open communication and discussion with your prospects and customers? Good news… there is and it's social media. Not only are your target customers spending a good chunk of their day on social media, but they are also looking to social media first to connect with businesses. Almost three-quarters of online adults used Facebook, the survey by the Pew Research Center found. USA TODAY says that 81% of American adults who use the internet are on Facebook. Plus 80% of users prefer to connect brands on Facebook according to Fast Company. So having a presence on Facebook (or you name the platform) where your target market is hanging out can drive more interactions than you may realize.
Social Media Helps You Build your Brand
When you post to your social media network, anyone who likes or follows your business profile will see it. So whether you're sharing valuable information or a simple photo of your business in action, you're getting an interaction with all your followers. If your viewers find it share-worthy and post it to their profiles, then their followers will see it as well and BAM, you're reaching a brand new network you didn't previously have access to. (think six degrees of separation).
Your social media networks new ways for your brand to be seen. It's like a street sign that can be duplicated across many street corners in your region and across the world!
When your customers and clients want to compliment or brag about your product or service, social media will give them a place to do it. The more people that are talking about you on social media, the more valuable and authoritative your brand will appear to new viewers. No matter what social network you choose, there are big brands and influencers on the same network. Strategic interactions and partnerships can be key in the gradual increase of your visibility and can even skyrocket your popularity overnight.
Social Media Activity Often Leads to Greater Website Traffic & Rankings – or does it?
Interactions and introductions can begin on social media, but most business need to seal the deal by driving traffic to their website. Social media can certainly do this and many websites boast social media as their main source of traffic. For me, it's a small slice of the pie as shown below but this is not the case for everyone!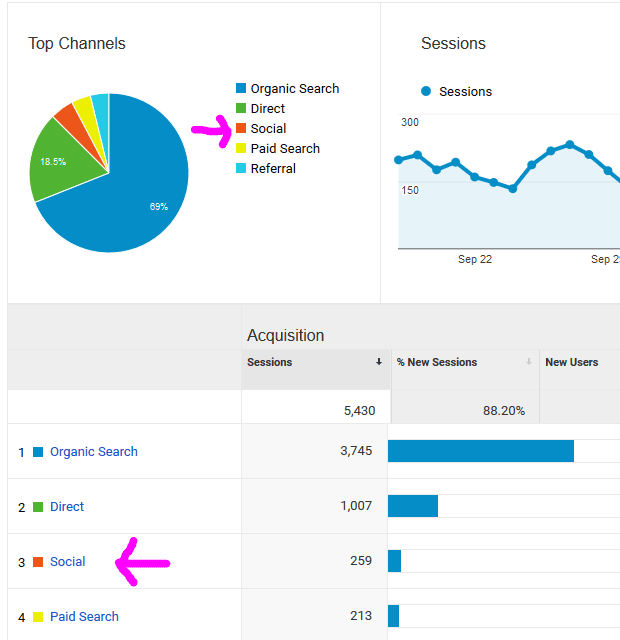 Being active on social media does more than just create direct traffic from the social media site directly to yours. Over time, your reputation on social media can boost your rankings in search engines…apparently.  The cognitiveSEO blog posted an interesting study on this hotly contested question of whether social signals are a ranking factor in search engines.
Google has stated that they do not use social as a signal in rankings, but the cognitiveSEO study shows there is a correlation between growing social presence and search engine rankings. Which comes first? It's debatable but one of the two elements in the correlation is certainly under your control, so why not push it in the positive direction?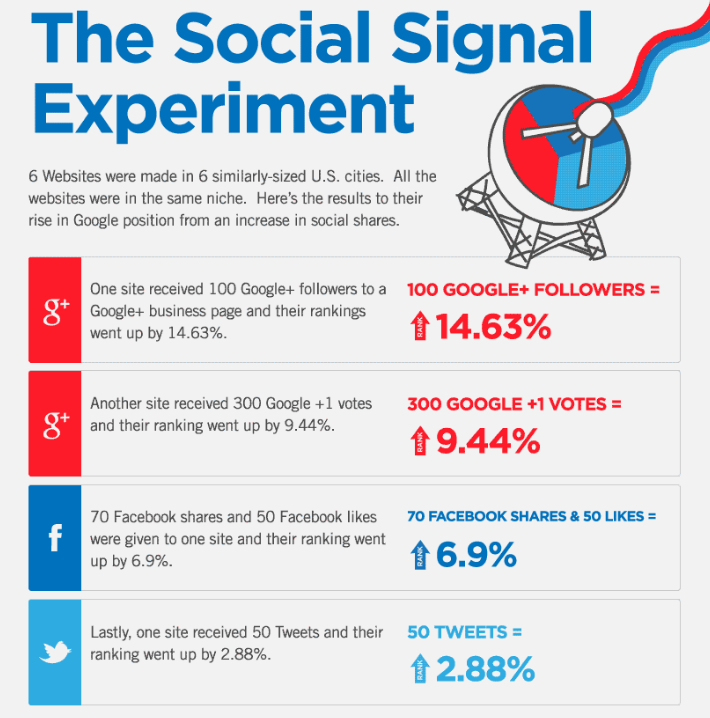 Social Media Helps You KEEP Your Customers
Seth Godin, entrepreneur/author/marketer, spends much of his energy sharing the how and why of creating a "tribe."  One of the key concepts Seth talks about in his book as well as in his TED talk is the importance of offering people an opportunity to be a part of something bigger than themselves. Doing so leads to "tribe" loyalty (to your product, service or vision). Social media is a platform that allows this community or tribe a place to grow and thrive. A study published by Convince&Convert found that 53% of Americans who follow brands on social media are more loyal to those brands.
Social Marketing Strategies Are More Effective than Traditional Marketing Initiatives
There have been many studies done that have shown that social media has a much higher lead-to-close rate than outbound marketing. Very few people want to be the first to try your product or service. They want to see the evidence that others have utilized your product or service and are loving it.  When you have a higher number of social media followers you gain two things: 1) brand credibility and 2) social proof. These two byproducts of being active on social media will naturally lead to improved conversion rates.
Social Media Puts You In the Ring With Your Competition
Your competition is already active within the social media world. An update by Tech Crunch reported that there are at least 40 million active Small Business Facebook pages. This means your potential social media traffic and conversions are being scooped up right under your nose. Don't let your competitors reap all the benefits while you stand idly by. If by pure luck your competition is not involved on social media, there's even more of a reason to get started. The field is wide-open for your target market to find you first.
Social Media Does Not Require A Ton of Risk or A Huge Investment
Social media is one of those things that can't hurt and PROBABLY will help. Really, you don't have anything to lose by getting involved in social media. The amount of time and money it takes to create your profiles and start posting is minimal compared to other marketing initiatives. Just a handful of hours each week (or a few hundred dollars to hire someone) is all it takes to establish your presence.
Convinced yet? I am guessing at this point you have already determined that it's time to take the leap and take your business to the people through social media. 
If you still have a lot of questions about social media and feel like you don't even know where to start, make sure to follow me on Twitter as I will be publishing more blog posts in the upcoming weeks guiding small business owners on their first steps into the world of social media marketing. Also, if you are in a spot where you are just ready to hire someone to take this project off your plate, be sure to get in touch with me, and I can connect you with someone that specializes in social media launches and management.