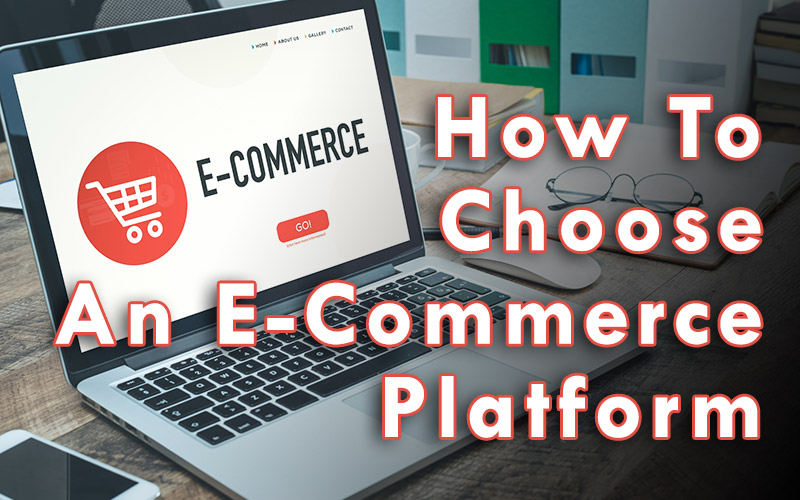 Choosing an ecommerce platform to support your new store is like selecting a pair of running shoes for your foray into the world of competitive marathons. Making a great choice won't suddenly make achieving your goals significantly easier, but choosing poorly can damage your chances to the extent that you give up before you can reach the finish line.
And with plenty of promising platforms to choose from, it doesn't seem like an easy choice to make — particularly since there's no ideal platform that works best for everyone. What's right for you will depend on your specific interests, requirements, and circumstances.
Without context, then, I can't tell you which ecommerce platform is the best for your store — but I can tell you how to make a smart choice. Here's what you need to do:
Investigate the stores that inspire you
Whether you're an aspiring seller, or you're looking to move your current site to a new platform (perhaps it needs a redesign), you'll no doubt have sources of inspiration: businesses that have achieved what you want to achieve, and give you a benchmark to strive for. So why not take a look at the platforms those businesses are using?
It's often as simple as running a store URL through a CMS checker, but if the system can't detect the CMS being used, you can always send the retailer an email to ask about it. There won't be much of a reason for them to lie about it, and if they're willing to answer your questions, you can find out why they chose they system they use. The reasons might be applicable to your situation.
Another option for figuring out what platform a site is built on is viewing the source code in your browser. Simply right click and select "View Source Code" in Google Chrome (all browsers have a similar functions). You'll then be able to browser the source code of the page and often find a clue as to what platform the e-commerce site is running on. In the example below, it's pretty obvious that the site is running on the Shopify platform.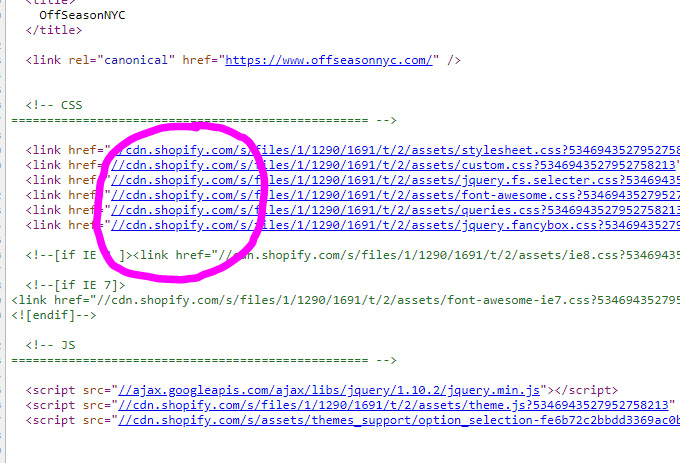 Prioritize convenience or power
In a broad sense, every ecommerce platform leans slightly towards one of these two things, regardless of its overall level of functionality or usability. The more convenient a system becomes — moving to the cloud, offering a crystal-clear UI, providing automation options — the less powerful and flexible it becomes. On the other side of the coin, software that makes power the top priority will invariably be harder to use, and massively harder to master.
Consequently, it's useful to decide which of these things means more to you. Do you want a convenient platform that saves you time, money, and effort, but wouldn't easily stretch to allow you in-depth long-term customization? Or would you prefer a system you could fully adapt to suit your preferences, but might have a lot of difficulty getting under control? I contend that the typical seller is better off with a convenient platform, but it's your choice. A good example of convenience vs power is Weebly eCommerce (convenience) vs Shopify (power).
Consider what level of support you'll need
Even if your long-term goal involves working as a sole trader, you'll not going to be selling in a vacuum. Not only are you going to need to negotiate with suppliers and deal with customers, but you're also going to find semi-frequent cause to seek support with your ecommerce system (due to system failures, bugs, or the desire to know how to use specific features or functions).
What type of support you'll be able to get will depend on the platform you're using. Some platforms don't offer any official support (or provide only minimal assistance), while others focus intensely on providing excellent support and using it as a main selling point.
A great example of this difference in approach is the disparity between WooCommerce and Shopify: the latter cites its widely-praised 24/7 support as one of some key differences between the two, while the former is more about community-provided support (a formidable option for the most popular ecommerce plugin for the world's most popular CMS).
Read varying reviews from similar sellers
It's always important to read software reviews, because many elements of user experience are subjective. For instance, an interface that works perfectly for you might seem barely unusable for someone else. But when you go through reviews for ecommerce platforms, there are a couple of things you should keep in mind:
Firstly, you should look out for reviews from people in a situation similar to yours: those who sell similar products, target similar markets, have similar styles, etc. This is because an effusive review from someone with a totally different business might sway you into expecting great things, only to find that it's not suitable in your
Secondly, you should look for all types of review: positive, negative, and everything in-between. Every platform has its flaws, and you should know what they are before you commit — and if you can't find any notable negatives, it's a sign that the reviews are being curated and you shouldn't trust any of them.
Having been through plenty of CMS reviews, there's only one big step remaining… and it happens to be the most important of them all:
Take advantage of trials
Knowing that it's all but impossible to make an informed choice about using a particular piece of software, particularly when committing to it means using it as the foundation of your entire store for the foreseeable future, ecommerce platform providers invariably offer free trials of their paid services — 30 days being the standard.
Can you test everything in those 30 days? No, of course not — and it'll be time-consuming to test several platforms. But think about how the choice you make now is going to affect your business for years to come. Doesn't it justify a month of testing? By the end of it, you'll likely know exactly which platform you want to use, and be able to proceed with confidence.
There's no ecommerce platform that's best for everyone, but if you follow these steps, you should end up with a clear choice — whether it's a convenient cloud solution like Shopify or Wix, or a hyper-powerful self-hosted option like Magento Open Source. Make a good choice today, and you'll set your business up for greater success in the future.
My Personal Favorite Ecommerce Platforms
While it's important to do your own due diligence when determining the best ecommerce platform for your online store, there are platforms that I personally prefer. I've created a ton of ecommerce sites for clients and for me, two options have always stood out among the rest.
Shopify
Shopify is an all-in-one website platform for creating visually interesting and user-friendly e-commerce sites. This is my go-to if I want to keep something sleek, yet simple as it puts all you need in one place – from web design themes to payment processing to shipping options.
If you don't have a lot of web design skills, I'd strongly suggest Shopify to create and manage an online store. Ease of use is a definite selling point as everything you need is right there in your Shopify account.
There are free and paid themes that are fully customizable and allow you to start adding products right away. Also, Shopify integrates with almost all payment processors — I would recommend using their Shopify Payments Options, though. It has the most seamless integration, and you get the lowest cost on accepting credit cards.
If you want to dig a little deep into Shopify, check out my post Shopify Shipping Setup Options: A Shipping Rate For Everyone!
WooCommerce
For those that have a little bit more web design experience or if you already have a WordPress site, you may consider WooCommerce the better option.
It's an e-commerce plug-in that turns your existing WordPress site into an online store complete with product pages and shopping cart. The best part is that it's free with paid extensions.
Once installed, it's fairly easy to add e-commerce pages directly to you site and add new products through a menu in your WP dashboard. Payments are also simple as you can link to a number of popular payment processors like PayPal and Stripe – between the two I usually go with Stripe for sheer simplicity of use.
As WooCommerce is linked to WordPress, your site design and functionality will depend on your chosen theme. Keep in mind, when you're building an e-commerce site with the WooCommerce plug-in, you'll want to use either a theme from their store or a 3rd party theme that's specifically designed to work with WooCommerce.
So, those are my two picks, and maybe it can give you a head start in picking yours. Just keep in mind that you'll want to do your own research to determine the very best ecommerce platform for your online store.
Yo!Kart
Yo!Kart is a standalone multi-vendor solution for starting an online multi-vendor ecommerce store. The platform was built by FATbit Technologies, a leading software development company in India. Yo!Kart comes with advanced features to launch scalable online marketplace stores. It offers customer-centric buyer and seller mobile apps for Android and iOS for small to large enterprises. 
 Yo!Kart is pre-integrated with 3rd Party APIs to keep businesses efficient, agile, and user-friendly. Unlike some other solutions, it comes with one-time pricing and source code ownership. The Yo!Kart team offers 1 year of free technical support after launching the ecommerce store. What I have found interesting about Yo!Kart pricing packages is that each package has the same features, the only difference between both packages is the custom design. 
Recently, Yo!Kart launched its latest version V9.3.0 that enables business owners to provide personalized buying and selling experience in online marketplaces. From startups to enterprises, Yo!Kart has thousands of clients across the globe.