Plagiarism is a growing problem for writers of all kinds. So, how do they detect and avoid it?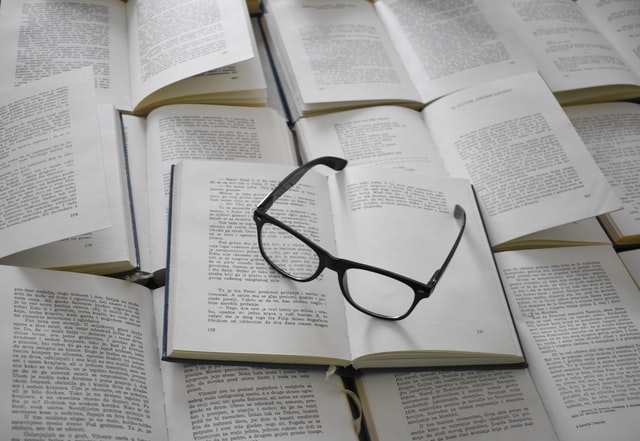 Photo by Tamara Gak on Unsplash
Avoiding plagiarism is a necessity, but somehow, 36% of undergraduates still admit to plagiarizing written content. That alone is a growing headache for institutions and educators around the globe.
On the other hand, almost 30%, or 1.5 billion out of 5.1 billion web pages, have duplicate content in them. That's a growing concern for marketers as well. So, how do you avoid being counted among such statistics?
How should you check for plagiarism and remove it? Let's dive in and find out:
Let's Define Plagiarism
Definition of plagiarism around the globe are in different words, but never with a different meaning. For instance, Oxford University says plagiarism is "presenting someone else's work or ideas as your own."
On the other hand, Merriam Webster dictionary defines plagiarism as "steal and pass off ideas or words of another as own's own." At this point, you might be noticing a common denomination among these statements.
Words or terms such as presenting ideas as your own or stealing words point towards the unethical nature of plagiarism. These two significant dictionaries around the globe deem it as an immoral practice. Therefore, it's imperative for students and blogs to avoid it at all costs.
4 Common Causes Of Plagiarism In Students & Bloggers
Causes of plagiarism vary from writing to writing. Moreover, it also depends on the kind of writer committing plagiarism, such as academic or blog writer. That's why it's essential to understand the four primary causes of plagiarism, such as:
1. Laziness – Both
Laziness is something that both kinds of writers suffer from, and it pushes them towards plagiarism. It can also be unintentional, but it's still an unethical practice.
2. Lack Of Research – Both
Lack of research causes plagiarism to stand out as the common solution. It's not a solution at all, but the lack of understanding of certain elements makes it seem the only way out. Whether in blog writing or academic papers, this is one of the most common causes.
3. Tight Deadlines – Students
Tight deadlines also push students to commit plagiarism. Since many educators push for tight deadlines, it ends up causing unwanted plagiarism. That's why educators should also give some leniency to prevent this.
4. Lack Of Motivation – Bloggers
Bloggers are the kind that suffers from writing monotonous content all the time. As a result, it pushes them towards having no motivation. In turn, they end up writing duplicate content accidentally.
Types Of Plagiarism: 4 Most Unethical Types To Avoid
The types of plagiarism in today's world vary. They depend on how much content is duplicated and how much it was intended. That's why it's imperative to understand each type. Why is that? Because then it will help you understand the type to look for.
Each plagiarism type has different implications. If proven, accidental plagiarism might be forgiven in some academic settings. However, bloggers have no such headroom and must get rid of it at all costs.
Therefore, to help both sides understand the primary four types, let's dive right into it.
1. Direct Plagiarism
Direct plagiarism is when a writer directly copies a part or entire of another content. This is considered the most unethical and lazy type of plagiarism, as there's no input on behalf of the student or blogger.
This complete plagiarism is copied from another writer word afterword. Means there's not a single original word in this type.
2. Patchwork Or Mosaic Plagiarism
Patchwork or mosaic plagiarism is when a writer copies just another from another content. Then, they proceed to make a few edits and add synonyms here and there to avoid plagiarism checkers. This is also one of the most severe and unacceptable types of plagiarism today.
3. Accidental Plagiarism
Accidental plagiarism is more common than you know. It's especially recurring in bloggers, as they tend to study other blogs and websites for research material.
As a result, they end up writing through their subconscious, and the content happens to be duplicated or similar. On another note, it can happen in academic writings as well.
4. Self or Auto-Plagiarism – Common In Bloggers
Self or auto-plagiarism is when a writer copies their own content, intentionally or otherwise. It's also considered highly unethical, especially when intentional.
Mainly because it doesn't require the writer to do any new work. As a result, the content is redundant in blogs or unacceptable in academies.
How To Detect Plagiarism
Detecting plagiarism in writings that make changes to plagiarized work is nothing less than a challenging task. Many people do it by Googling suspected sentences or paragraphs.
However, a capable plagiarizer would never leave such traces, and that's when it's especially difficult to detect plagiarism. But, it's not exactly impossible.
That's when an online plagiarism checker steps in. This is the part where you need to ensure that you don't pick a tool that's not capable of detecting plagiarism. So, pick a tool that's not only preferred by bloggers but also targeted for academic writers and students.
So, find out how to detect plagiarism:
1. Pick A Viable Plagiarism Checker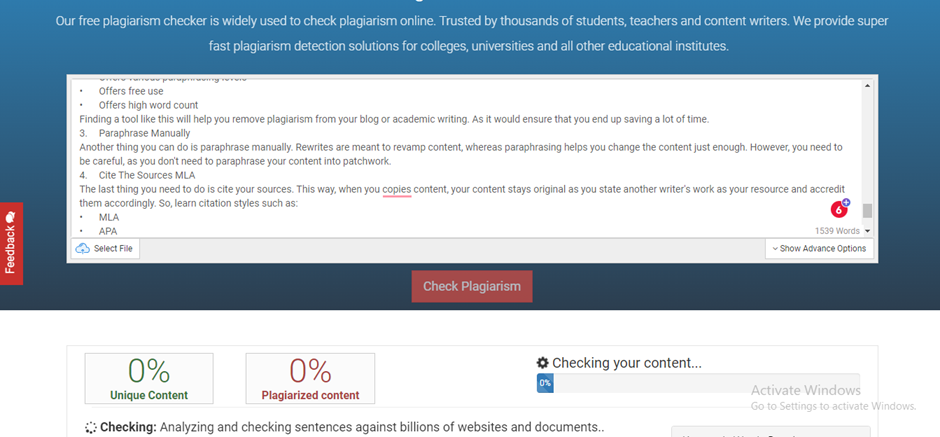 Alt: Check Plagiarism's Free Plagiarism Detector
Picking a valuable tool in plagiarism checking isn't exactly a difficult task. Upon searching for it on Google, you will find many options. However, you need a tool to check for plagiarism that's easy to use and, most of all, free.
This tool needs to be capable of detecting plagiarism of any kind. Therefore, regardless of the type you suspect your plagiarism to be, you need to make sure this tool is able to detect it. Once you find such a tool, all you need to do is fire it up and move on to the next step.
2. Use Plagiarism Checker To Detect It
Then all you need to do is pick the content you wish to check and upload it to a duplication detector to check for plagiarism. In some cases, plagiarism checkers only allow you to copy and paste the content.
However, most would let you upload the content and detect plagiarism like this: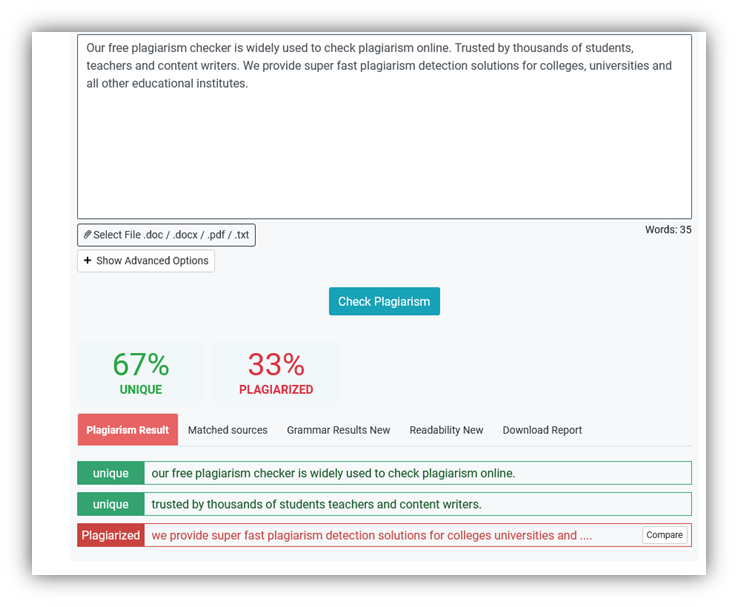 Alt: Softo's tool that we used to check plagiarism for free
Once your plagiarized content goes through a capable checker, this is how it would look. It will show you the percentage of plagiarism and tell you exactly where your content is unique and where it's plagiarized.
3. Understand The Percentage & Research The Source
Once you're done checking for plagiarism, it's imperative that you find the source behind it. Most of all, you need to understand just where the plagiarism is in your content. This plagiarism percentage will help you get rid of content accordingly, such as: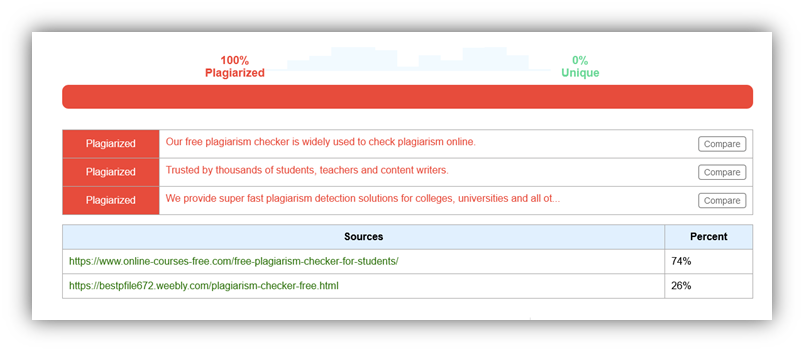 Alt: checking plagiarism percentage and source with Editpad's plagiarism checker
Here, the plagiarism percentage is 100%, and the tool has also given us the source links. Therefore, it's imperative to study the source and understand from where the plagiarism was sourced.
This process can be vital in preparing a plagiarism report and also in eliminating it.
4 Ways To Avoid Plagiarism
Detecting and avoiding plagiarism requires us to understand the type of plagiarism in our content. The aforementioned demonstrations helped us see patchwork and direct plagiarism. Both of these are the most severe types.
That's why it's imperative to get rid of them accordingly. So, what happens once you detect plagiarism? Where do you go from here?
You need a strategy to ensure your plagiarism doesn't' recur in your content. Here's how:
1. Rewrite Plagiarized Parts
The best way to avoid plagiarism is by rewriting the content by yourself. This process will ensure that every word you write is original and integral. Furthermore, it's also necessary to ensure that you don't commit the same mistake again and end up using another writer's content by researching unnecessarily.
2. Use A Paraphrasing Tool
You can use a paraphrasing tool to avoid plagiarism. In case of severe plagiarism, it's imperative that you use a tool that rewrites your content from top-to-bottom. That's when finding a reasonable paraphrasing tool steps in. Find something that:
Changes the content tone
Offers various paraphrasing levels
Offers free use
Offers high word count
Finding a tool like this will help you remove plagiarism from your blog or academic writing. As it would ensure that you end up saving a lot of time.
3. Paraphrase Manually
Another thing you can do is paraphrase manually. Rewrites are meant to revamp content, whereas paraphrasing helps you change the content just enough. However, you need to be careful, as you don't need to paraphrase your content into patchwork.
4. Cite The Sources MLA
The last thing you need to do is cite your sources. This way, when you copies content, your content stays original as you state another writer's work as your resource and accredit them accordingly. So, learn citation styles such as:
Conclusion
These are the most common types of plagiarism found in content today and the subsequent way of getting rid of it. So, both the students and bloggers can use this process to make their content plagiarism-free.