Over the years, social media has witnessed a colossal growth, with over 4 billion users worldwide. This growth has made it incredibly easy to create numerous connections between communities, brands, and organizations. But even with the hundreds of social platforms available, there's one that has managed to stand just above the rest in the past few years. You guessed right; it's Instagram.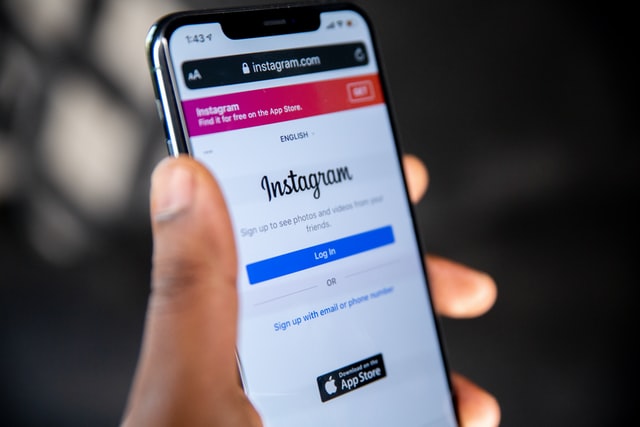 Photo by Solen Feyissa on Unsplash
Instagram is a staple for several successful businesses. This is especially so because the platform boasts over one billion active users.
When Instagram first got into the social media space back in 2010, it was like your typical social media platform: filled with selfies, pictures of pets, and of course, food!
Time travel to 2022, and Instagram's evolution from a promising social media application, to full-on marketing heaven, is almost complete.
Instagram has tightened its grip as a marketing giant and has released dozens of new tools for businesses. The platform is steadily outshining its competitors with tools and features like IGTV, advanced analytics, shoppable Instagram posts, and Instagram Stories.
This article will give you five reasons why Instagram is the perfect marketing platform for your business.
5 Reasons You Should Market Your Business on Instagram

Whether you manage the social media of a small business or a big company, integrating Instagram into your marketing strategy is a must!
If you're still not convinced Instagram is critical for your marketing, here are five good reasons to change your mind.
1 – Instagram Strengthens Brands Exposure and Credibility
According to Jonathon Spire, Instagram's popularity and membership continue to rise with each passing year. Meanwhile, researchers have established that this app will steadily continue to grow. This means that Instagram still has a long way to go before it reaches its pinnacle.
As a result, there are still countless opportunities for businesses like yours to get in front of their target audiences and increase their visibility.
Instagram marketing is a fantastic way to raise brand exposure. 83 percent of users admit that this social media platform aids in the discovery of new items or services. Even better, people have a higher level of trust in the brands that are promoted on Instagram.
74% of people think brands with Instagram accounts are relevant, and 78% think they are popular. Brands who do not have an Instagram account, on the other hand, are more likely to be avoided by potential customers.
A customer-centric mindset rather than a product-centric one has long been one of the standard caveats in marketing. With this in mind, it's important to fully harness Instagram's ever-increasing opportunities for exposure by focusing on customers' needs instead of your products alone.
2 – Helps to Steadily Build a Following for Your Brand
Like a few other social media outlets, Instagram offers a valuable following, especially for businesses and influencers. So, if you're looking to get more loyal fans for your business, try Instagram.
Remember, the more Instagram followers you have, the higher the number of sales you will make. 
Originally, social networks were primarily meant to connect with friends and family or to check out the latest juicy news and trends. Nowadays, millions of users not only want to create connections or experience entertainment but also actively want to see what brands are sharing online. 
About 200 million Instagram users visit a minimum of one business profile every 24 hours. And 81% of Instagram subscribers use the platform's features to research new products and services. Not many social platforms offer these statistics.
In addition, Instagram has made shopping more commonplace on the platform, with 130 million users viewing shopping posts every month.
With the right Instagram marketing strategy, you have the chance to step in and show millions of other users what you and your products are all about. Brands can steadily build a significant following and drive business from their Instagram account.
Endeavor to use visually appealing and engaging content and see Instagram work for your brand.
3 – The Ads Feature Makes Advertising a Breeze
Although some other social media platforms do well in advert creation, Instagram takes it up a notch with numerous features and tools for creating and posting ads. You have the IGTV feature, Instagram stories, Reels, and many more.
More interestingly, even if you're using Facebook to run your ads, you can further expand your reach to Instagram through the Facebook Ads Manager. This is one of the few perks that comes with the two apps having the same parent company.
When you run ads, Instagram expands your company's reach by allowing you to pinpoint your target demographic. You can use the retargeting options to target the most appropriate audience based on demographics, interests, and behavior, among other factors.
Even better, Instagram Ads Manager has a lot of remarketing possibilities. When targeting and retargeting are combined, you can effectively drive more qualified Instagram leads as well as draw leads from other channels through the sales funnel.
As if that's not enough, the Instagram analytics tool allows you to track the effectiveness of your ads. You can keep track of things like reach, total campaign budget, number of purchases, cost per buy, conversions, etc.
4 – Instagram Makes Community Building and Engagement Easy
Instagram has the highest mean engagement rates among all other social media channels. It even surpasses Twitter and Facebook in this regard. Instagram also has a higher brand engagement rate, demonstrating a more open-minded audience when compared with other platforms.
A photo on Instagram often receives 23% more engagement than a post on Facebook, despite the latter network having twice as many active users.
One of the fastest ways to generate engagement and build a strong loyal community is to put out content that will make users comment, share, and like your posts. You can follow people talking about your brand and comment on their photos and videos.
You can also begin conversations with your brand hashtags and ask meaningful questions to encourage your follower's participation.
Furthermore, it can seem inviting to use bots that comment and like other posts to increase your engagement. This won't give you long-lasting results. Real engagement is the most important metric to invest in, as it translates into better sales and more loyal customers.
5 – Helps You Keep An Eye On Your Competitors and Get Useful Feedback
More businesses join Instagram everyday. And each new brand brings new ideas and perspectives to the platform. You may learn new and inventive ways to use your business's Instagram page by following some of the brands in your field.
It's crucial to keep in mind, though, that what works for one brand might not work for yours.
Even if you are still sceptical about using Instagram for marketing, use the platform to learn how your competitors interact with their community.
You will learn things like:
The kind of content they post
When they post them
How often they post content
And how they engage with their audience or customers.
With this information, you can see just how successful your competitors are and follow some of their marketing strategies for success.
Whether or not your brand is present on Instagram, people may still talk about your products and services on the gram. It's crucial to understand how customers perceive your brand, and when you're on Instagram, you'll see what people have to say about it.
Bottom Line
As Instagram evolves as a marketing platform, it's more imperative than ever for brands and businesses to use its effective marketing features.
Businesses of all types have a lot to gain from building a presence on Instagram, whether reaching new customers, growing an engaged community, or even making sales. It just takes a little determination and some effort!