Need a Construction Website?
Keep reading this post for my tips and some examples of construction websites, but make sure to also check out my Complete Website Package if you're interesting in having me an my team create your site!
Okay. So you are REALLY GOOD at what you do. Whether you are a private contractor or run a large construction company, you'd stack your final product up next to the competition any day of the week. That's something to be proud of. However, you still need a plan of attack when it comes to having an online business presence in the form of a construction website so that potential customers can find you and the construction leads can roll in.
From helping dozens of construction companies develop their websites and online strategies, I've been able to see what contractors care about and what drives real results in the construction industry. My goal is to provide some guidance as you are building (or rebuilding) your construction website, as well as provide some insider tips to increase your visibility online.
If you are just getting your first website up and running or refining your current construction website, you probably are looking for some construction website examples. I will provide a few links to those websites for you at the end.
For now, let's talk about a basic construction website template. What pages should be included? What should information should you provide?
Key Components to Build Into Your Construction Website

On the Home or About page, first impressions will make or break you!
Be sure to include some quality pictures of your crew, office, and so on. This will instill trust. Use your website to distinguish your firm from other construction companies. Don't simply roll out your company history; be specific by telling prospective clients the benefits of doing business with your company as opposed to another.
On the Services page, be clear and specific on the services you provide
If you offer multiple services, be sure to make them their own separate pages. They can be under one tab, but explained on their own pages. Utilizing multiple pages can help with SEO (Search Engine Optimization)by allowing these individual pages to rank for more specific search terms related to that service.
Nathan Wiens, a digital marketing consultant, suggests, "Be clear in your message about the projects you want, if you're a GC who focuses on residential remodels, clearly articulate that, and state things like 'kitchen remodeling in [city, state]' and be sure your business address is in the footer and contact page, so there's consistency (not a contractor in Idaho who is looking for kitchen remodeling in Maine). That stuff matters!"
Include Great Pictures of Your Projects
You will want to include before and after photos of your projects. People love seeing transformation & improvement before hiring a contractor. You may even want to include the time it took to complete the project. Wiens advises, "Talk about your projects, people like before and after stories, and you can incorporate keywords in the posts. Make the gallery images easy to pin on Pinterest—while pinners might not be buyers, it will give you more social reach and inbound links!"
On the Reviews and Testimonials page, remember everyone loves reading reviews
Be sure to cross reference other pages. Wiens encourages his clients, "Get customer reviews, primarily on Google and Yelp (support Google Search and Bing/Yahoo), and then a few Facebook reviews are nice. Reference your reviews on your website, and link to them so people don't think you're only showing the 3 5-star ratings out of a sea of 1's, but you hold a 4.8 average."
Throughout your website, make sure to include an appropriate calls to action
Put your call to action in several places ("get estimate" or "request a free consultation" in the header and sidebar, for example).
YOUR GOAL is to get the lead (capture their name, number and email if possible) and then SHOW them the unique value in the follow up call. Wiens warns, "If you leave that to your website's contact page, the phone won't ring."
Building Out Your Construction Company Website Content
"Content is king" has been the mantra for search engine optimization (SEO) for many years. Google eats up content. If you only have a 5 page website, you'll have opportunities for some rankings in search engines but more pages mean more opportunities to rank.
It may be tough to come up with more than 10 pages of website content on your site, but one way to increase the content on your site an opportunities to rank would be to write blog posts on a regular basis like once a week or even once a month.
Choose blog topics effectively to increase the chance the they can rank high for searches that actually produce volume. Here's a few ideas:
Write blog posts that answer questions your customers typically ask. If they are asking these questions, they are probably searching for them too.

Highlight projects, awards, and news about your construction company.

Cover DIY topics in your industry that might help your customers tackle their at-home projects

Mention local areas like towns, cities, and counties in your blog posts to help your posts rank for searches where in a geo-target is included.
Best Website Builder For Building a Construction Website
Alright, we talked about what to include on your construction website, but what about the question of HOW? – how are you gonna build your construction website?
There are lots of DIY website builders out there. Let's face it. As a contractor, your time is better spent working leads, giving out estimates and completing projects. You probably shouldn't be sitting in front of a computer working on a website – unless you love building websites.
If you do want to tinker with the website yourself, there are some popular DIY website builders like Squarespace, Weebly, and Wix. You can read more about them on my website builders page. The three mentioned above are 3 of my favorite and since Squarespace and Wix are a bit more fancy in term of design and your construction website will probably be no-nonsense, you might want to go with Weebly which is a solid option to build a simple and professional construction website.
WordPress is a solid option for building a website since it powers over half of the web and offers a ton of customization and professionally designed themes. I show a couple construction themes in my video above and you can browse WordPress construction themes in the construction directory at Envato.
Construction Website Examples
Sometimes the best way to brainstorm the website you want to build for your own construction business is by looking at examples of construction websites. Here are just a few construction website I've created over the last several years to get your creative juices flowing.
Marketing Your Construction Website To Generate Leads
If someone needs your services, they are likely to jump on to their phone, pull up Google and search for "remodeling near me" or "concrete contractor in denver." And even if you are the best concrete company around, no one is going to find you if you don't have an online presence..
Check out this example construction search in Google. You can see page 1 is dominated by a few elements I'll talk about below – Google Ads (red), Map listings in the local map pack (blue), and directory sites that are ranked organically (green arrows)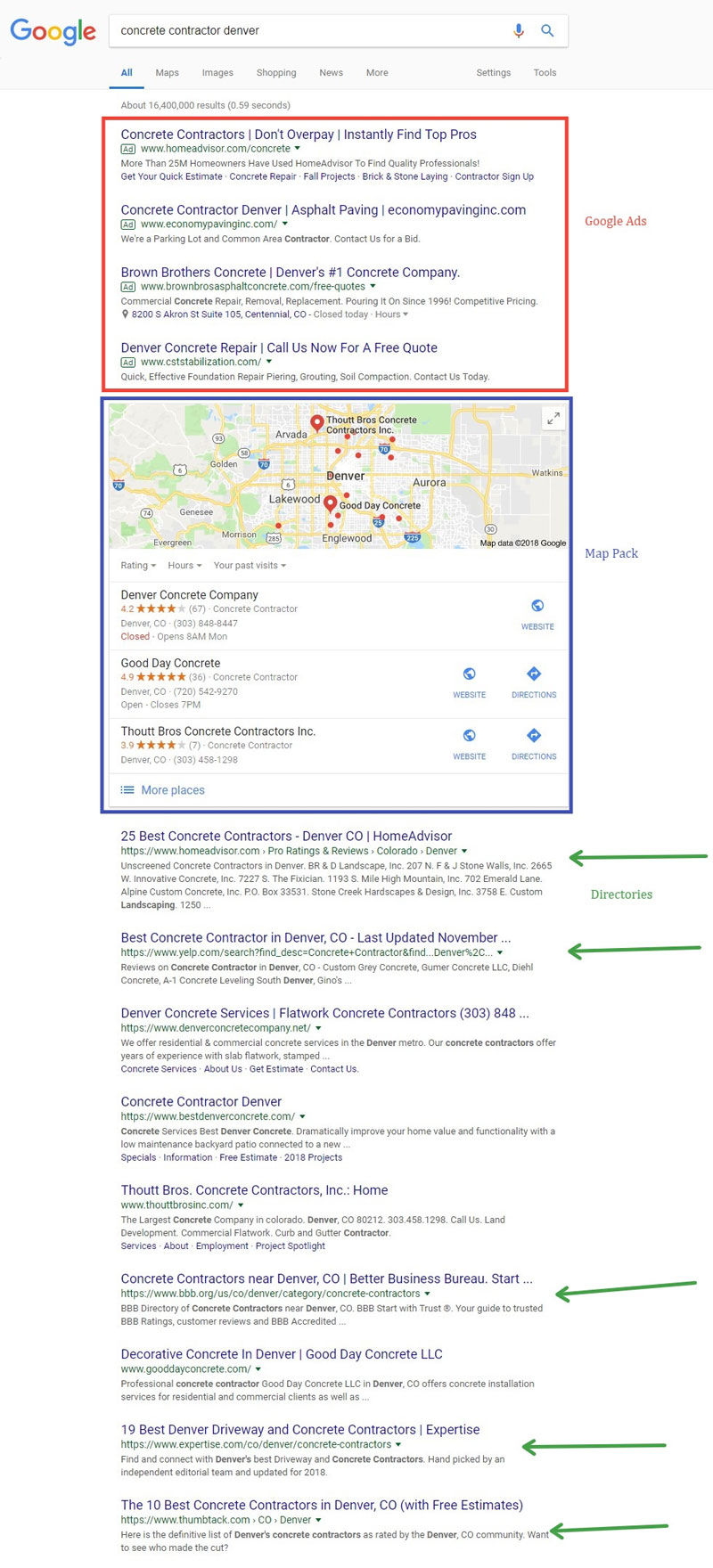 Get Listed in Construction & Service Directories
When customers search for "construction company near me" in your area, you'd love to show up #1 in Google but the reality is that many of the directories dominate the first page of results as shown above with the green arrows.
These directories include Yelp, Angieslist, Thumbtack, HomeAdvisor, Houzz and others depending on your industries. You won't want to rely on these directories entirely, but it would be foolish to ignore them completely. Not only will these directory listings generate some leads, but the links from these authoritative sites can boost the authority of your construction website and help you get higher rankings ins the search engines.
Some of these directories are free and some are paid only. Definitely sign up for the free ones and continue paying for the free ones for a year or two. This extra exposure is an investment in finding new customers and after several months of premium listings on these directories you'll hopefully have built up a referral engine that will make you less depended on them.
Google Local Map Pack For Contractors
Getting a free listing in Google is a no-brainer for most local businesses including construction companies. As you can see from the example Google search above, the map takes up a key position in search results when a local city name is included.
To claim your listing you can go to Google My Business. Check out my video that walks you through the process of creating and verifying your listing.
For more ideas on why Google local pack is so important to your business, check out this post from Upwork.
What About Social Media for Construction Companies?
You may not be a social media butterfly but chances are there is someone in your organization who knows a thing or two about social media. You can also look for companies that offer social media management. You don't need to dominate Facebook and Twitter but it may be good to have a presence on some social media sites to leverage the activity there.
For example, on Facebook, you can post pictures of residential projects and tag your customer so they can share the post with friends, family, and neighbors. People often leave reviews on Facebook too and if you don't have a page setup there for your business, people will not be able to leave reviews.
Twitter is a good place to engage vendors on social media. For example,  if you're a certified installer for a brand, you can mention them on Twitter in a post about a project. Nathan Wiens has seen this work out well. "I've @ mentioned vendors on Twitter with a nice photo of their products installed and have been re-shared and retweeted to their hundreds of thousands of followers. Feels great and can give you a little boost in rank if it's picked up a few times.
I can write an entire post on social media obviously, and actually… I wrote four of them and you can check them out below.
Consider Google Ads To Build Your Referral Engine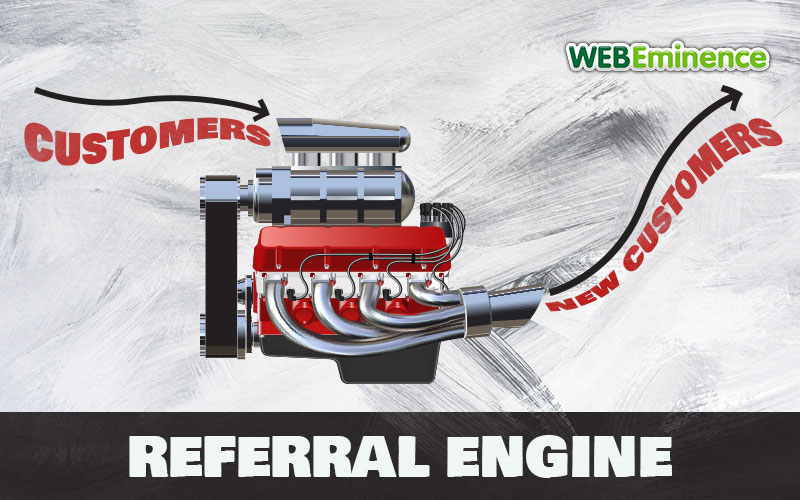 If you know anything about search engine optimization (SEO), getting listed in the top spots in Google is not quick or easy. But through advertising with Google Ads, you can actually get your listing shown in Google in a matter of minutes.
Check out the prime real estate that ads get in the Google search results pages as shown in my example above. It sounds amazing – and it is! I used Google Ads to build my own business since 2011.
Some people never try Google Ads or quit early because it's too expensive or they don't know how to manage it. It's true that Google Ads now needs professional management to run most efficiently. Lucky for you, I'm a Google Partner and a Google Ads expert. I've helped over 50 clients have success in Google Ads through my Pay Per Click Management Service.
My clients often pay $50-70 per lead but one important thing to keep in mind is the magic of referrals. If you invest in advertising over 12 months and it generates hundreds of leads and a bunch of new projects, it's not likely to end there. If you do great work, you're likely to get repeat business and referrals from those clients. I've managed advertising for service contractors who, after a year or two of advertising, had so much ongoing work through the relationships that they built that they did not need to continue their advertising.
If you are still looking for more guidance in regards to your website or your online business strategy, you may be a good candidate for the services my company offers. The examples provided above are all my website clients. You can learn more by visiting my website.