Okay. So you are REALLY GOOD at what you do. Whether you are a private contractor or run a large construction company, you'd stack your final product up next to the competition any day of the week. That's something to be proud of. However, you still need a plan of attack when it comes to having an online business presence.
If someone needs your services, they are likely to jump on to their phone, pull up Google and search for "remodeling near me" or "concrete company near me." And even if you are the best in the surrounding area, no one is going to find you if you don't have an online strategy.
Construction companies put a lot of thought, time and sweat into what they build. The best construction companies know the importance of a good foundation. The same is true when creating a website and effectively marketing for a construction company. A strong foundation is imperative for your construction company to achieve its full potential.
From helping dozens of construction companies develop their websites and online strategies, I've been able to see what contractors care about and what drives real results in this industry. My goal is to provide some guidance as you are building (or rebuilding) your construction website, as well as provide some insider tips to increase your visibility online.
If you are just getting your first website up and running or refining your current construction website, you probably are looking for some construction website examples. I will provide a few links to those websites for you at the end.
For now, let's talk about a basic construction website template. What pages should be included? What should information should you provide?
Consider these pages and elements on your construction website:
Home page that offers a clear concise message
About page with personal photos of owners, crew, equipment, etc.
Services page that clearly lists your services
Reviews and testimonials that offer social proof from your customers
Contact page with different options for contact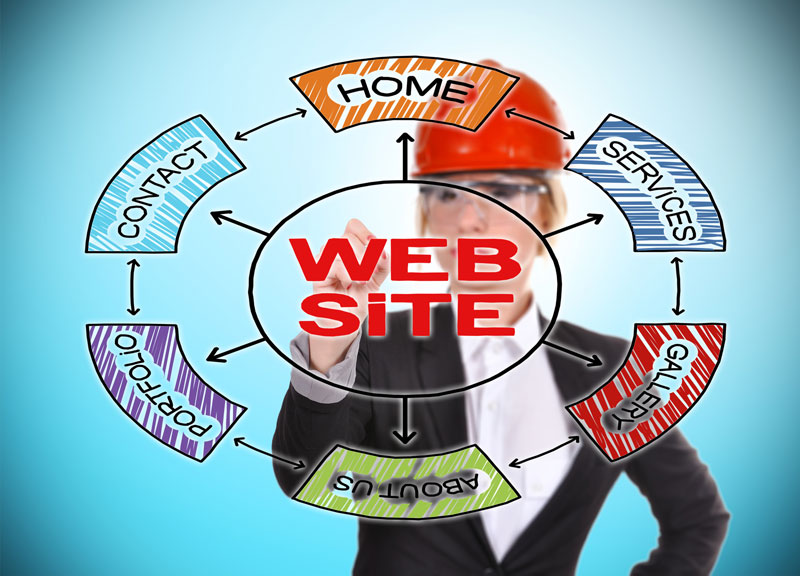 Some key components to build into your construction website…
On the Home or About page, first impressions will make or break you!
Be sure to include some quality pictures of your crew, office, and so on. This will instill trust. Use your website to distinguish your firm from other construction companies. Don't simply roll out your company history; be specific by telling prospective clients the benefits of doing business with your company as opposed to another.
On the Services page, be clear and specific on the services you provide
If you offer multiple services, be sure to make them their own separate pages. They can be under one tab, but explained on their own pages. Utilizing multiple pages can help with SEO (Search Engine Optimization)by allowing these individual pages to rank for more specific search terms related to that service.
Nathan Wiens, a digital marketing consultant,  suggests, "Be clear in your message about the projects you want, if you're a GC who focuses on residential remodels, clearly articulate that, and state things like 'kitchen remodeling in [city, state]' and be sure your business address is in the footer and contact page, so there's consistency (not a contractor in Idaho who is looking for kitchen remodeling in Maine). That stuff matters!"
Include Great Pictures of Your Projects
You will want to include before and after photos of your projects. People love seeing transformation & improvement before hiring a contractor. You may even want to include the time it took to complete the project. Wiens advises, "Talk about your projects, people like before and after stories, and you can incorporate keywords in the posts. Make the gallery images easy to pin on Pinterest—while pinners might not be buyers, it will give you more social reach and inbound links!"
On the Reviews and Testimonials page, remember everyone loves reading reviews
Be sure to cross reference other pages. Wiens encourages his clients, "Get customer reviews, primarily on Google and Yelp (support Google Search and Bing/Yahoo), and then a few Facebook reviews are nice. Reference your reviews on your website, and link to them so people don't think you're only showing the 3 5-star ratings out of a sea of 1's, but you hold a 4.8 average."
Throughout your website, make sure to include an appropriate calls to action
Put your call to action in several places ("get estimate" or "request your free consultation" in the header and sidebar, for example).
YOUR GOAL is to get the lead (capture their name, number and email if possible) and then SHOW them the unique value in the follow up call. Wiens warns, "If you leave that to your website's contact page, the phone won't ring."
To increase the visibility of your website, establish and acknowledge vendors and strategic partners
Engage vendors on social media and if you're a certified installer for a brand, put it on your site and ask for a link exchange with that vendor. Nathan Wiens has seen this work out well. "I've @ mentioned vendors on twitter with a nice photo of their products installed and have been re-shared and retweeted to their hundreds of thousands of followers. Feels great and can give you a little boost in rank if it's picked up a few times."
Finally, be sure your directory listings are up to date, complete, and where appropriate, linked to your site (google+/my business, Facebook, BBB, Houzz, HomeAdvisor)
Here are just a few construction website examples to get your creative juices flowing:
If you are still looking for more guidance in regards to your website or your online business strategy, you may be a good candidate for the services my company offers. The examples provided above are all my website clients. You can learn more by visiting my website.